Mark Cuban writes excuse note for Friday's Mavs playoff game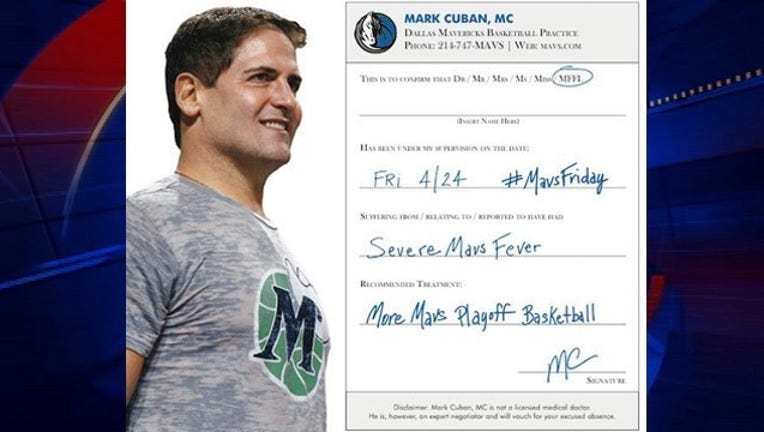 article
Mark Cuban wants to make sure Mavericks fans are in their seat on time for Friday's playoff game.
So the Mavs created an excuse note signed by the team owner so MFFL's can be in place for the team's early 6 p.m. tipoff against the Houston Rockets.
The Mavericks currently trail 1-0 in the series, with Game 2 on Tuesday night in Houston.
The Mavs have an entire day worth of activities, called #MAVSFRIDAY, for those who want to play hooky from work or school all day long.
Lunch in Klyde Warren Park, an early happy hour in Uptown and a shuttle to the game are amongst the activities scheduled by the team:
PARTY IN THE PARK presented by BBVA Compass
Klyde Warren Park
11:30am-1:30pm
Come have lunch at Klyde Warren Park with 9 food trucks to choose from, Mavs Dancers, Street Team and Drumline performances and giveaways from Champ, MavsMan and the Street Team!
#MAVSFRIDAY HAPPY HOUR IN THE DISTRICT
Uptown, Downtown and Victory
2-4pm
Various bars and restaurants in the area are getting into the Mavs spirit and will host happy hour with food and drink specials from 2-4pm, and the Mavs are looking for more to get involved! Check back to mavs.com/playoffs for a full list of specials.
FOX SPORTS SOUTHWEST MAVS EXPRESS SHUTTLE
The FOX Sports Southwest Mavs Express will bring Mavs fans from Uptown to the AAC before the game. Three (3) pick-ups will be scheduled at the Routh and McKinney intersection at 4:45, 5:10 and 5:30 PM.
*The Mavs Express can hold 56 passengers each ride. All riders must fill out a waiver (minors must have a signed waiver by a legal parent/guardian).
UBER HAPPY HOUR TO VICTORY
Uber will geofence Victory Park with a special for ALL PATRONS heading to the game between 3-5pm. Promo code and other details will be posted on mavs.com/playoffs.
INSIDE THE AAC on Friday, APRIL 24th
Doors open EARLY at 4pm
$5 Bud, Bud Light and Montejo between 4-5pm in Eighteen 76
$6 Jack Daniels featured cocktail in the Jack Daniel's Old No. 7 Bar
$2 Hot Dogs at concession stands between 4-5pm
The Hangar is offering 25% off for anyone who brings their "Doctor's note" from Mark between 4-5pm! (April 24th in the North Fan Shop Only)
Official Team Playoff Merchandise will be available exclusively at the The Hangar Fan Shop locations.