Jeff Cook, member of country band Alabama, dies at 73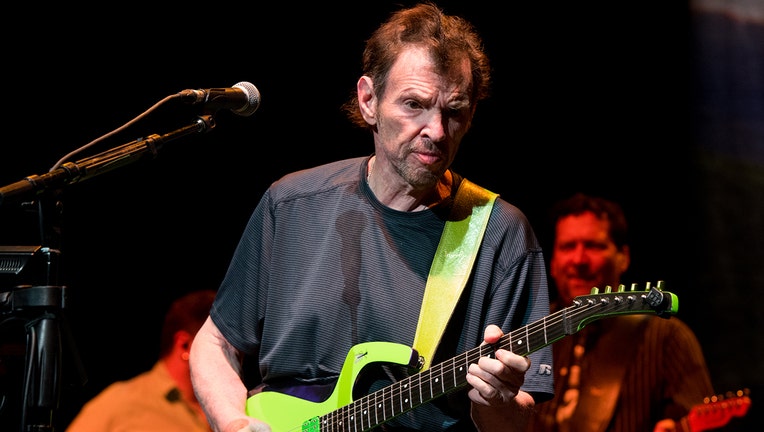 article
NASHVILLE, Tenn. - Jeff Cook, known as the founding member and legendary guitarist of the country group Alabama, has died. He was 73. 
The multi-award-winning musician was a member of the Country Music Hall of Fame, Musicians Hall of Fame, Fiddlers Hall of Fame and was Gibson's Guitarist of the Year.
The band confirmed the news on Facebook sharing that Cook "passed away peacefully" on Monday with family and close friends at his home in Destin, Florida. 
Cook was diagnosed with Parkinson's disease in 2012. 
"Cook was a champion in all he attempted and he courageously faced his battle with a positive attitude," the band shared in a statement. 
Due to Cook's health battle, he stopped touring with Alabama in 2018. The group continued to tour with Cook's encouragement and well wishes. 
RELATED: Singer Aaron Carter found dead inside his Lancaster home
"Cook is credited for introducing the electric double neck guitar to country music. He was also an accomplished musician with the ability to play piano, guitar, fiddle, bass guitar, banjo, mandolin and anything else thrown in front of him," the press release continued. "Jeffrey Alan Cook will always be thankful for his loving family, many close friends and especially... his FANS."
Cook, along with his bandmates, went on to sell 80 million albums and charted 43 No. 1 hits, becoming the biggest group in the history of the country genre.
Cook is survived by his wife of 27 years, Lisa Cook. 
In lieu of flowers, the family has requested donations be made to the Jeff and Lisa Cook Foundation.
Arrangements for Cook's "Celebration of Life" will be announced at a later date.
This story was reported from Los Angeles.