2022 Fort Worth Stock Show and Rodeo opens, but parade cancelled due to weather
FORT WORTH, Texas - A longtime tradition in Fort Worth is back. The annual stock show and rodeo kicks off Friday with livestock, music and, of course, the rodeo.
The 23-day event is in-person at Dickies Arena and the Will Rogers Memorial Center.
This year, 25 rodeo performances are lined up and a purse of more than $1 million is being offered during the FWSSR PRORODEO Tournament.
Though changes are already happening, but this time it is not COVID-19 related.
The rodeo canceled Saturday's All-Western Parade because of the cold front coming to North Texas.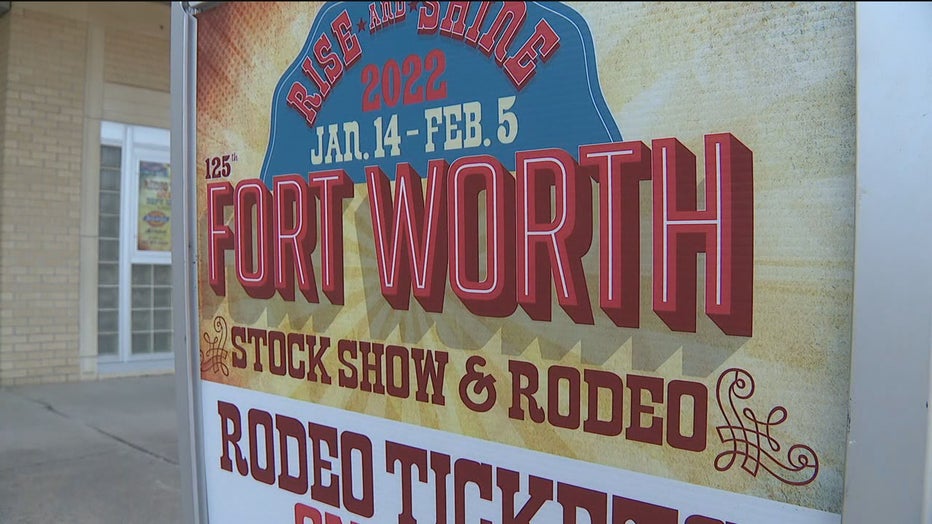 Junior livestock competitions will be a big part of the event.
"It goes to the heart and soul of what the stock show is all about," said Matt Brockman, a spokesman for the FWSSR. "4H and FFA members come here from 239 of Texas' 245 counties. They're competing for scholarship dollars. In 2020 we awarded $750,000 in scholarship awards. Our junior sale of champions, that auction on the last day that those kids compete for raised $4.7 million for those youth of Texas. So this is where these young men and women regardless of if they come from Southlake or Sonora, Texas experience the livestock industry and a lot of them find a career in the livestock and food industry."
The stock show also has other competitions showcasing high school mariachi teams from across the state, Escaramuza women's drill teams, collegiate ranch horse teams and more.
The Fort Worth Stock Show is new to some and a return to the past for others.
"This is my first time here. We're from California. He just relocated so he lives here now and we came for the show," Brian Airoso said.
Organizers have put some COVID-19 precautions in place like a ventilation system and hand sanitizer stations. There are no mandates, though.
"The vaccine is a game changer. Last year when we had to cancel there wasn't a vaccine available. Cases spiked in January of last year. This year we're taking those precautions so throughout the complex there are masking stations that provide masks across the complex, hand sanitization stations across the complex and plenty of signage reminding people to do what we need to do to keep ourselves safe. There aren't mandates but after 18 months of this, everybody knows what to do. We know they'll come do it," Brockman said.
Tarrant County will also operate a COVID-19 testing site and vaccination site at the show.
"We're trying to make it as safe as possible for people to come out here and enjoy," Brockman said.
The event runs through Feb. 5.
RELATED: Fort Worth Martin Luther King Jr. Day Parade canceled due to omicron surge