In Christie, Trump would get tough advocate and baggage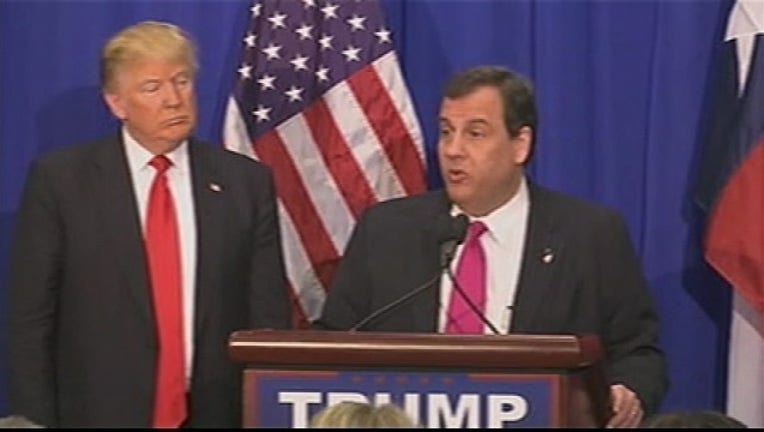 article
HADDONFIELD, N.J. (AP) — In Chris Christie, Donald Trump has a potential running mate who's well-known in many roles: A political hero and a villain. A sensitive advocate and a bully. And, lately, a quiet political operative who's become an expert on Trump's unusual presidential campaign operation — something few on the outside understand.
The governor of New Jersey since 2010, Christie was among more than a dozen Republican presidential hopefuls Trump vanquished earlier this year. Choosing Christie would mean Trump is teaming with a powerful, prosecutorial advocate who can turn serious, as he did Monday speaking to veterans.
But the choice would also include the political baggage of an upcoming trial of two former Christie allies who shut down a ramp to the world's busiest bridge for political reasons.
Christie, once considered the front-runner for the GOP presidential nomination, stunned some of his own allies by becoming the first of the Republican hopefuls to endorse Trump. Christie, 53, was initially an ever-present pre-running mate, appearing at Trump's side during speeches, nodding in agreement. Trump has since tapped him to lead the presidential transition, a massive hiring-and-organization challenge that would be required if Trump defeats his likely Democratic rival, Hillary Clinton, on Election Day.
Being a sidekick was new to Christie, a 53-year-old father of four who built a reputation as a leading man. When there was talk about him as Mitt Romney's running mate in 2012, Christie repeatedly suggested it would not be his ideal job.
"Do I really look like the vice-presidential type," he asked in one forum in his home state, "to sit behind him at the State of the Union?"
But on Monday, Christie was auditioning as Trump's running mate in Virginia Beach, Virginia, with a much more serious tone.
Trump, he said, "is the person who I firmly believe will serve this country best."
As with Trump, Christie's fans love —and his critics despise — his tendency to go off-script in made-for-YouTube exchanges with citizens at the town-hall meetings and other forums. He called one Navy veteran "an idiot," and shouted down a teacher he believed wasn't respectful as he answered her question. He lambasted a heckler as he ate custard on the boardwalk.
When he isn't haranguing Democrats, Christie shows a more compassionate side, telling a tear-jerking story about his last conversation with his mother and another tale of a friend who died after battling drug addiction to underscore his drug policy positions.
As the top federal law enforcement official in New Jersey for most of George W. Bush's presidency, Christie became known as a corruption-buster who won the convictions of more than 130 public officials, including two formerly powerful state senators. His performance as U.S. attorney propelled him to become the only Republican to win a statewide election in New Jersey since 1997.
Christie pledged to turn Trenton upside down. There, he has worked with — and often against — the Democrats who control the state Legislature and addressed some of the state's longstanding issues, including ever-rising property taxes and the growing cost of pensions for public workers.
Property taxes and pensions remain confounding issues even after his efforts to fix them.
Christie's strong words amid disasters thrust him into the national limelight.
"Get the hell off the beach in Asbury Park," he implored in 2011 as Hurricane Irene was bearing down on New Jersey's shore and not everyone was heeding evacuation orders. A year later, Superstorm Sandy devastated the shore, and Christie served as the state's consoler-in-chief, telling a young girl that the grown-ups would make things right, hugging people who lost their homes and becoming a fixture on TV broadcasts. He also invited scorn from some Republicans for his handshake-hug with President Barack Obama just before Obama's re-election.
A political storm hit a year later. Christie, newly re-elected and freshly sworn in as the chairman of the Republican Governors Association, was confronted with revelations that some of his political allies shut down on-ramp lanes to the George Washington Bridge to retaliate against a Democratic mayor of a town that was affected by the closure.
Christie has denied any knowledge of the plan and has not been charged with any wrongdoing. Even after his reputation was sullied by the scandal, he was able to resurrect his reputation enough to make a run for the presidential nomination.
The George Washington Bridge closures are likely to rise again at the height of the fall campaign season, when a former aide and a former official of the Port Authority of New York and New Jersey go to trial.
Expect Democrats to use Trump's pronouncement on the situation last year, when he and Christie were still both vying for the party's nomination.
"He totally knew" about the bridge plot, Trump has said.
___
Follow Mulvihill at http://www.twitter.com/geoffmulvihill.