HOW TO HELP: North Texans and Hurricane Harvey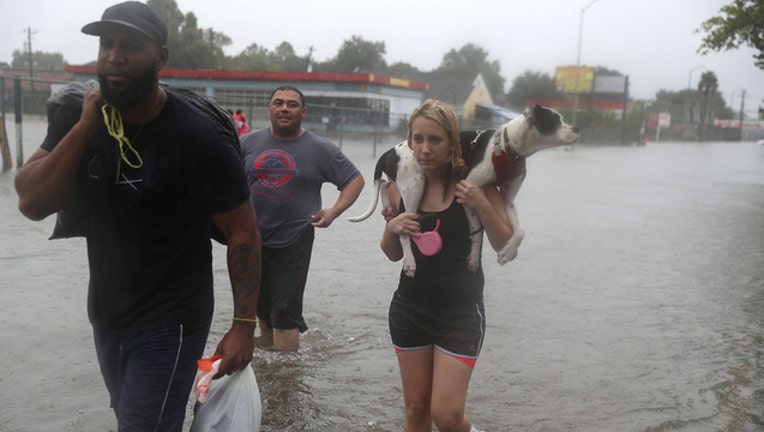 There are a lot of ways North Texans can help storm victims. The easiest is to text a donation to the Red Cross or Salvation Army. 
"We need money for the Red Cross. Those coffers go dry when everyone has to do this. So that's the best thing," said Dallas Mayor Mike Rawlings.
Many local non-profit organizations are also accepting donations ranging from food to clothing to pet items.
 
DONATE
City of Dallas - Dallas will coordinate all donation collection and relief efforts through the website dallashelpforharvey.net. Items will be distributed to the evacuees at the Kay Bailey Hutchinson Convention Center and other smaller shelters.
City of Fort Worth - Fort Worth will coordinate all shelter volunteer and donation efforts through the website www.fwhelpforharvey.com.
Trusted World:  The Dallas charity needs more volunteers as it moves into phase two of sorting and processing all the donations. It isn't asking for in-kind donations anymore but is accepting financial support.
Rebuild Texas Fund - The Michael & Susan Dell Foundation is leading the charge to raise $100 million for the Rebuild Texas Fund. Donations support the Texas communities devastated by Hurricane Harvey.
The American Red Cross - The organization is helping people by providing shelter and sending truck loads of supplies. The American Red Cross is urging people to call 1-800-RED CROSS or to text HARVEY to 90999 to make a donation. You can also click here to donate.
Salvation Army - The Salvation Army's Emergency Disaster Services is working to help provide food and clothing to victims seeking shelter. Donors can call 1-800-SAL-ARMY or click here.
Global Giving - The global crowdfunding community is attempting to raise $2 million to "provide relief to survivors in the form of emergency supplies like food, water, and medicine in addition to longer-term recovery assistance to help residents recover and rebuild." Global Giving says all donations made to the fund will be exclusively used to support local relief and recovery efforts. Click here to learn how to donate.
Catholic Charities USA - The organization is urging people to donate to their disaster relief efforts by texting "CCUSADISASTER" to 71777.
Texas Diaper Bank - The organization supports the basic needs of vulnerable babies, children with disabilities and seniors. The Texas Diaper Bank is asking for cash and diaper donations to help provide for the victims in Texas. Click here to learn how to donate.
Hurricane Harvey Relief Fund - Houston Mayor Sylvester Turner established the Hurricane Harvey Relief Fund after receiving an overwhelming number of inquiries of people reaching out to offer help. The funds will be administered by the Greater Houston Community Foundation and will accept tax-deductible flood-relief donations. To donate or to learn more, click here.
United Way - The Metropolitan Dallas chapter has established a dedicated relief fund to provide support to those affected by Hurricane Harvey. They will distribute one hundred percent of the funds contributed to nonprofits supporting those affected by the storms in North Texas. For more info and how to donate, click here.
Assist the Officer Foundation - The organization is currently accepting donations to help Houston-area law enforcement officer who've suffered from the severe flooding from Harvey. To donate to ATO, click here.
Houston Texans star J.J. Watt - The All-Pro defensive end has set up a YouCaring page to help raise funds and has raised over $5 million. To learn how to donate, click here.

HELP PETS
SPCA of Texas - The SPCA is accepting donations and supplies to help pets impacted by Hurricane Harvey. The supplies most needed are cat litter, litter boxes, towels, blankets, large wire crates, toys, treats, pet beds, newspaper and gas gift cards. To learn how to donate, click here.
Austin Pets Alive - The organization has been helping to transport pets out of local shelters and to safer areas. To learn how to donate supplies or money, click here.

VOLUNTEER
If you're looking to volunteer your time to help those impacted by Hurricane Harvey, the American Red Cross and the Salvation Army are in need of volunteers to help at shelters. You can learn how to volunteer for the American Red Cross here and for the Salvation Army here.
Volunteers who would like to help in the impacted zones can also register with National Volunteer Organizations Active in Disaster. A member organization will contact you once help is needed. For a list of Texas organizations that work with NVOAD visit, txvoad.communityos.org/cms/node/104.