Horrible prank leaves kittens covered in toxic ink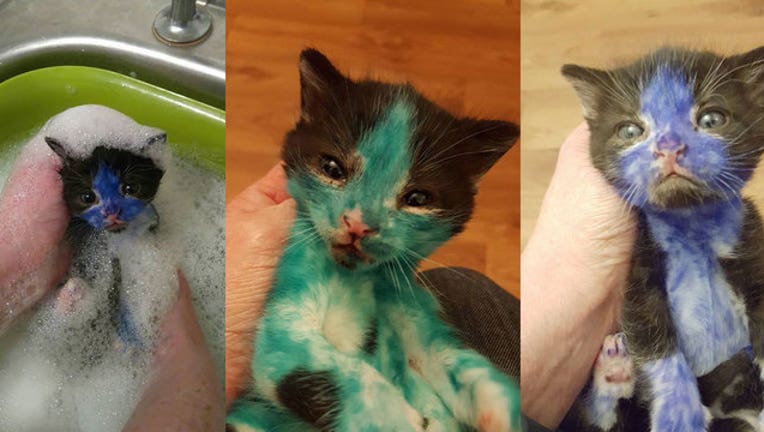 article
NEW YORK (FOX5NY) - Two kittens are being treated for potential toxic exposure after someone colored them with marking pens over their entire body.
One of the kittens was left green and the other was blue.
The Bradford Cat Watch Rescue Centre in West Yorks, England has taken the cats in and have been attempting to clean them in water.  Cats usually clean themselves by licking their fur and the staff was concerned about them poisoning themselves.
Katie Jane of the Bradford Cat Watch Rescue Center said, "we often consider ourselves to be unshockable..... we have dealt with most situations but this is a first."
The first rounds of baths has taken some of the ink off but they remain extremely cautious around the face area.
On Wednesday Jane updated the cats, saying, "Well this little pair are doing really well. We have been nursing these kittens for the last 36 hours and they are now much brighter... in personality.  The colour is fading and they are now taking their feeds well."
The rescue group was were asking for donations via PayPal using bcwrkittensfundraising@gmail.com as the recipient. They asked that donors select the friends and family option so the volunteer organization is not charged a fee.
A YouCaring page was also set up to help the organization carry out its work.