High levels of BPA found in athletic shorts, leggings, consumer group says
A consumer advocacy group has added eight brands of athletic shorts and leggings to its growing list of sportswear they say have toxic levels of BPA, a chemical that can cause health problems if exposure is too high.
In October, the Center for Environmental Health said they found 11 brands of sports bras and shirts with more than 22 times the amount of BPA considered safe under California standards. BPA is used to make certain types of plastics and is widely used in almost every industry.
At the time, they sent legal notices to each brand giving them 60 days to contact CEH's attorneys. Since then, they've found similar BPA levels in eight brands of athletic shorts and leggings, the CEH said.
READ MORE: EPA finds cancer risk from sterilization chemical, proposes usage limits
The sports bra brands they listed are Athleta, PINK, Asics, The North Face, Brooks, All in Motion, Nike and FILA. The shirt brands include The North Face, Brooks, Mizuno, Athleta, New Balance and Reebok.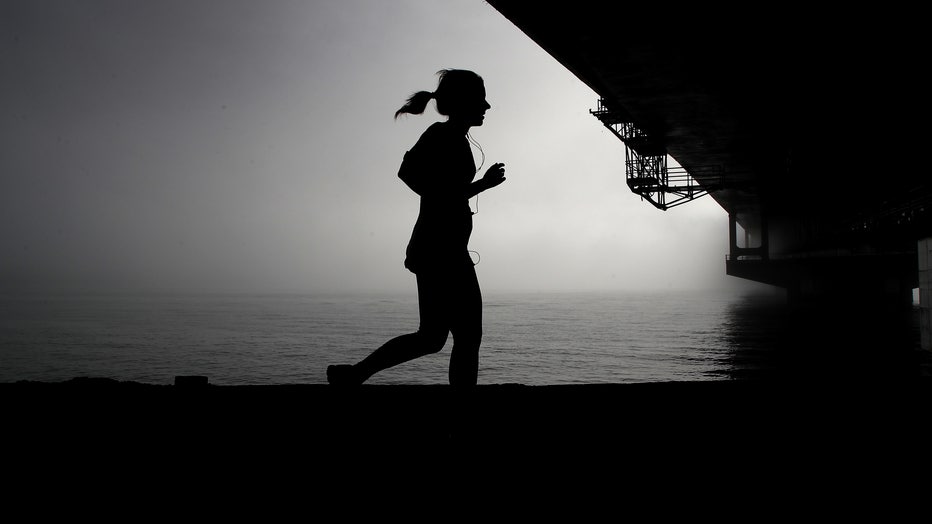 A morning jogger runs underneath a bridge (Photo by Phil Walter/Getty Images)
The eight shorts and leggings brands listed by the CEH are:
Patagonia - Women's Pack Out Tights
Kohls - Tek Gear Capri High Rise
Athleta - Salutation Stash Pocket Tights
Adidas - Daily Run Tights
Nike - One Tight Fit Full Length Leggings
Champion - Base layer Double Dry pants
Sweaty Betty - Power Medium Impact Sports Bra
Champion - Absolute Eco Bike Shorts
Nike - DriFit Tight Fit shorts
Fabletics - Athletic Shirt
None of the companies on the shorts and leggings list responded to FOX TV Stations' requests for comment. The North Face responded with the following statement when contacted in October:
"At The North Face, our commitment to product safety is uncompromising as is our compliance with all local, state and national laws regarding product safety. We are aware of the notice published by Center for Environmental Health and are investigating the allegations."
A Brooks Running spokesperson said in October that BPA is banned in Brooks products, and the company has stringent testing requirements for all their apparel.
READ MORE: EPA to propose US limits on toxic 'forever chemicals' in drinking water
"We have no reason to believe any of our products do not meet any health/safety standards, but out of an abundance of caution, we are working urgently to investigate these claims," the company said in a statement.
Bisphenol A (BPA) is a chemical widely used in plastics manufacturing. Most metal food and beverage cans have a thin interior coating that contains BPA, and BPA is also used to make some types of receipts.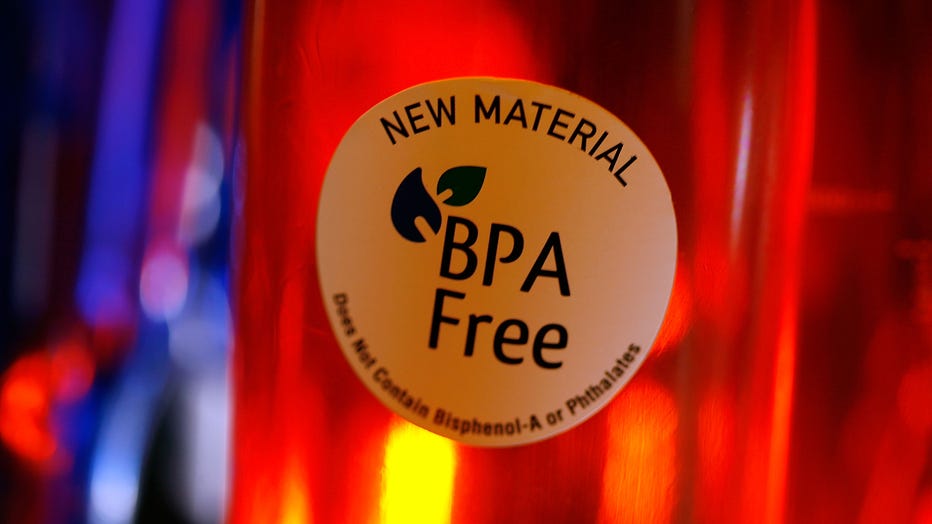 CamelBak brand water bottles hang on display at an outdoor supply store on April 16, 2008 in Arcadia, California. (Photo by David McNew/Getty Images)
BPA is considered an endocrine disruptive chemical, which can cause adverse health effects by interfering with your own normal hormone systems, either by mimicking natural hormones or by altering their production or breakdown, according to the Associated Press.
Some research has shown that BPA can seep into food or beverages from containers that are made with BPA. Because of the controversy surrounding BPA, more brands have started advertising their products as "BPA-free."
Industry trade groups contend BPA is safe at the "very low" levels to which people are exposed. They've fought back against critics who want to see BPA levels lowered in products.
"BPA is one of the most widely studied chemicals used today," the American Chemistry Council said in 2022.
Jimena Diaz Leiva, science director for the CEH, said the nonprofit has filed lawsuits against the sportswear brands asking them to remove all BPA and bisphenol chemicals from their products.
Although the lawsuits filed only affect California residents, Diaz Leiva believes if CEH is successful, it would impact consumers nationwide.
"California is a huge market. They're not going to reformulate just some subset of their product that goes to California," she says. "So it results in everybody nationwide having safer products."