Hermine hits Florida coast as 1st hurricane in a decade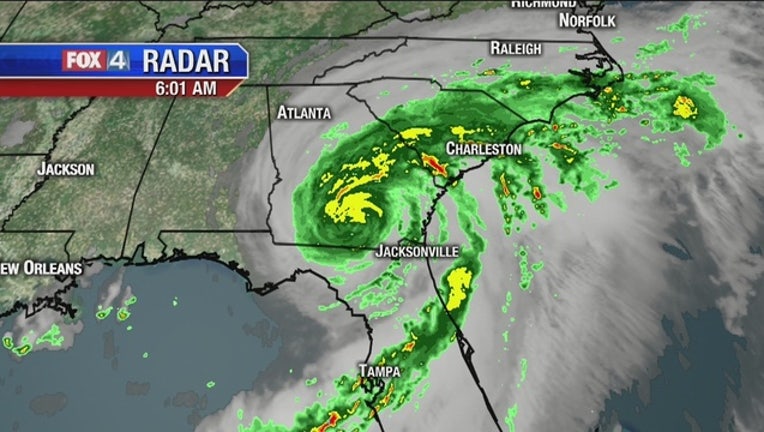 article
CARRABELLE, Fla. (AP) — Hurricane Hermine made landfall in Florida's Big Bend area early Friday as the first hurricane to hit the state in more than a decade, bringing soaking rain, high winds and thousands of power outages.
The Category 1 storm hit just east of St. Marks around 1:30 a.m. EDT with winds around 80 mph, according to the U.S. National Hurricane Center. Hermine later weakened to a tropical storm as it moved farther inland.
Projected storm surges of up to 12 feet menaced a wide swath of the coast and an expected drenching of up to 10 inches of rain carried the danger of flooding along the storm's path over land, including the state capital Tallahassee, which hadn't been hit by a hurricane since Kate in 1985.
As of 5 a.m. EDT Friday, Hermine was weakening as it moved into southern Georgia, the Hurricane Center said. It was centered about 20 miles west of Valdosta, Georgia, and was moving north-northeast near 14 mph.
After pushing through Georgia, Hermine was expected to move into the Carolinas and up the East Coast with the potential for drenching rain and deadly flooding.
In Florida's Pasco County, north of Tampa, authorities said flooding forced 18 people from their homes in Green Key and Hudson Beach. Pasco County Fire Rescue and sheriff's deputies used high-water vehicles early Friday to rescue people from rising water. They were taken to a nearby shelter.
Tallahassee Mayor Andrew Gillum said Friday that power outages were "pretty ubiquitous" in Florida's capital city. Gillum estimated as many as 100,000 area residents were without electricity. Gillum was not aware of any major damage or serious injuries, although he stressed reconnaissance crews had just started venturing out.
In Wakulla County, south of Tallahassee, a couple suffered minor injuries during the storm when they drove into a tree that had fallen in the road, County Administrator Dustin Hinkel said early Friday. He said storm surge of 8 to 10 feet damaged docks and flooded coastal roads.
As Hermine moved north, Georgia Power estimated about 19,000 homes and businesses were without power statewide early Friday. Many of those were in Valdosta and surrounding Lowndes County, about 15 miles north of the Georgia-Florida line. The storm's center was passing 20 miles to the west of Valdosta at 5 a.m. Lowndes County spokeswoman Paige Dukes said crews were dealing with fallen trees and snapped power lines, but no injuries had been reported. Winds exceeding 55 mph had been recorded in the county, with 4 to 5 inches of rainfall, she said.
The last hurricane to strike Florida was Wilma, a powerful Category 3 storm that arrived on Oct. 24, 2005. It swept across the Everglades and struck heavily populated south Florida, causing five deaths in the state and an estimated $23 billion in damage.
Residents on some islands and other low-lying, flood-prone areas in Florida had been urged to clear out Thursday. Flooding was expected across a wide swath of the marshy coastline of the Big Bend — the mostly rural and lightly populated corner where the Florida peninsula meets the Panhandle.
Florida Gov. Rick Scott warned of the danger of strong storm surges, high winds, downed trees and power outages, and urged people to move to inland shelters if necessary and make sure they have enough food, water and medicine.
"You can rebuild a home, you can rebuild property, you cannot rebuild a life," Scott said at a news conference Thursday afternoon, adding that "we are going to see a lot of flooding."
Scott, who declared an emergency in 51 counties, said 6,000 National Guardsmen were poised to mobilize for the storm's aftermath. The governors of Georgia and North Carolina also declared states of emergency.
Across the Florida line in south Georgia, about a dozen people had already showed up by Thursday evening at a Red Cross shelter that opened at a city auditorium in Valdosta that's normally used for banquets and gospel concerts.
Cynthia Arnold left her mobile home for the shelter with her brother and her 5-year-old grandson, adding "I'm not just going to sit there and be ignorant."
___
Associated Press writers Freida Frisaro and Curt Anderson in Miami; Terry Spencer in Fort Lauderdale, Florida; Jason Dearen in Perry, Florida; Gary Fineout in Tallahassee, Florida; and Jeff Martin in Atlanta contributed to this report.