Hawaiian islands brace for possible Hurricane Lester impact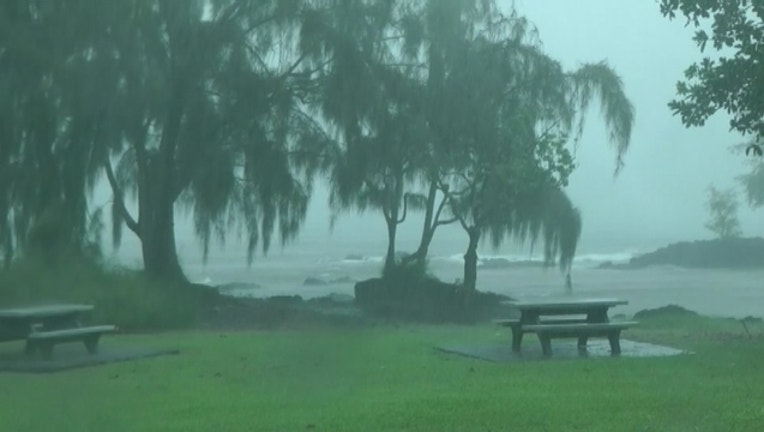 article
HILO, Hawaii (AP) — With the second of two powerful storms churning across the Pacific toward a possible impact with Hawaii, officials are hoping residents take severe weather threats seriously after the islands escaped serious problems from the first storm.
The islands of Hawaii, Oahu, Maui, Lanai, Molokai and Kahoolawe were under a hurricane watch Thursday as Hurricane Lester surged closer to the islands.
The major Category 3 storm is on a track to pass just north of the island chain over the weekend, and its center isn't expected to make landfall. But if the storm veers to the south it could have a much greater impact, said Ian Morrison, meteorologist from the National Weather Service says.
"Our island is small enough that an event of this size could impact all areas," said Maui County Emergency Management Officer Anna Foust. "We are a little concerned that people will not take this one seriously...This one looks like it's going to actually give us some significant impacts."
Foust reminded residents and visitors that every storm is different, and they shouldn't let their guard down because the first of two storms wasn't severe.
Maui County officials were busy Thursday preparing for possible impacts from Lester, and were deploying generators, topping out fuel and planning to open emergency shelters. Schools, courts and government offices on Maui were set to close at noon Friday.
Lester was expected to slowly weaken but remain a hurricane as it passes the state Saturday and Sunday. The eastern part of the state could be hit with heavy rains and tropical storm or hurricane-force winds starting Friday night, Morrison said.
After it was downgraded from a hurricane, Tropical Storm Madeline left parts of Hawaii's Big Island soggy but intact Thursday as residents of the island state prepared for a second round of potentially volatile tropical weather.
Hawaii Island was pummeled with heavy rains and powerful waves overnight, but residents woke to blue skies and little damage after Madeline skirted the island.
"So, really grateful for this respite today. I saw the sun this morning when I was driving into work," Kanani Aton, a spokeswoman for the Hawaii County civil defense agency, said Thursday.
With one storm barreling toward the island state after another, some Hawaii residents said they're developing a special skill at preparing for storms, in a cycle of boarding up windows and then taking the protections down, again and again.
"We went through this last year, we had three coming at us, and this year again," said Virginia Branco, interim manager of the Mokupapapa Discovery Center in Hilo. "I think we're getting used to the pace of it."
Gov. David Ige has issued an emergency proclamation for both Madeline and Lester, allowing the state to quickly spend money.
___
AP writers Mark Thiessen in Anchorage, Alaska, and Cathy Bussewitz and Caleb Jones and Josh Lederman in Honolulu contributed to this report.