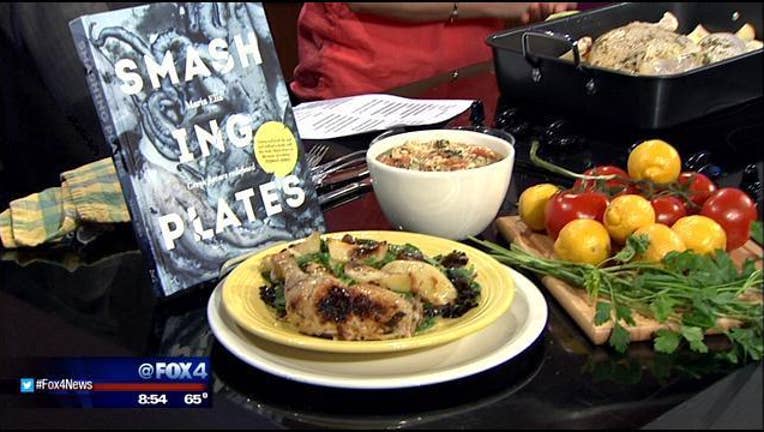 article
ROAST SPATCHCOCK CHICKEN WITH POTATOES, LEMON, WILD GREENS, AND CAPERS
This is a Greek classic with a small twist: tender, lemon-roasted chicken and deliciously soft roast potatoes that soak up the pan juices like little sponges! If time permits, I'd urge you to brine your chicken first.
Serves 2-4, depending on hunger!
1 x 3-31/4lb free-range chicken
3 garlic cloves
sea salt and freshly ground black pepper
1 tablespoon dried oregano
1 bay leaf, chopped
2 tablespoons olive oil
juice of 2 lemons
2lb potatoes, peeled, cut in half lengthwise, and then quartered
3/4 cup chicken stock or water
2 tablespoons capers, rinsed
9oz mixed greens, such as spinach, chard, dandelion, arugula, or Pickled Caper Leaves (page 153), if you have them
You will need a good pair of kitchen scissors.
Preheat the oven to 350°F. First you need to spatchcock the chicken-it's easy, I promise! Remove the wing tips from the chicken. Place the chicken on a cutting board, breast-side down, and cut along either side of the backbone to remove (you can freeze this along with the wing tips and use for stock). Turn the chicken over and then, using the palm of your hand, press down on the chicken to make it flat and until you hear it crack. Place the garlic in a mortar and pestle with a good pinch of sea salt and crush to a paste; add the oregano, bay leaf, olive oil, and half of the lemon juice and mix. Massage most of the mixture over the breast side of the chicken, getting right into the leg joints, then rub a little on the other side. (If you have time, and haven't brined your chicken, pop it in the fridge and let it marinate for an hour. Make sure you remove it from the fridge half an hour before cooking, though.)

Put the potatoes in a roasting pan, sprinkle with sea salt, and drizzle with olive oil and the remaining lemon juice. Place the chicken on top, breast-side up, and pour the stock or water around the edges. Place in the oven and cook for 45-50 minutes, basting occasionally, or until the skin is golden brown and the juices run clear when the thickest part of the chicken is pierced with a knife. Transfer the chicken to a warm plate, cover with foil, and let rest.

Baste the potatoes and return to the top part of the oven for another 10 minutes, by which time they will be meltingly tender, golden, and will have soaked up some of the delicious pan juices. Transfer the potatoes to a warm platter and place the roasting pan on the stove over medium heat. Add the capers and greens and toss to wilt in the pan juices (if you're using caper leaves, there's no need to wilt). Adjust the seasoning and spoon over the potatoes. Cut the chicken into two or four depending on hunger. Place on top of the potatoes and serve.

CHICKEN SOUP WITH ORZO,SHREDDED GRAPE LEAVES,TOMATOES, LEMON, AND HERBS
There's nothing more comforting than a bowl of chicken soup... I'd recommend you poach a whole chicken a day inadvance. Or, if you have half a roast chicken leftover, strip the meat from it and make a stock from the roasted carcass: place the stripped carcass in a pot with 1/2 an onion, 2 cloves garlic, 1 rib celery, a bay leaf, and a carrot if you have one. Cover with cold water and place over low heat for 1 hour. Turn off heat and let cool before straining. Discard the carcass and aromatics, and your stock is ready!
I adore the flavor and smell of stuffed grape leaves. They bringback childhood memories of spending Sundays at my Aunty Stella's, and to this day I've never eaten a dolmades (stuffed grape leaves) as good as hers.While writing this recipe I got to thinking that some soaked raisins and shaved Kefalotyri would be good to serve with this soup. I also tried it topped with a little crumbled feta, which was great. Next time I make it I'm going to add some peeled fava beans. Basically, go with whatever you think sounds good!
Serves 4-6
2 tablespoons olive oil
1 onion, finely diced
2 garlic cloves, finely chopped
a pinch of ground allspice
1 teaspoon ground cinnamon
1 quart reserved chicken stock
3/4 cup orzo
4 large, vine-ripened tomatoes, peeled and diced
8 grape leaves (fresh or pickled),
trimmed of stem and shredded*
1/2 reserved chicken meat from poaching
1/4 cup finely chopped fresh mint
1/4 cup finely chopped fresh dill
1/4 cup finely chopped fresh flat-leaf parsley
2 tablespoons freshly squeezed lemon juice
sea salt and freshly ground black pepper
extra-virgin olive oil, to serve
If using fresh grape leaves, blanch them in boiling salted water for about 2 minutes until they're no longer bright green; refresh under cold running water. If using pickled or jarred leaves, place in a colander and rinse well.
Heat the oil in a medium saucepan over medium heat, add the onion, and cook for 5-8 minutes until softened and transparent.
Add the garlic, allspice, and cinnamon and cook for another minute, then add the chicken stock and bring almost to a boil. Add the orzo, tomatoes, grape leaves, and chicken then reduce the heat so the soup is simmering.
Cook for approximately 8 minutes, or until the orzo is tender.
Add the fresh herbs and lemon juice and season with salt and pepper. Serve drizzled with extra-virgin olive oil.