Grand Prairie family takes in family fleeing violence in Afghanistan
GRAND PRAIRIE, Texas - A family that fled the violence in Afghanistan says they finally feel safe and relaxed in their new environment in Grand Prairie.
Compared to their old lives, life in North Texas is very different. It's an opportunity they're thankful for. 
Putting up holiday lights is a familiar job for Mark Puls, a husband with two little ones looking forward to Christmas. 
But it's new territory for Mohammad Hotak, who is in North Texas with his family after fleeing his homeland Afghanistan. He and his wife have three kids and one on the way.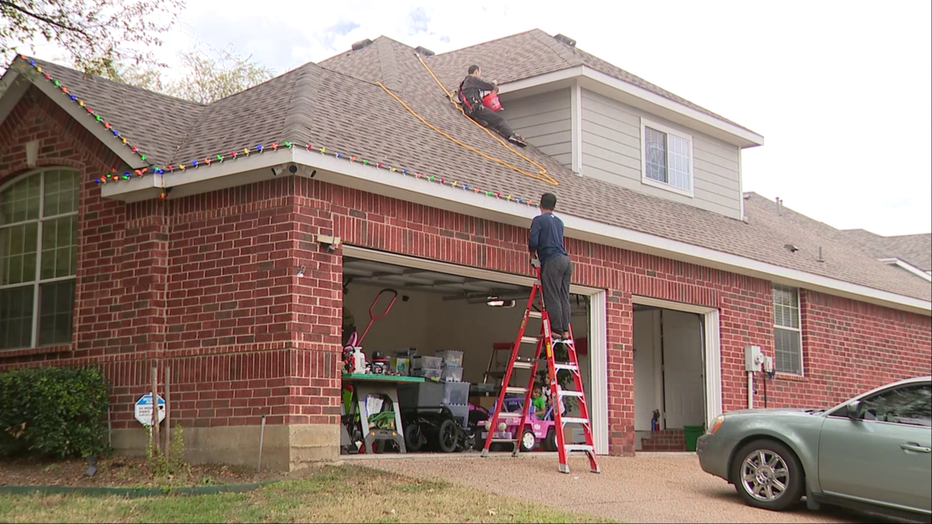 "I feel relaxed and feel that I am safe finally," he said. "Otherwise, I don't feel safe in Afghanistan, and it was too hard for me to live there."
Since 2006, Hotak worked for the U.S. embassy in Afghanistan. It's a position that caused his safety to be in jeopardy after the Taliban's sudden rise to power. 
"I was very scared. I was very afraid because I've worked a long time with the U.S. people in Afghanistan," he said. "That's why I was afraid. Maybe they would kill me or everything to me because I work since 2006 with the U.S. people."
Mark and Brenna Puls went through Airbnb to offer their home to a refugee family. It's a decision they're happy they made.
"It was actually an easy decision for us. We have a guestroom upstairs, and they're not going to live with us forever," Brenna said. "It'll be a short inconvenience to do something wonderful to help someone who could really benefit.
Despite the language barrier, The Puls say they enjoy their live-in playmates. Each family is learning from the other.
"We've become a family," Mark said. "Immediately after we met them, I knew we were going to be lifelong friends. They are special people, and they are going to be successful in this country."
"They are very kind people," Hotak said. "They are very nice family. They are very, very kind people."
Hotak's family will soon move out into their own apartment as they are working to become totally self-sufficient.