GOP insiders pressure Trump to steer clear of controversy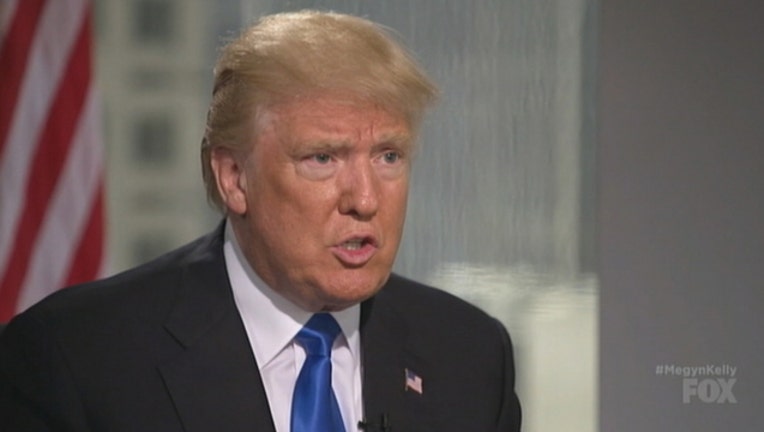 article
NEW YORK (AP) — Weary Republicans are looking for assurances that Donald Trump can maintain the discipline needed to stay on message as he prepares for a bruising general election run-up against Hillary Clinton.
Trump's conciliatory, teleprompter-guided victory speech Tuesday appeared to stave off— at least for the time being — a near-GOP revolt over his racially divisive attacks against the American-born judge of Mexican heritage hearing the case against his now-defunct Trump University.
As he kicks off his general election campaign with a scheduled speech Friday, a thorny question has arisen: How does the party keep Trump in check?
"A primary campaign against 16 opponents is very different and combative in a different way than a general election against a well-organized, well-funded Clinton machine," said Rep. Chris Collins, who has been helping to coordinate Trump's outreach to Congress.
Collins said he understood there would be lingering questions about Trump after the distracting episode, but said the speech was part of what he sees as a "total pivot" by the candidate.
"Mr. Trump is a very smart guy and wants to win," he said after a weekly gathering with Trump staff on Thursday. "I'm convinced we'll see a very disciplined GOP nominee moving forward."
The judge episode arguably marked the biggest crisis of Trump's campaign to date, and sparked a series of phone calls from concerned Republicans, including House Speaker Paul Ryan, pressing the gravity of the situation.
"I explained exactly what I thought about that comment. I said it publicly and I said it privately," Ryan said in an interview that aired on "Good Morning America" Friday.
"I don't know what's in his heart," he added. "But I do think, hope and believe that he's going to improve the tenor of the campaign, the tone of the campaign, the kind of campaign that he's going to run."
It remains to be seen, however, how deeply Trump has internalized the message. Since launching his campaign, Trump has pushed back against calls by some of his closest aides and family members to adopt a more "presidential tone." His fiery language and penchant for controversy has earned him endless free media attention and energized voters during the primaries, helping him secure victory.
"You think I'm going to change? I'm not changing," he boomed at a press conference recently.
Again and again, he has delivered conciliatory victory speeches, only to turn up the heat against his rivals in his campaign speeches. Trump's first test comes Friday evening as he appears in Richmond, Virginia — his first campaign rally since the primary season came to a close.
Trump campaign manager Corey Lewandowski dismissed the idea of an intervention, and downplayed the significance of the victory speech, noting that Trump has used teleprompters on multiple occasions to deliver specific remarks.
"From time to time, he'll use it. But's a function of the audience and what he wants to say. I can guarantee you this: in Richmond tonight, it will not be a teleprompter speech," he said.
Indeed, Trump was already showing signs on Friday that general election Trump will sound a lot like the Trump displayed through the primaries.
"Pocahontas is at it again!" he Tweeted Friday morning, using his favored nickname for Sen. Elizabeth Warren, who officially endorsed Clinton Thursday evening and met with her Friday, fueling speculation that she's being considered for a running mate. "Goofy Elizabeth Warren, one of the least productive U.S. Senators, has a nasty mouth. Hope she is V.P. choice."
To try to keep Trump, who is notoriously resistant to advice, on track, some on his team are turning more to his grown children — Eric, Don Jr. and Ivanka, as well as Ivanka's husband, Jared Kushner — in the hope that they can exert influence. In addition to giving them more public roles, some campaign aides have been pushing for them to travel more with the candidate, according to a person familiar with the efforts, who spoke on the condition of anonymity because they were not authorized to speak about private discussions.
The goal is to try to keep Trump on message, while asserting more control over Lewandowski, who is a constant presence by Trump's side. Lewandowski led Trump to victory in the primary with the motto "Let Trump be Trump," and has long resisted suggestions that Trump needs to change his tone.
Lewandowski pushed back against the notion that Republicans are looking for Trump to tone down his rhetoric and stressed the candidate is not going to change.
"I don't know if they're saying we need to rein him in. They are not used to a presidential candidate who speaks from the heart and talks the way the American public speaks. They are used to politicians who are all talk and not action. That's not Mr. Trump," Lewandowski told the Associated Press, adding, "His messaging is not going to change going forward."
Still, supporters say they're confident that Trump is growing into his new role.
"I think Donald is learning how to be a candidate," said John Catsimatidis, a major New York donor, as he left a closed-door gathering with Trump on Thursday. "I think he's getting better and better at it."
Others, however, remain doubtful.
"You know, I think everybody can change. The question is does he have the self-discipline and some control over his ego to be able to say 'I'm wrong' every now and then?" said former Sen. Tom Coburn of Oklahoma on "Morning Joe" Thursday. "And I haven't seen that."
__
Colvin reported from Washington.