Google list includes most common misspelled words in each state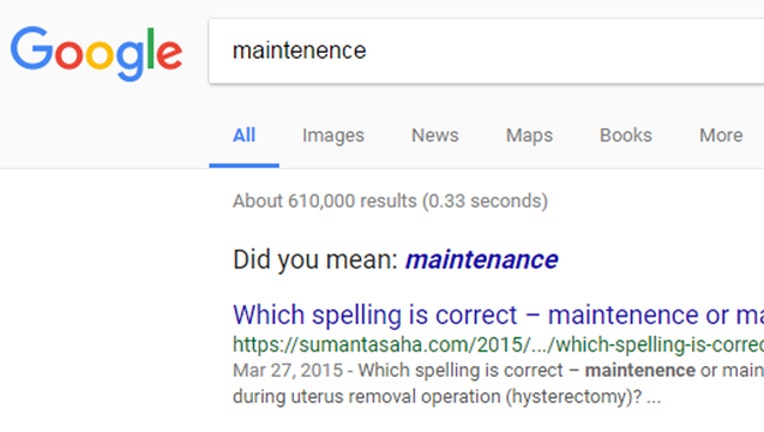 article
To celebrate the 90th Scripps National Spelling Bee this week in Washington D.C. Google released its list of the most common misspelled search words in each state.
Over the last 12 months, Texans have had the most trouble with the word "maintenance." It was the same in Missouri.
Our neighbors to the north in Oklahoma couldn't spell "patient" and people in Louisiana need help with "giraffe." In New Mexico, the most common misspelled word searched on Google was "bananas."
"Beautiful" was misspelled in five states and "pneumonia" in five other states. "Tomorrow" was spelled incorrectly in three states.
Meanwhile, people in Connecticut and West Virginia had the most trouble with the word "supercalifragilisticexpialidocious."
Here's the complete list:
Alabama: pneumonia
Alaska: schedule
Arizona: tomorrow
Arkansas: chihuahua
California: beautiful
Colorado: tomorrow
Connecticut: supercalifragilisticexpialidocious
Delaware: hallelujah
Washington, D.C.: ninety
Florida: receipt
Georgia: gray
Hawaii: people
Idaho: quote
Illinois: pneumonia
Indiana: hallelujah
Iowa: vacuum
Kansas: diamond
Kentucky: beautiful
Louisiana: giraffe
Maine: pneumonia
Maryland: special
Massachusetts: license
Michigan: pneumonia
Minnesota: beautiful
Mississippi: nanny
Missouri: maintenance
Montana: surprise
Nebraska: suspicious
Nevada: available
New Hampshire: difficult
New Jersey: twelve
New Mexico: bananas
New York: beautiful
North Carolina: angel
North Dakota: dilemma
Ohio: beautiful
Oklahoma: patient
Oregon: sense
Pennsylvania: sauerkraut
Rhode Island: liar
South Carolina: chihuahua
South Dakota: college
Tennessee: chaos
Texas: maintenance
Utah: disease
Vermont: Europe
Virginia: delicious
Washington: pneumonia
West Virginia: supercalifragilisticexpialidocious
Wisconsin: tomorrow
Wyoming: priority
The Scripps National Spelling Bee got underway Tuesday morning with 291 well-read elementary and middle schoolers taking a written test. About 50 or so will advance to Wednesday's preliminary rounds.
Last year, the bee extended the final rounds and made the championship words tougher in an attempt to avoid a third straight tie. But two spellers still ended up sharing the title. This year, the top spellers will take another written test that will be used as a tiebreaker if necessary.
The Associated Press contributed to this report.