FOX4 VOTER GUIDE: Notable 2018 primary races around North Texas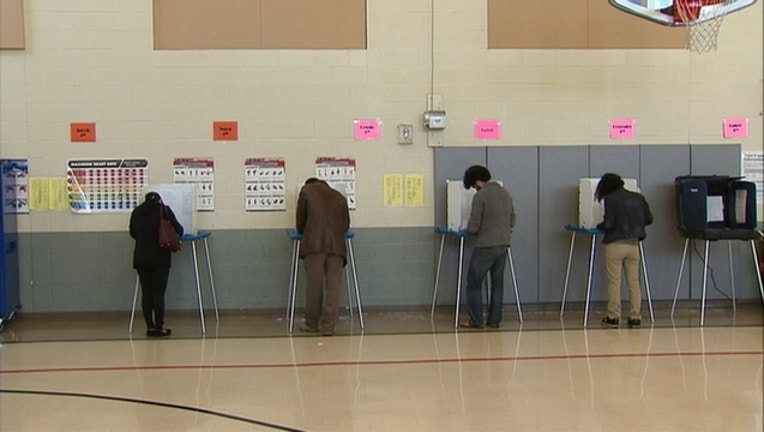 There are open seats and competitive primaries across North Texas in 2018. This is a look at some of the more notable contests.
U.S. House District 3 (replacing Sam Johnson)
Democrats
Adam P. Bell

Lorie Burch

Medrick Yhap

Sam Johnson
Republicans
Alex Donkervoet

David Niederkorn

Van Taylor
Longtime Republican incumbent Sam Johnson is retiring at the end of his current term. The seat is mostly in Collin County, a GOP stronghold. Texas State Sen. Van Taylor has the most ID with Republican voters and has nearly $1 million in cash on hand. Adam Bell won the Democratic primary two years ago, but lost to Johnson by nearly 30 points in the general election.
U.S. House District 5 (replacing Jeb Hensarling)
Democrats
Republicans
Bunni Pounds

Charles Lingerfelt

Danny Campbell

David Williams

Jason Wright

Kenneth Sheets

Lance Gooden

Sam Deen
Republican incumbent Jeb Hensarling shocked voters when he announced in late October he wouldn't run for re-election. He quickly threw his support behind his former campaign manager and fundraiser, Bunni Pounds. Another name to watch is former state Rep. Ken Sheets, who has been endorsed by U.S. Rep. Pete Sessions. Dan Wood is unopposed in the Democratic primary. A Democratic candidate hasn't been on the ballot in the district in years. District 4 includes eastern and southern parts of Dallas County and stretches to the southeast.
U.S. House District 6 (replacing Joe Barton)
Democrats
Jana Lynne Sanchez

John W. Duncan

Justin Snider

Levii R. Shocklee

Ruby Faye Woolridge
Republicans
Deborah Gagliardi

J.K. "Jake" Ellzey

Ken Cope

Kevin Harrison

Mark Mitchell

Mel Hassell

Ron Wright

Shannon Dubberly

Shawn Dandridge

Thomas Dillingham

Troy Ratterree
Incumbent Joe Barton opted to retire after graphic photos of himself were leaked and made public in the fall. A runoff could occur in the GOP primary due to the large number of candidates. Former Barton aide and current Tarrant County tax assessor Ron Wright has a high ID among voters. Another candidate to watch is Ellis County's Jake Ellzey, who unsuccessfully ran for Texas House in 2014 and is currently a Texas Veterans Commission member. Ruby Faye Woolridge won the Democratic primary in 2016, but lost to Barton by nearly 20 points in the general election.
U.S. House District 32
Democrats
Brett Shipp

Colin Allred

Ed Meier

George Rodriguez

Lillian Salerno

Ron Marshall

Todd Maternowski
Republicans
Paul Brown

Pete Sessions (incumbent)
This Dallas district will be one of the most watched general election races of 2018 in the U.S. Incumbent Republican Pete Sessions is being targeted, even though he won 71 percent of the vote in 2016, because Hillary Clinton beat Donald Trump within the district. Two years ago, Sessions didn't even have a Democratic opponent. Now multiple Democrats are trying to win their primary so they can battle Sessions in November. Ed Meier has the most money, $800,000, and has been running TV ads for weeks. Meier previously worked in the State Department and was an adviser to Hillary Clinton. Former NFL player and Obama housing official Colin Allred has raised $160,000. The only woman in the race is Lillian Salerno and she's also raised $160,000. One other notable name: former KDFW and WFAA television reporter Brett Shipp, who left WFAA in the fall to run for the seat. The Democratic race could have a runoff. Whoever wins will face a well-funded Sessions, who already has $1.3 million in the bank.
U. S. Senate
Democrats
Beto O'Rourke

Edward Kimbrough

Sema Hernandez
Republicans
Bruce Jacobson, Jr.

Geraldine Sam

Mary Miller

Stefano de Stefano

Ted Cruz (incumbent)
The primaries are a formality, as voters are already looking ahead to the fall for the Beto O'Rourke vs Ted Cruz matchup. O'Rourke, a U.S. congressman from El Paso, has generated excitement on the Democratic side, as he's spent nearly a year traveling around the entire state meeting with energized Democrats and activists. He's also hauled in the money, outraising Cruz in two of the last three quarters. But the incumbent still has the advantage heading into the fall. Cruz has more than $2 million than O'Rourke in cash on hand and Texas hasn't elected a Democrat statewide since 1994. The race remains Cruz's to lose.
Governor
Democrats
Adrian Ocegueda

Andrew White

Cedric Davis, Sr.

Grady Yarbrough

James Jolly Clark

Jeffrey Payne

Joe Mumbach

Lupe Valdez

Tom Wakely
Republicans
Barbara Krueger

Greg Abbott (incumbent)

SECEDE Kilgore
Republican Gov. Greg Abbott has the largest war chest of any statewide candidate in any of the races. He will put it to use once the general election campaign starts. Former Dallas County Sheriff Lupe Valdez and Houston businessman Andrew White are the two most likely to emerge as Abbott's opponent. White has more money than Valdez, who declared her candidacy late and is running a shoestring campaign out of her Dallas home. With nine Democratic candidates, it seems likely the two will proceed to a May runoff.
Land Commissioner
Democrats
Republicans
Davey Edwards

George P. Bush (incumbent)

Jerry Patterson

Rick Range
Incumbent George P. Bush has faced an unusually hostile primary challenge from his predecessor, Jerry Patterson. Bush has been attacked for his management of The Alamo site in San Antonio and a contract the land office signed with a contractor doing Hurricane Harvey recovery. That firm donated five-figures to Bush's re-election after inking the deal. Bush, who has closely aligned himself with President Trump, has raised the most money of any of the candidates and is attempting to win outright on March 6.
Texas State Senate District 8 (Collin County)
Democrats
Republicans
Angela Paxton

Phillip Huffines
Dallas County District Attorney
Democrats
John Creuzot

Elizabeth Davis Frizell
Republicans
Faith Johnson (incumbent)
Dallas County Sheriff
Democrats
Eland J. Sigler

Marian Brown

Roy Williams, Jr.
Republicans
FOR MORE DETAILS ON ALL OF THE CANDIDATES: https://my.lwv.org/texas/voters-guide