Former Baylor DE Oakman indicted on sexual assault charge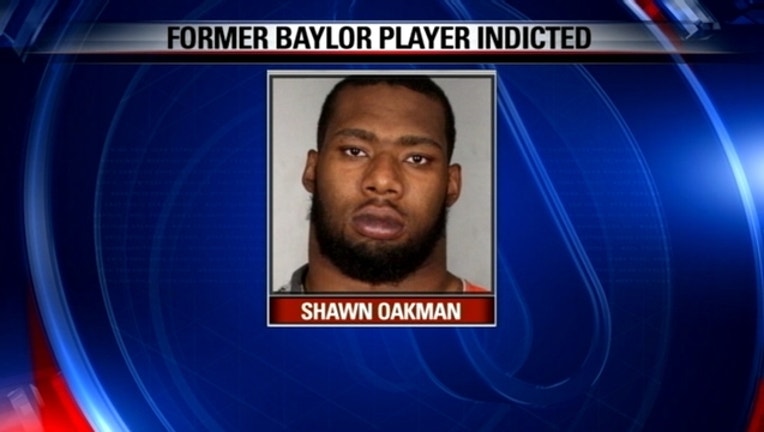 article
WACO, Texas (AP) — Former Baylor defensive end Shawn Oakman was indicted Wednesday by a Texas grand jury on a charge of sexually assaulting a woman at his apartment earlier this year.
A McLennan County grand jury returned the indictment against the 24-year-old Oakman, who finished his college eligibility in December as the Bears' career leader in quarterback sacks.
A woman told police that Oakman attacked her April 3 after they met at a Waco nightclub, a police affidavit says, and was "treated for her injuries" at a medical center, where a sexual assault examination was performed. His apartment was searched several hours after.
His attorney, Michelle Tuegel, said Wednesday that Oakman maintains his innocence in the case and reiterated what Oakman told investigating officers — that the sex was consensual. She said it was unfortunate that the case against Oakman "has been lumped in with other events that are unrelated."
Oakman's indictment comes as Baylor is reeling from allegations that it failed to properly handle accusations of sexual assault involving some of its former football players. An independent review led to the departure of coach Art Briles, as well as the demotion of school President Ken Starr and resignation of Athletic Director Ian McCaw.
At least three lawsuits have been brought against Baylor by women who claim the school was indifferent to or ignored their claims of sexual assault and didn't enforce federal gender discrimination protections under Title IX.
The incident involving Oakman occurred just weeks before the NFL draft, when he was no longer a Baylor student. The defensive end had once been considered a top pass-rush prospect, but wasn't among the 253 players selected in the seven-round draft that went from April 28-30.
Tuegel said Oakman is still hoping for the opportunity to play football somewhere. Oakman had 128 tackles and 17.5 sacks in three years at Baylor. He was suspended for the 2015 season opener for an unspecified rules violation.