Former Angels employee charged in Tyler Skaggs' fatal fentanyl overdose at North Texas hotel
A former employee for the Los Angeles Angels has been charged in connection with the death of Angels pitcher Tyler Skaggs, who overdosed at a Southlake hotel in 2019.
Eric Prescott Kay, who was the communications director for the Angels, was charged with conspiracy to distribute a mixture containing detectable amounts of fentanyl, and was arrested in Fort Worth.
Skaggs, who was 27 when he died, was found dead in his hotel room on July 1, 2019, at Southlake Town Square Hilton while the Angels were in town playing the Rangers.
RELATED: Los Angeles Angels pitcher Tyler Skaggs unexpectedly dies in Texas
Coincidentally, the Angels are back in town to face the Rangers as the charges from the indictment were unsealed Friday.
A more than yearlong investigation has led to the first criminal charges in Skaggs' death.
The loss was felt across the league with tributes in the weeks following his death.
"The Angels pitcher was at the height of his career, the public knew him as a left hander with a lot of promise," U.S. Attorney Erin Nealy Cox said.
The medical examiner found that he had a mixture of ethanol, fentanyl, and oxycodone in his system at the time of his death, and that fentanyl was the main drug that caused his death.
Court documents show that a number of pills were found in Skaggs' room, including a single blue pill with the markings M/30.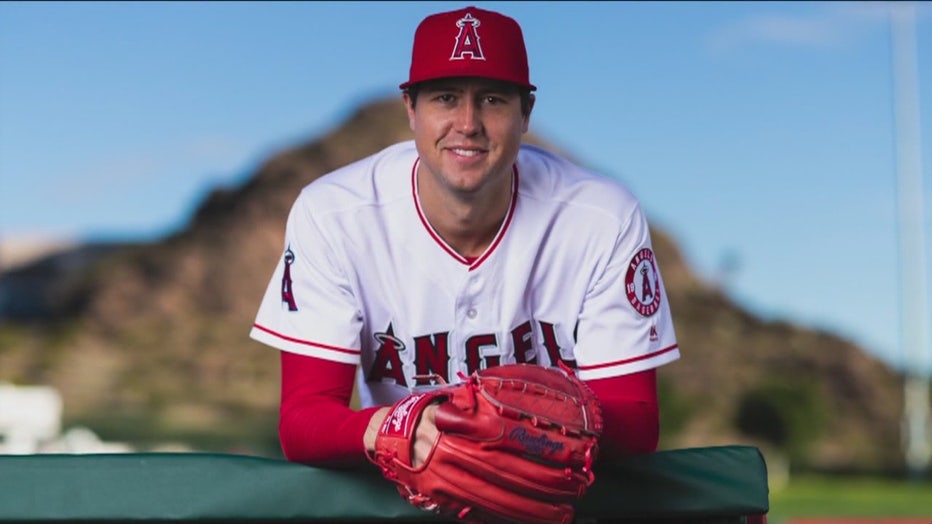 It closely resembled a 30-milligram oxycodone tablet, but an analysis of the pill revealed it had been laced with fentanyl.
Kay, 45, was interviewed by authorities, and reportedly said he didn't know whether Skaggs was a drug user, and he hadn't seen Skaggs since he checked into the hotel.
But investigators found text messages on Skaggs' phone that showed he had asked Kay to stop by his room with pills.
It was later learned by investigators that Kay had lied to them, and told another Angels employee that he visited Skaggs' room the night of his death.
The Drug Enforcement Administration determined that Kay would regularly give the blue M/30 pills – dubbed "blue boys" – to Skaggs and others.
A DEA agent said, "I also learned that Kay would distribute these pills to T.S. and others in their place of employment and while they were working."
"Prescription drugs, or those pretending to be, bought on the street and taken outside the directives of medical professionals is risking your life," Eduardo Chavez, with the DEA, said.
In a statement, attorneys for Kay wrote, in part: "We have incredible respect for the court system and the process, so we will wait for the appropriate time to address the allegation."
An attorney for the Skaggs family also put out a statement.
He thanked federal prosecutors for their work, but also is encouraging the Angels to make public an independent investigation the organization commissioned.
The Angels put out a statement that investigation found no one in management was aware an employee was giving players, including Skaggs, opioids.
Kay made his first court appearance Friday morning, and faces up to 20 years in federal prison if he's found guilty.
PREVIOUS STORIES:
ME: Fentanyl, Oxycodone led to death of Angels pitcher Tyler Skaggs at North Texas hotel