'Family friends' helping fund AG Ken Paxton's legal bills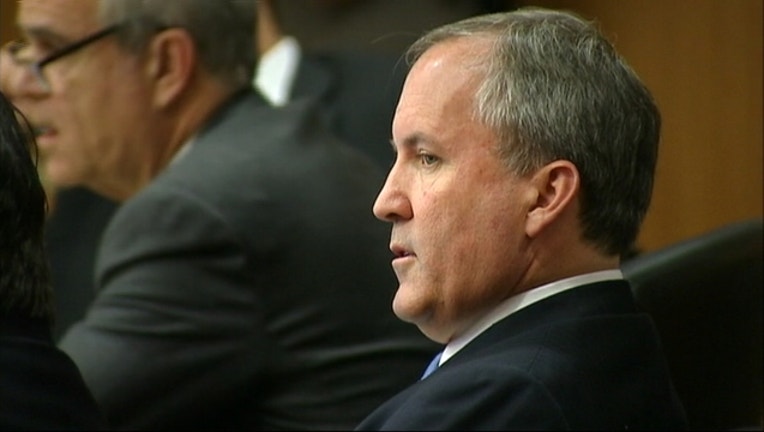 article
AUSTIN, Texas - Wealthy friends and donors of Texas Attorney General Ken Paxton have chipped in nearly $330,000 to cover his legal defense against criminal charges of securities fraud, according to state filings made public Tuesday.
The list reveals for the first time those paying Paxton's legal costs while the Republican fights two felony counts of defrauding wealthy investors in the tech startup Servergy Inc. If convicted, Paxton faces 5 to 99 years in prison.
Paxton, who has pleaded not guilty, is also being sued by the U.S. Securities and Exchange Commission in a separate court case over the same accusations: that he lured investors to Servergy, a data-storage company, without disclosing that he was being paid to recruit new backers.
Among those footing Paxton's legal bill are Preferred Medical CEO James Webb, who pitched in $100,000 and is a longtime donor to the state's top prosecutor. At least one is also a Servergy investor, Keresa Richardson, who gave $10,000 and told the Associated Press last year that Paxton was "the cleanest guy in the world" when asked about his name being linked to a federal investigation.
A Paxton spokesman said the attorney general followed the law in raising and disclosing the funds.
"The financial burdens of defending against politically motivated prosecutions can be significant and Attorney General Paxton is grateful for the support of his friends in fighting back against these false allegations," Paxton spokesman Matt Welch said in an email.
Paxton until now had not disclosed how he is paying for a team of high-powered attorneys — which at times included a former federal judge and former federal prosecutor — since being indicted last summer. Earlier this year, state ethics regulators denied giving Paxton their blessing to let him tap political donors to cover the cost.
But Paxton cited an exemption to Texas bribery laws when listing two dozen legal supporters in a filing with the Texas Ethics Commission. The exemption allows gifts to public servants when there exists a "personal, professional, or business relationship" that is independent of the officeholder.
Many of Paxton's legal supporters live in and around his hometown of McKinney, a conservative Dallas suburb where he was indicted. They include Kelly Shackelford, the president and CEO of the Liberty Institute, which takes on religious freedom lawsuits and had two of its top attorneys join Paxton's staff at the attorney general's office earlier this year. Shackelford gave $1,000 and was among the smallest contributors.
Paxton was indicted just six months into taking office in 2015 and is still a long way from any trial. He recently lost a second bid to have the case thrown out and could next seek a dismissal at the Texas Court of Criminal Appeals, which in February tossed a criminal indictment against former Texas Gov. Rick Perry.
Perry was charged with abusing his power in office. Paxton's alleged misdeeds, on the other hand, are not linked to his state duties and instead happened in 2011 when he was a state legislator.
____
Follow Paul J. Weber on Twitter: www.twitter.com/pauljweber