Denton police fatally shoot man armed with frying pan and knife
DENTON, Texas - Police shot and killed a 22-year-old man who they said ignored commands and stabbed an officer in Denton early Tuesday morning.
It happened at The Forum at Denton Station Apartments, a complex that is mostly home to college students near Interstate 35E and Fort Worth Drive.
Denton Police Chief Frank Dixon said several people called 911 around 3 a.m. to report that a man was yelling, banging on apartment doors and smashing light fixtures with a frying pan.
"He was described as going crazy up in a breezeway, knocking out a series of lights in a hallway, banging on doors and attempting to make entry into a number of apartments," Chief Dixon said.
Responding officers found the man still carrying the frying pan, as well as a meat cleaver and possibly another knife.
"We do teach our officers that when they are going to a call that may possibly involve someone experiencing a mental illness crisis that they use time, distance and cover," the chief said. "They got here on scene. They developed a plan. They methodically approached the breezeway and they made contact with this subject."
The officers tried to communicate with the man and ordered him several times to drop the weapons. But Dixon said he ignored the commands and instead advanced on them.
"Officers are again telling him they're trying to help him; to drop the items he has in his hands. And our subject just starts on some unintelligible words that he starts saying," the chief said. "And at one point, our officers tell him that if you don't drop what you have we're going to deploy a Taser on you."
Dixon said his officers used a Taser to try to stop the man twice, but he got up and charged at the officers. That's when one officer fired several shots at the man.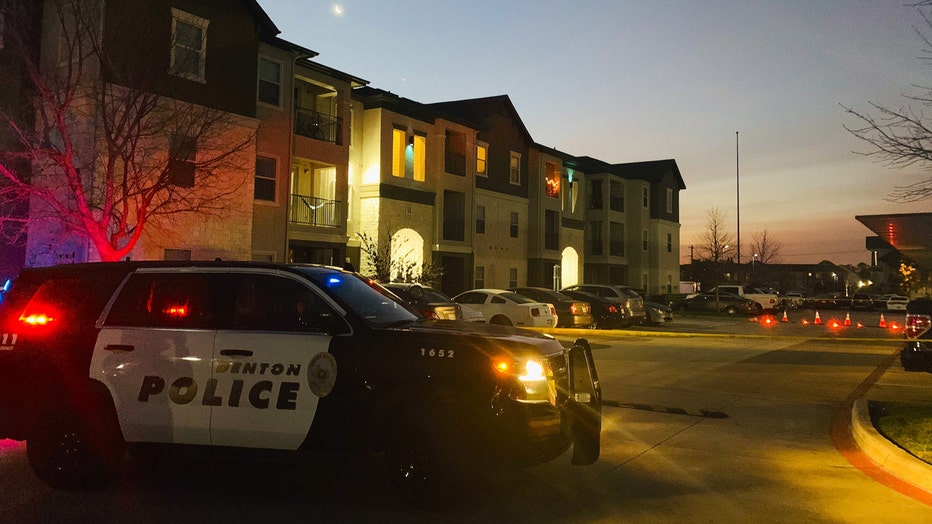 The man was taken to the hospital where he was pronounced dead. His name has not yet been released.
One officer was stabbed in the shoulder during the ordeal. He was taken to the hospital with non-life-threatening injuries, Dixon said.
"I want to stress to you that every day officers come to work in this profession hoping to get home and more importantly hoping that everybody that they interact with gets home as well. And I think that played out in this occasion," he said.
An emotional Jeremy Taylor described the moment he knew his roommate was likely shot by police. Taylor made one of the initial 911 calls after leaving their apartment when he says his 22-year-old friend's behavior became threatening.
Kenton Nelson also lived with them. He says the guy they called DJ was usually attentive and hardworking, but he began acting erratically about a week ago.  
"Up until last weekend, he was very coherent. Good guy. Cook for you. Come check on you. You need anything man, I'm getting ready to go to work," Nelson said. "He worked hard. Worked two jobs. Then all of a sudden like I said, last weekend something occurred and changed all that."
Nelson wasn't home during the incident and shooting. Taylor describes the episode he awoke to.
"When I opened my room door, I saw there was clothes around," Taylor recalled. "He had like barricaded the hallway. He had put a mattress in front of the hallway so you had to like push it to get out."
The Texas Rangers have been called in to help investigate the shooting. The officer involved will be placed on routine administrative leave.