DART breaks ground on Silver Line along the old Cotton Belt corridor
PLANO, Texas - Dallas Area Rapid Transit broke ground on its newest rail line on Thursday. However, some homeowners are concerned about the safety and quality of life it will bring.
The Silver Line will run from Plano to DFW Airport. The 26-mile Silver Line will follow the old Cotton Belt Freight Line that DART acquired years ago.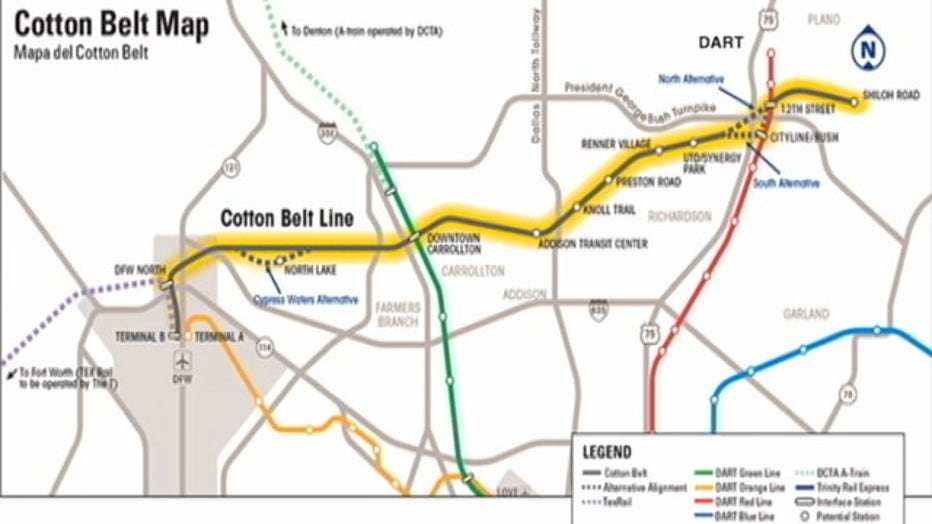 The new $1.1 billion diesel rail line will start with trains in Plano. They'll run through Richardson, Dallas, Addison, Carrollton and Coppell on the way to the airport.
"Imagine as you look out the tent windows here seeing the Silver Line go by, it's not going to be that far away," said DART President Gary Thomas. "We're excited about it."
But not everyone is on board with DART just yet.
FOX 4 has reported on neighbors concerned about the noise the new trains might bring to nearby homes.
Dallas City Councilwoman Cara Mendelsohn says DART is not living up to its promises.
"We're talking about a train that would once be in a tunnel, then a deep trench, then a shallow trench. Now, it is going up in the air," she said. "We don't know what will happen with sound."
Mendelsohn says her biggest concern is safety.
"They assured us at the beginning we would have a safety plan, and we don't," the councilwoman said.
The city passed a resolution in March to support the rail line under certain conditions. Mendelsohn says DART is not meeting some of those conditions, like continuous 15-foot sound walls on both sides.
DART agreed to install sound walls and designate 36 quiet zones where train horns will not sound at crossings.
"I'm hoping the city will stand by the resolution the city passed and make sure citizens are protected for safety and quality of life," she said.
Thomas says the city's resolution is more of a suggestion.
"Preference. And we respect Dallas' preferences like we respect all the cities' preferences down the corridor," the DART CEO said. "We're working closely to make sure that we address those, again, as best as we can. Put up sound walls where it makes sense and not put up the sound walls where it's adjacency is a park or an open property." 
"They included our resolution to be able to get federal funding," Mendelsohn said. "They need to follow it."
Dane Cofer is one of many homeowners next to the tracks. He says DART has now been working with him, but the specifics are still fuzzy.
"We're steaming full force down the path of construction," he said. "And if f that has to be undone or torn out, that's significant tax dollars at work."
Concerned homeowners on the meandering way at the tracks are holding a rally on Sunday at 2 p.m. in hopes of getting DART's attention.
The plan is to have the Silver Line operating by 2022.