Dallas teachers rally for online learning through January 2021
DALLAS - A long caravan of teachers and supporters circled Dallas ISD's governance center for a demonstration to keep in-person school closed "until it is safe."
The Thursday demonstration was put together by the largest teacher's union in North Texas. It included fake body bags, which symbolized those who may die from the coronavirus. Their goal is to delay in-person instruction even further.
Dallas ISD Superintendent Dr. Michael Hinojosa told reporters that he is still trying to determine if it is realistic to open schools for in-person instruction on Nov. 1, the deadline set by the state.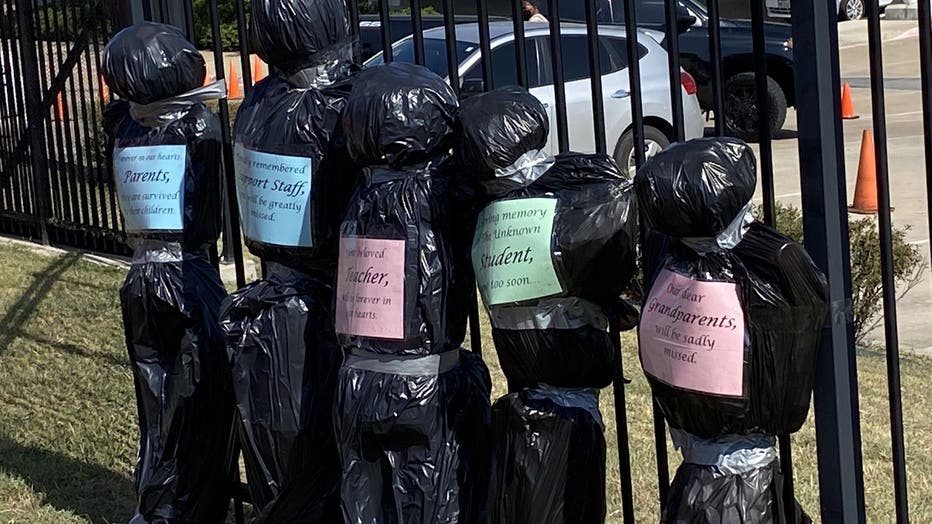 Alliance AFT, the largest teacher's union in North Texas, is urging Dallas ISD to not reopen classrooms until January.
"All campus employees are the very people that are doing this work and are going to risk their lives," said Alliance AFT President Rena Honea.  "And unfortunately, they were never brought into the planning conversations. Therefore, the message is, "No face to face instruction until it's safe."
The teachers want only online learning until January 2021 or at least for the first eight weeks of school. They also want to see at least a 14-day decline in COVID-19 cases and hospitalizations in Dallas before reopening.
"I may be able to stop a bullet and protect a student, but I can't stop COVID-19," said teacher Tonya Hernandez.
The district is preparing for in-person and virtual instruction starting Sept. 8.
However, Dr. Hinojosa suggested on Thursday that in-person instruction still may not be feasible, even much later.
"If we don't offer in-person by Nov. 1, we lose all funding," he said. "Can we realistically have in-person instruction by Nov. 1?"
Dr. Hinojosa said he relies heavily on the opinions of County Judge Clay Jenkins and Dallas County Health Director Dr. Philip Huang about case trends in Dallas County.
"Things are improving significantly in Dallas County," the superintendent said. "We can't say in-person learning won't happen yet."
The state has given Dr. Hinojosa the authority to delay in-person instruction until October. The board could delay in-person instruction until Nov. 1.
"I expect by next week we will make decisions based on health data depending on Clay Jenkins and his medical staff," Dr. Hinojosa said.
While many families with financial resources are opting for private schools or tutors, Dr. Hinojosa said he is concerned about the divide widening between the haves and have nots.
"We also have to weigh how nervous and scared our employees are.  We cannot execute this plan without the support of our teachers," the superintendent said.
Gov. Greg Abbott has said that school districts can apply for a waiver from the state for more than eight weeks of online learning if needed.