Dallas, Arlington & Irving ISD allow in-person learning for some students on Monday
DALLAS - Some of the biggest school districts welcomed back a limited number of students to classrooms on Monday.
Dallas, Arlington and Irving ISDs opened campuses for in-person learning for some children.
In the Dallas Independent School District, the youngest learners and students who are starting at a new campus return to the classroom Monday.
Pre-K and kindergarten students are returning first because it's still a very new experience for them and the district wants them to get comfortable being in a classroom setting.
Parents of students moving to a new building also have the option to let their kids back into the classroom. That means new students and those transitioning from elementary to middle school or junior high to high school.
All other students have the option of in-person learning starting Oct. 5.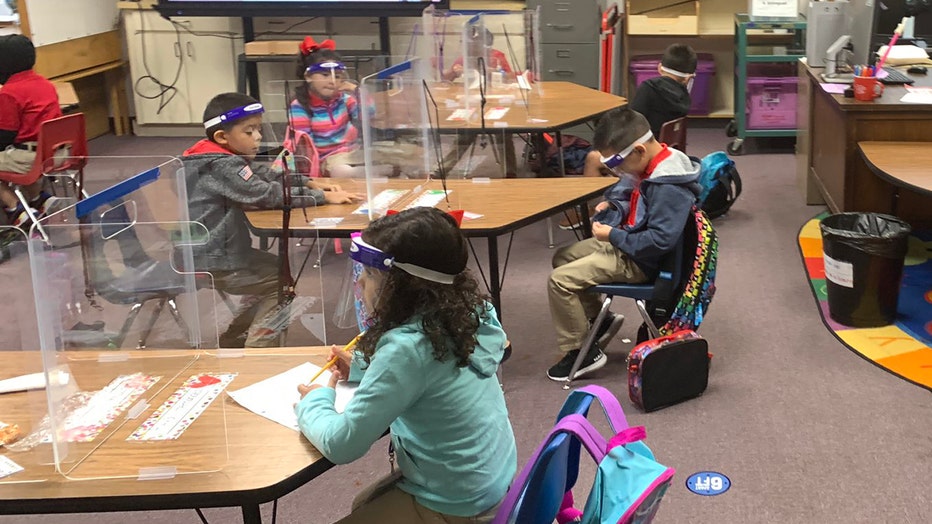 Angel Cruz, whose child attends Winnetka Elementary, said they were embracing the new normal.
"Mainly just getting adjusted to something so different. Wearing the mask and the face shield and having to stay six feet apart when they are used to playing together, you know," Angel said.
But Angel and Bernadette Cruz admitted it was difficult to decide whether to come back for in-person instruction.
"It's very scary to know that they are going to come around other kids or other teachers. You just don't know who's going to get it," Bernadette said.
But they say they also appreciate the opportunity after a somewhat rough go of virtual learning.
DISD Superintendent Dr. Michael Hinojosa got a first-hand look on Monday at the return to campuses and said it helped officials to study other districts that went back sooner.
"I'm actually glad we are one of the last ones going back in because we've been able to learn about what to do and what not to do," Hinojosa said.
While very proud of what he saw at Winnetka, Hinojosa said he's not naive and wouldn't be surprised if things weren't quite as smooth at other schools. But he says it's all part of figuring it out.
"We now have to see how well did we do all over the district. Some aren't as well organized, this principal has been here 13 years," Hinojosa said.
When Dallas ISD high school students return, there will be a hybrid model. Some days students will learn on campus and some days they will learn at home.
Rena Honea from Alliance AFT, the union that represents Dallas ISD teachers, says she touched base with several teachers at the end of the school day. She says social distancing among the younger students was a challenge.
"Teachers noted that it's going to be extremely difficult to teach hybrid model to have online students and face-to-face instruction going on at the same time," Honea said. "That's going to be a difficult task because during the day all kinds of interruptions come up."
RELATED: Dallas ISD considering staggered approach to return students to campus
A hybrid learning model started Monday for students and teachers in Arlington ISD, combining in-person and virtual learning.
Students will be on campus at least twice a week and on some Fridays as well. Although, students in special programs will attend daily regardless of their name.
"The state allows the high schools to be in hybrid scheduling for the remainder of the year if necessary. We are going to monitor that. But we are going to implement hybrid scheduling in the high schools for the foreseeable future," Arlington ISD Superintendent Dr. Marcello Cavazos said.
Masks are mandatory for all Arlington ISD students grades 1-12. Desks will be spaced out, and things like snack machines and water fountains will not be in use.
"We'd also like to encourage our kindergarten and pre-kindergarten students to wear a mask every day," Cavazos said.
The district is assuring students and parents that the campuses are being kept clean using the latest sanitizing tools and techniques.
The hybrid instruction runs through Oct. 9 for most students whose families chose to have them back on campus. Starting Oct. 13, elementary and junior high students will be back on campus five days a week.
The hybrid model will continue for high school students.
In Irving ISD, all students who chose in-person learning were back in the classroom Monday and will have in-person instruction every weekday.
And in Fort Worth ISD, teachers report to campus Monday. Some students will be allowed to return next week.