Cruz won't support Trump for attacks on wife, father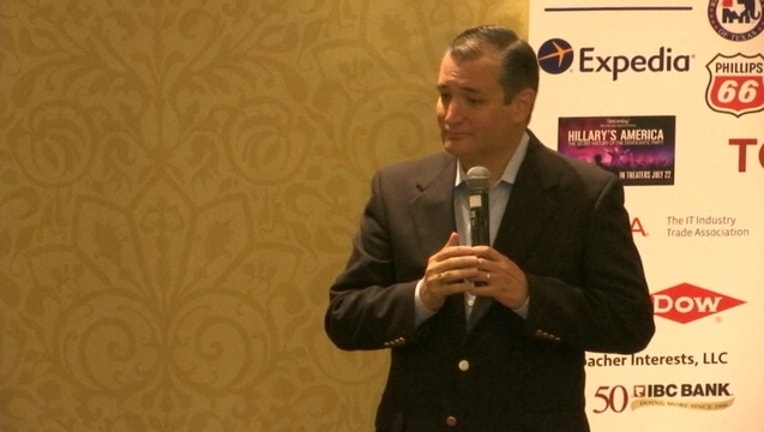 article
CLEVELAND (AP) — A night after being booed off the Republican National Convention stage, Texas Sen. Ted Cruz remained defiant about Donald Trump Thursday, saying he is not a "servile puppy dog" and vowing not to support anyone who wages personal attacks against his family.
Speaking to an incensed Texas delegation, Cruz recalled an answer he gave at a Republican debate this year, when he enthusiastically said he would support the party's official nominee.
"The day that was abdicated was the day this became personal," Cruz said. "I'm not going to get into criticizing or attacking Donald Trump, but I'll give you this response: I am not in the habit of supporting people who attack my wife and attack my father."
"And that pledge was not a blanket commitment that if you go and slander and attack Heidi, I'm going to nonetheless come like a servile puppy dog and say thank you very much for maligning my wife and my father," he added.
Cruz tried to link arms with Republicans at the party's national convention Wednesday but was booed lustily by delegates when he ended his speech without offering Trump his endorsement or even saying he would vote for the New York billionaire.
The blatant sign of disunity in prime time angered the Trump campaign, with top adviser Paul Manafort saying Cruz "used very bad judgment" and was "not respectful to the invitation by the convention to come and speak."
Manafort told NBC's "Today" on Thursday that Cruz "understood what the responsibilities are, someone in his position."
Trump repeatedly mocked Cruz throughout the campaign as "Lyin' Ted." Trump also took jabs at the appearance of Cruz's wife, Goldman Sachs executive Heidi Cruz, and the Texas senator responded that Trump is a "sniveling coward." Trump also made suggestions that Cruz's father had indirect links to John F. Kennedy's assassin, Lee Harvey Oswald.
As he appeared on stage Wednesday night, Cruz basked in a minute-long standing ovation. Cruz finished second to Trump in the crowded Republican primary campaign and congratulated the GOP nominee on his victory.
But the closest as Cruz came to saying he wanted Trump to win the White House was when he said: "I want to see the principles that our party believes in prevail in November."
Cruz didn't tell the convention crowd that he plans to vote for Trump. Nor did he ask his supporters, hundreds of whom encouraged him to run for president in four years at an event on Wednesday afternoon, to vote for the newly minted Republican nominee.
Interrupted by chants of "Trump, Trump, Trump," Cruz paused and said with a smile, "I appreciate the enthusiasm of the New York delegation."
But as Cruz ended his remarks, and as the crowd of more than 2,000 delegates at the Quicken Loans Arena waited for Cruz to say something — anything — kind about Trump, he demurred.
"And to those listening, please, don't stay home in November," Cruz said. "Stand and speak, and vote your conscience. Vote for candidates up and down the ticket who you trust to defend our freedom and to be faithful to the Constitution."
Democrat Hillary Clinton, in a tweet, quickly echoed Cruz, saying, "Vote your conscience."
The delegates responded with angry boos, and Cruz backer and former Virginia Attorney General Ken Cuccinelli escorted Heidi Cruz off the convention floor as she was heckled by Trump delegates.
But Trump said later on Twitter that Cruz's lack of an endorsement was "no big deal!" But he said Cruz "didn't honor" the pledge that Republican primary candidates had made to support the eventual GOP nominee.
"He's a chicken," said Eugene Delgaudio, a delegate from Sterling, Virginia, who clucked like a chicken when asked about Cruz's decision. "He needed to toughen up like every other Republican loser of any nomination battle in the last 100 years since Abraham Lincoln and just suck it up, be a man and back the nominee that he was beaten by, fair and square."
"If we're not going to do that, why do we have elections? Because Ted Cruz has decided that he knows better? Than all of the people who voted in the elections?" he said.
___
What political news is the world searching for on Google and talking about on Twitter? Find out via AP's Election Buzz interactive. http://elections.ap.org/buzz
___
Associated Press writers Vivian Salama and Sam Hananel contributed to this report from Washington. Follow Thomas Beaumont and Steve Peoples on Twitter at: http://twitter.com/tombeaumont and http://twitter.com/sppeoples