Cook Children's asking for donations of crutches due to supply chain shortage
FORT WORTH, Texas - Cook Children's Hospital in Fort Worth is trying to avoid a shortage of crutches.
The problem is a lack of aluminum caused by the supply chain disruption.
Cook Children's says it uses an average of 70 sets of crutches a week. And without donations, they could run out of their supply in less than two months. So they're asking the community to donate what they can.
The hospital is taking inventory and trying to get ahead of a shortage of aluminum crutches they say is within sight.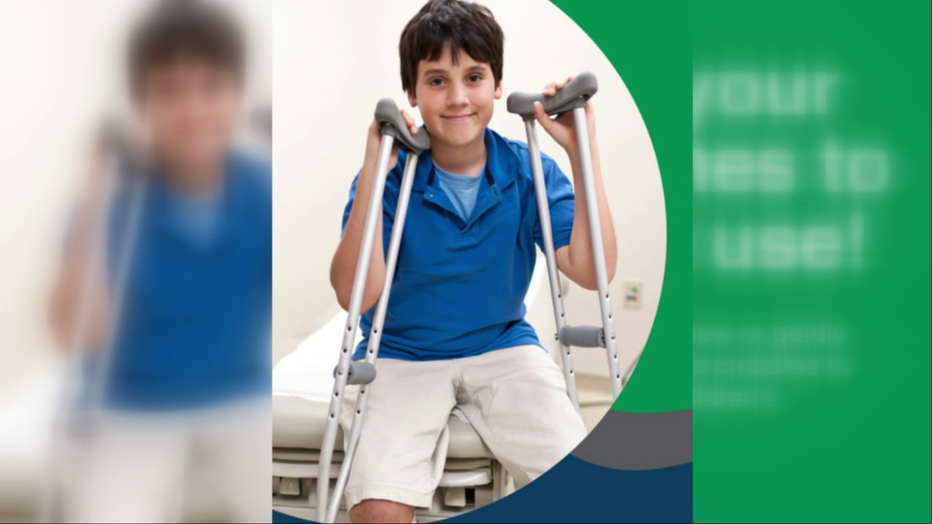 Brady Gendke, Vice President of Operations at Cook Children's Home Health, says it boils down to a key raw material.
"All of this kind of comes back to the shortage of aluminum," he said. "And while we have not faced any shortages as of yet, we are being notified of the back orders that are coming."
The lack of raw aluminum is impacting companies producing everything from canned goods and soft drinks to cars and computers.
Combine that with supply chain issues, and Gendke says hospitals nationwide are struggling to keep certain products on the shelves.
"You have port volumes and congestion that play a factor right now," Gendke said. "You have labor shortages with the transportation partners that we have."
In recent months, Cook Children's has faced shortages on gloves, masks, eye shields, tape and IV catheters, forcing them to seek out new vendors.
And while most have been short-lived, it's unclear how quickly their supply of aluminum crutches may be depleted if a backorder lasts too long.
Cook Children's is asking the community to donate new or gently used aluminum crutches to be cleaned and repaired as necessary.
"We have already started ordering parts in to be able to make some repairs and make some clean-up crutches that may come in that need a little work done on them," Gendke said.
FOX 4 checked with several other North Texas hospitals, but none of them indicated any similar issues yet.
But a number of other hospitals in multiple states around the country do report a similar need and are also doing a donation drive for crutches.
In a pinch, Gendke says the Cook Children's could resort to using walkers, wheelchairs or canes as an alternative to crutches. None of those are in short supply right now.
But in cases where crutches are critical to recovery, patients may have to delay treatment. 
"Some of the elective surgeries that might require some of these types situations, these resources may have to be put off for a short period of time relative to recovering from that shortage," Gendke said.
The hospital says they are not looking for wooden crutches, only aluminum ones. They are asking for youth and adult regular-sized aluminum crutches. However, they say they'll be happy to receive crutches of any size.
Crutches can be donated at the main entrance of Cook Children's Medical Center in Fort Worth. Donations will be accepted from now until next Friday from 7 a.m. to 6 p.m.