North Texan describes having flight delayed while Chinese spy balloon was shot down off Carolina coast
Saturday afternoon, people off the Carolina coast watched as the U.S. military shot down a suspected Chinese spy balloon.
Video shows the balloon falling into the Atlantic Ocean.  
Secretary of Defense Lloyd Austin said a fighter jet fired one missile at the balloon near Myrtle Beach, South Carolina, just before 1:40 p.m. Central Standard Time.
The mission then turned into a recovery effort, with the wreckage spread out over roughly seven miles of ocean.
The timeline on recovering the balloon from the Atlantic is unknown right now. 
U.S. Navy and Coast Guard vessels established a perimeter off the South Carolina coast. 
"They successfully took it down. I want to compliment our aviators who did it," President Joe Biden said.
President Biden told reporters he ordered the balloon to be shot down as soon as possible on Wednesday, but the Pentagon waited until the balloon was over water because the risk to the public or falling debris was too high.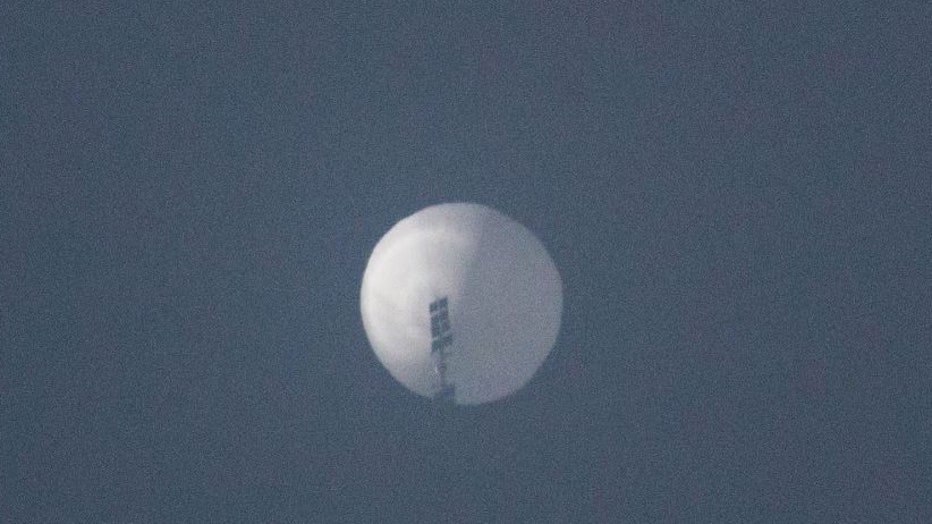 Image of a suspected Chinese spy balloon. China said Friday that a balloon spotted over American airspace was used for weather research and was blown off course, despite U.S. suspicion it was spying. (Credit: Chase Doak via Storyful)
RELATED: US downs Chinese spy balloon off Carolina coast; Biden says he gave the order
His statement Saturday comes after a week of scrutiny from Republicans for not shooting down the balloon sooner.
"I told them to shoot it down," Biden said.
[REPORTER: "On Wednesday?"]
"On Wednesday," Biden responded. "They said to me let's wait until the safest place to do it."
According to U.S. military officials, the balloon traveled from mainland China and entered U.S. airspace one week ago, off Alaska. 
The balloon, which was at 60,000 feet and well above where commercial aircraft fly, moved into Canada and then into the lower 48 states.
RELATED: Chinese spy balloon spotted over Western US, Pentagon says
It was spotted in Montana mid-week, not far from a U.S. Air Force base that houses more than 100 nuclear-armed missiles. 
The Chinese government claimed the balloon was a civilian aircraft that had gone off course. 
However, the Pentagon said the balloon's path over the U.S. was intentional and that it was being used for surveillance.
Recovering the balloon's payload will give U.S. intelligence a better idea of its mission.
Secretary of State Antony Blinken postponed a diplomatic trip to Beijing, which was an attempt to ease tensions between China and the U.S.
"We concluded that conditions were not conducive for a constructive visit at this time," Blinken said at the time.
Saturday afternoon, the FAA closed airspace in North Carolina and South Carolina during the military operation, and halted all fights in and out of Charleston, Myrtle Beach, and Wilmington airports.
Jennifer Barth, of Flower Mound, sent FOX 4 a video once her flight from DFW landed at the Wilmington airport Saturday, which was delayed almost two hours because of the flight restrictions.
"We are happy to have landed in Wilmington, North Carolina," Barth said. "We certainly understand that we couldn't fly in restricted airspace. One of the stranger reasons I've had a flight delayed. We are glad to be here and on our way."