Carry the Load ends with memorial march at Reverchon Park
DALLAS - Hundreds of people were on a mission to honor fallen military members on this Memorial Day. The relay ended with the Dallas Memorial March at Reverchon Park.
Carry the Load has a national relay where teams of marchers travel 20,000 miles on five different routes covering 48 states. 
The march pays tribute to the sacrifices made by military veterans and their families. Each person carrying a tribute of gratitude.       
All of these people are walking with a purpose: united as a community to honor and remember our fallen heroes on Memorial Day.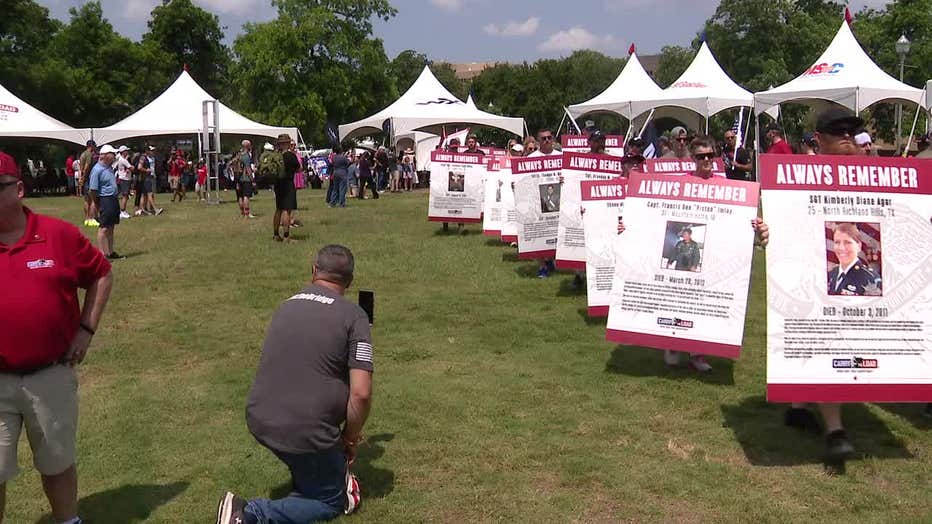 Chris Board's son's image looms large on the of a bus parked at Reverchon Park. Cody was serving in the army when he was killed on the battlefield in Afghanistan just eight days shy of his 20th birthday. His brothers continued his legacy.
"His time in the military was short. So my brother and I felt like we needed to finish it for him," said Aaron Board. "I did my part, and my brother is finishing up his part for him."
These are just some of the personal stories being shared at the annual Carry the Load flagship event in Dallas.
Thousands of people participated in the 20-hour overnight walk that concluded Monday morning.
Army veteran Glen Dare served in Afghanistan and Iraq. Like others, he wears the uniform during the remembrance walk since that's the uniform his friends died in while serving this country.
The event started in North Texas back in 2011. Two Navy seals marched to remind the nation about the true meaning of the sacrifices made for our freedom. More than a decade later, Carry the Load was grown into a worldwide event.
"This is a time of healing and people heal in their own ways. I'm healing myself this is my therapy," Chris said.
Storyboards about fallen military and first responders that lined the Katy Trail where participants walked were carried to the closing ceremony.
Among the many faces was a 26-year-old helicopter pilot killed in action but never forgotten.
"The beautiful thing about that is that he's with us every year," said Hallie Johnston with Carry the Load. "I carry his memory in honor of his family."
Carry the Load raised over $1.6 million.