Calls grow for defunding police departments, redirecting money to community intervention programs
DALLAS - In Minneapolis, a majority of city council members said they were committed to dismantling the police department.
Across the country and in Dallas, some city leaders aren't willing to go that far, but they do want police department budgets reduced and that money going elsewhere.
The idea has been growing since at least 2017 from a book by a New York college professor called "The End of Policing."
The idea is to identify police spending that could be shifted into specific targeted community intervention programs so police aren't asked to manage all of society's issues. But not everyone thinks shrinking the police budget or stopping policing is the way to go.
Even as the Dallas police chief outlined steps the department will take, there are growing calls from some within the city council to begin defunding the department by diverting some funding from police and sending it to community programs.
Councilmembers that support defunding Dallas police say they don't want to reduce officers, but they want to move funding to support other resources in the city.
Protests in Dallas have moved from anger to talking about solutions to fixing problems with police departments in North Texas. One call from some is to defund the police department.
Councilman Adam Bazaldua, Omar Narveaz and Jaimie Resendez all support defunding Dallas PD in some way.
Bazaldua says some other councilmembers support or are on the fence about the move. 
The call to defund is coming weeks before budget talks begin at city hall.
"I am committed to not voting for a budget that doesn't divest some funding in our police department," Bazaldua said. "We need to look into 21 century solutions and relocate funding for socioeconomic resources and address the disparities and the gaps within society."
Councilwoman Jennifer Staubach Gates does not support defunding, but she does support adding more resources where needed to help to problems in the community and to build trust.
"The reaction to defund, I can't wrap my head around how that can change overnight," she said. "Now the calls to do things differently, I can understand. And putting some resources in the right response and making some changes, I'm listening and I think we can get there."
The Dallas Police Department has been focused on hiring more officers, being short hundreds according to the dallas police association. Nearly 70 new officers graduated a few weeks ago.
The calls for removing funding from Dallas PD comes as the city deals with budget cuts stemming from the pandemic shutdown. Dallas has already furloughed hundreds of city workers. Officials estimate lost sales tax revenue from the shutdown to be more than $70 million.

When asked about defunding police, Dallas Mayor Eric Johnson told a cable news network he does not support dismantling the police department. He went on to say he wants to increase social services funding and that city leaders are looking at every department come budget time in August.
Part of the protests in Minnesota and other places have been to defund or even dismantle police
"I think it becomes psychological for us because we think we're not gonna have police," said Psychologist Dr. Brenda Wall. "That's a psychological reaction. It's sociological if you look at what this means at a community level."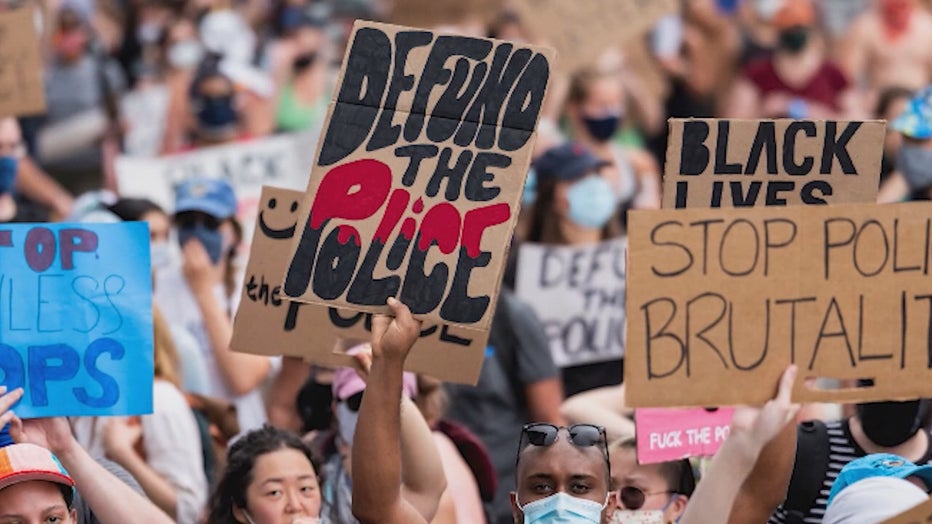 Anthony Williams is a former Dallas police lieutenant and college campus police chief. With the American Institute for Management Strategies, he's been teaching to Texas police executives a new way of thinking about community policing.
"It's not about dismantling the police services. It's enhancing the police services that we have, especially through community policing," he said. "When you start reviewing your calls for services seeing what kind of calls you're answering and what the outcome of those particular calls are, then you take that information and say we need to create a civilian rather than a policing unit. We need to create a civilian unit where we can send people out other than police officers to handle those. As long as it's not a breach of the peace or a violent offense that's occurring, then we can do that with civilian police forces as well."
Williams says the defunding idea is to take money from police budgets and redirect dollars to community intervention programs
"You take those funds and put them with the agencies that can help these people," he said. "And so the police department will have some level of enforcement functions, but we also become a referral service as well."
Dr. Wall says that would reduce people who may not really need law enforcement having contact with them.
"They may have mental health needs or they may have domestic violence," she said. "That means that people who are better equipped to handle such cases can be employed to go out."
Handling homeless calls and even out boarding what's not violently criminal to community.
But Criminologist Dr. Alex Del Carmen is against cutting budgets or more eliminating police.
"I don't know that the law enforcement community would be against the idea of letting go of some of these specialties circumstances to health care professionals at all," Del Carmen said. "Defunding the police and shutting down police departments across the United States, that is an emotional reaction versus a scientific and cerebral reaction to how we should respond to our community today."
Williams says this shift in policing was already happening. He calls it 360 community policing: community, compassion and common sense.