Brazilian police say Lochte, US swimmers were not robbed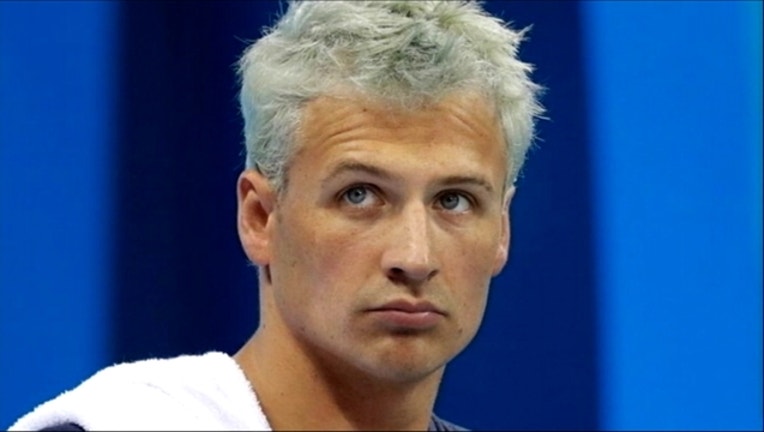 article
RIO DE JANEIRO - Brazilian police said Thursday that swimmer Ryan Lochte and U.S. teammates were not robbed after a night of partying, and said the incident appeared to stem from an encounter caught on security cameras that showed the Olympians breaking into a gas station bathroom.
The robbery that was or wasn't has become the biggest spectacle outside of the Olympic venues in Rio, and given American swimming a black eye in Brazil after an otherwise remarkable run at the Summer Games.
"No robbery was committed against these athletes. They were not victims of the crimes they claimed," Civil Police Chief Fernando Veloso said during an afternoon news conference.
Lochte had initially said that he and teammates Jack Conger, Gunnar Bentz and Jimmy Feigen were held at gunpoint and robbed after a night of partying on the final night of Olympic swimming. Police said earlier this week that they couldn't find evidence to substantiate the claim, and a judge ordered the swimmers' passports held as the investigation continued. Lochte had already returned to the U.S.
While some details in the official account of the story changed on Thursday — police first said no guns were involved, then backtracked and said two guards pointed weapons in their direction — security video confirmed that the athletes had tried to break their way into a shuttered bathroom.
The closed-circuit video shows the four in an alley walking toward a bathroom. At one point one of them pulls a sign off of a wall and drops it on the ground behind them. A gas station worker arrives, and other workers go to inspect the damage.
Another camera then shows the swimmers in a cab, when security guards arrive. All four swimmers exit the cab and talk with the guards, who persuade them to walk to another section of the gas station. The cab they arrived in then leaves.
Seconds later, Lochte falls to the ground and is helped up. Then two of the swimmers put their hands up and all four sit down on a curb as they speak to multiple people standing in front of them. After several minutes of talking, they stand up and appear to exchange something — perhaps cash — with one of the men.
A police official speaking on condition of anonymity because the investigation was ongoing said two guards pointed guns at the swimmers, and that they had damaged the door and a soap dispenser. The official also said the station manager asked a customer for help with translation, and asked for money to pay for the broken door, and the swimmers gave him an undetermined amount of cash, and then left.
Veloso said the security guards were justified in pulling their weapons because the athletes were large, strong men who "were conducting themselves in a violent way."
Lochte's attorney, Jeff Ostrow, has maintained that there is no question the robbery occurred. He, as well as Lochte's father and agent, did not return phone calls seeking comment.
After days of confusion, the situation escalated late Wednesday night when Conger and Bentz were pulled from a flight at the Rio de Janeiro airport.
The official also said that Conger and Bentz said in interviews after they were taken off the plane that the story of the robbery had been fabricated.
Brazilian authorities pressed the American swimmers over the ever-changing account of the robbery. Police said the swimmers were unable to provide key details in early interviews and they found little evidence to support the robbery claim. The swimmers said they had been intoxicated and could not remember what type and color of taxi they rode, where the incident happened or what time the events occurred, police said. The police official said officers grew suspicious when they reviewed security video of the swimmers returning to the athletes village and saw them wearing watches, which would have likely been taken in a robbery.
"We got pulled over, in the taxi, and these guys came out with a badge, a police badge, no lights, no nothing just a police badge and they pulled us over," Lochte told NBC's "Today" the morning after the incident. "They pulled out their guns, they told the other swimmers to get down on the ground — they got down on the ground. I refused, I was like we didn't do anything wrong, so — I'm not getting down on the ground.
"And then the guy pulled out his gun, he cocked it, put it to my forehead and he said, 'Get down,' and I put my hands up, I was like 'whatever.' He took our money, he took my wallet — he left my cellphone, he left my credentials."
But Lochte backed off some of those claims as the week went on, saying the taxi wasn't pulled over by men with a badge but rather the athletes were robbed after stopping at a gas station. Lochte also said the assailant pointed a gun at him rather than putting it to his head.
Authorities said that after the incident, the swimmers did not call police; officers began investigating after they saw media reports in which Lochte's mother spoke about the incident.
Lochte told USA Today that he and his teammates didn't initially tell U.S. Olympic officials about the robbery because "we were afraid we'd get in trouble."
The debacle prompted both wild speculation and social media mockery, but all of that quickly turned to scorn after the official account went public. #LochteGate was trending on Twitter, with users sharing video footage from gas station security cameras and posting comments about white privilege and rude Americans.
While he's medaled often in the Olympic pool, Lochte's accomplishments have long been overshadowed by teammate Michael Phelps — the most decorated Olympian in history. Lochte won a gold in Rio in a relay race alongside Phelps. He is a 12-time Olympic medalist.
The swimmers could potentially face punishment — probation, suspension, a fine or expulsion — under USA Swimming's code of conduct, which prohibits dishonesty or fraud. It was not immediately clear if the organization planned to act. It was not clear if the swimmers would face criminal charges.
___
Contributing to this report were AP reporters Beth Harris, Chris Lehourites, Pauline Arrillaga and Renata Brito in Rio de Janeiro, and Steve Reed in Charlotte, North Carolina.
___
This story has been corrected to reflect that the lawyer for two of the swimmers is Sergio Riera, not Sergio Viegas.