Bill filed by Dallas Rep. looks to restrict civilians from filming police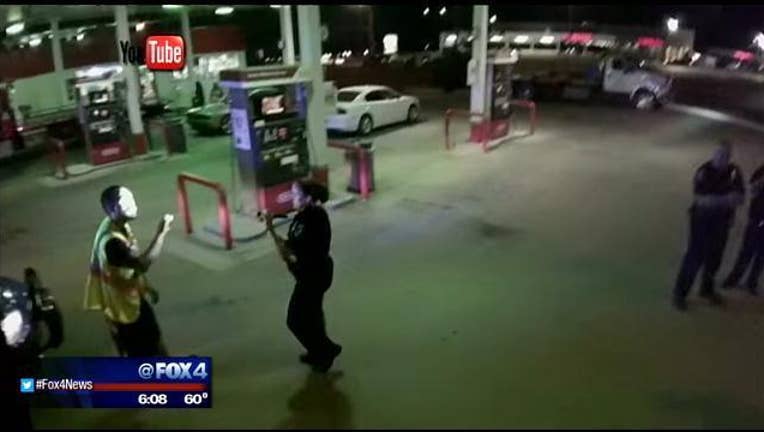 article
A Republican Lawmaker from Dallas has filed a Bill in Austin that would make it a crime for private citizens to photograph or videotape police from a certain distance.
If passed into law, it would be a Class B misdemeanor for a citizen to photograph or record a Texas Peace Officer within 25 feet while they are working a scene.
Some believe the measure is unconstitutional because much of what police officers do on the job happens in plain view of the public. Others don't like the fact that the bill would allow credentialed media to get closer to the same scene.
Avi Adelman is a citizen blogger who doesn't agree with the Bill. "They are trying to restrict people from covering news. This is the 21st century!"
Self-described news junky and citizen journalist for more than two decades, Avi Adelman says House Bill 2918 would make what he does illegal. "To write a law with that says people with official credentials are allowed to be here, but people like John Doe can't be here," Adelman says.
The Bill, sponsored by Dallas Representative Jason Villalba would make it illegal for anyone but news media to record police within 25 feet.
Villalba says the measure is drafted with officer's safety in mind, and in reaction to officers being distracted by other more vocal citizen journalists.
Jose Vela with Cop Watch says "the whole idea of my Cop Watch is to let the police know that as they watch us, we're watching them."
Vela says his group and others are trying to hold police accountable.
But sometimes that accountability comes off like police harassment. Like in the video posted by a man named Jacob Drodova (watch to above video to see).
Adelman, a member of the National Press Photographers Association, is not a credentialed media member but wears identification acting in good faith. He also operated under some very simple rules.
"One. If I'm close enough to hear the officer's talking, I'm probably too close. Two, there's yellow tape and three, there's common sense you don't stand in the street," Adelman says. "I don't recall anywhere in the constitution you have to be a credentialed media person to exercise free speech or free movement."
Former State District Judge Randall Isenberg says the Bill is unconstitutional and he says there's already a law on the books.
Adelman continues, "most of the protections he is talking about already exist in current laws. If the police officers feel like somebody is actually hindering an arrest or hindering some form of the execution of their legal duties, they can file charges against those people and occasionally do."
Adelmen believes the Bill is a violation of his 1st amendment rights. "I don't have to be blessed by any police department to have a blog and write a story about the news as I see it."
With so many police departments going to body cameras, Judge Isenberg believes citizens recording, without interfering with officers, would be helpful, not harmful.
The Dallas Police Association supports the bill.
Calls to Representative Villalba were not returned.