Bernie Sanders holds rally in Mesquite Friday night
MESQUITE, Texas - Democratic presidential frontrunner Sen. Bernie Sanders held a rally in North Texas Friday to talk with supporters, as a new Texas poll puts him slightly on top.
Voters arrived early to the event in Mesquite ahead of the event.
Of all the candidates in the Democratic primary this year, it's Sanders who usually attracts the biggest and most enthusiastic crowds. He spoke at the Mesquite Arena, a venue with a seating capacity of 5,500.
Sanders is currently the Democratic front-runner. That fact is a source of concern for many in the party establishment who worry how a self-proclaimed Democratic socialist would fare against President Donald Trump in November.
But there is more good news for Sanders' campaign that was just released Friday morning. The latest polls from the University of Texas and the Texas Tribune show he is the favorite among likely Democratic voters to win the Texas primary on March 3.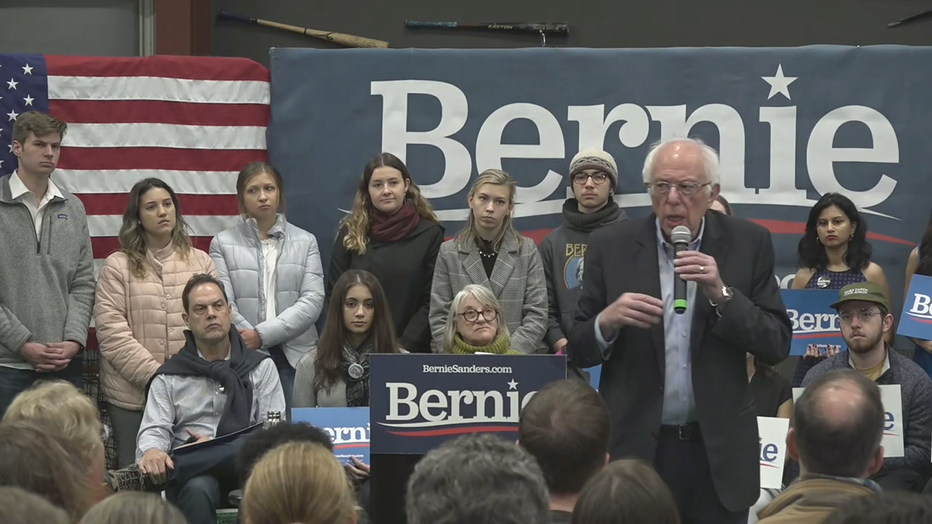 The poll shows him with 24%, followed by Joe Biden with 22% and Sen. Elizabeth Warren with 15% support. The other Democrats trail Warren.
Sanders is coming off a win this week in the New Hampshire primary. Before that, he finished in a virtual tie for first in the Iowa caucuses.
Before Super Tuesday, when Texas and 13 other states have their primaries, there are primaries in South Carolina and a caucus in Nevada
But Sanders is setting his sights on delegate rich Texas now.
Riding the victory wave from Tuesday's New Hampshire primary, Sanders is in North Texas.
"We are the strongest campaign to defeat Trump because the way you defeat Trump is by having the largest voter turnout in the history of this country," Sanders said at a previous campaign event.
Former New York Mayor Mike Bloomberg, who is fourth in the UT/Texas Tribune poll at ten percent, is spending a massive amount of his personal fortune in this political fight for the Democratic party's nomination
Bloomberg, who just held a rally in Houston Thursday night, opened campaign offices across the state, including one in Dallas, last week.
Betting on snagging some of the 228 delegates up for grabs on March 3.
Pete Buttigieg, the former mayor of South Bend, Indiana, is fifth in the Tribune poll at seven percent.
The top five Democratic presidential hopefuls in the Texas Tribune poll have all been to North Texas and other parts of the state looking for Democratic voters.
"We're definitely in play. As you can see, we've had presidential candidates come in and make their voices heard so this is a very exciting time for the Democratic party, as well as the whole election process as a whole," said Trey Arnold, Dallas County Democratic Party political director.