Bedford fire badly damages 3 homes, displacing 13 people
BEDFORD, Texas - An early morning fire on in Bedford on Tuesday left 13 people without a place to stay.
Flames broke out around 4 a.m. at a carport on Schumac Lane, it soon spread to four cars, powerlines, a shed and multiple homes including one on Donna Lane.
3 homes were damaged in the fire. 13 people were evacuated, and all escaped without harm.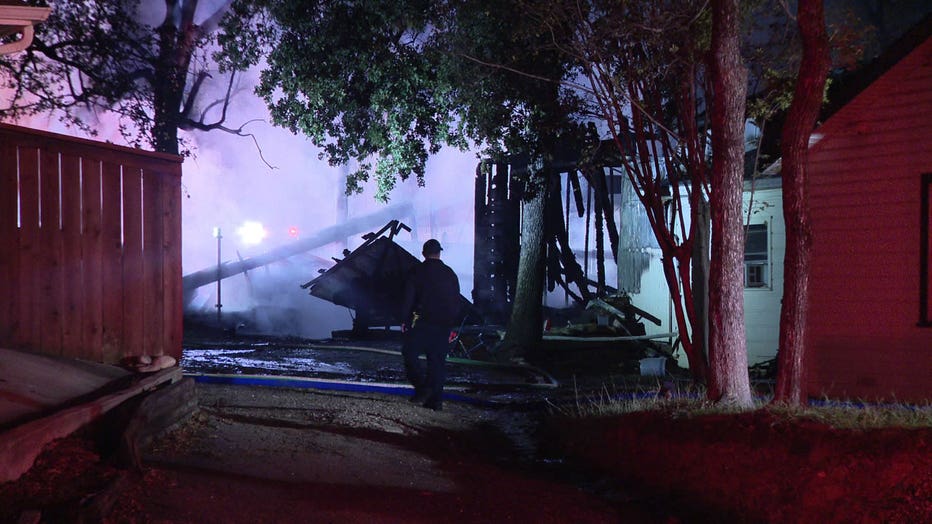 Bill Fondaro bought barbecue to give to those who had their homes damaged.
"We walked down to see and these poor guys got kind of burnt out, so the wife decided to get them some Spring Creek Barbecue," said Fondaro.
The Bedford Fire Department shared photos of from the height of the battle against the flames in the early morning hours.
(Courtesy: Bedford Fire Department)
"Our initial crews got on scene and found multiple cars involved and a carport fully involved," said Bedford fire chief Bill Walker. "As the fire was progressing, the way these houses came together, we had three separate houses all suffer significant damage."
The multi-location two-alarm fire prompted support from several nearby fire departments including Hurst, Euless, Watauga and North Richland Hills.
"Because of how hot cars burn, the intensity of the fire just translated into those other structures. So we had three houses burning at different levels," said Walker.
Hours later, some who lived at the homes appeared to salvage what they could in bags.
Helpful neighbor Bob Fornaro says he imagines the trees in the area played a part in fanning the flames.
He's thankful it wasn't any worse.
"I think it got into the trees. You know we have a nice treed neighborhood that was a plus, but when the fire jumps onto trees and onto the fences then that's kind of a negative," he said. "You think about how the whole situation, and how it could also affect you."
Chief Walker agrees it could've been much worse, emphasizing despite the destruction, more than a dozen people made it out safely.
"Ultimately a lot of fire, a lot of damage. A chaotic scene because it was breach on two different streets," he said.
The Red Cross has been called to help the families affected by the fire.
The cause of the fire is still under investigation.