Balloon release held to remember Allen H.S. student killed at Plano house party
ALLEN, Texas - Friends and family of Marquel Ellis Jr. were at Allen High School Saturday morning to hold a balloon release to remember the 16-year-old who was fatally shot at a house party in Plano last weekend.
Hundreds of people took part in the ceremony, and shared their memories of Ellis, who had dreams of playing college football.
This came a day after Allen High School players and fans honored him during the team's playoff game against Rockwall.
MORE: Allen High School football player who was murdered remembered during team's playoff game
Ellis was murdered on Nov. 16. Investigators believe teenagers were at a short-term rental house for a party. After a group got kicked out, they went to get a gun and then fired into the home.
Ellis was the only one hit by the gunfire. He was rushed to a hospital, but was later pronounced dead.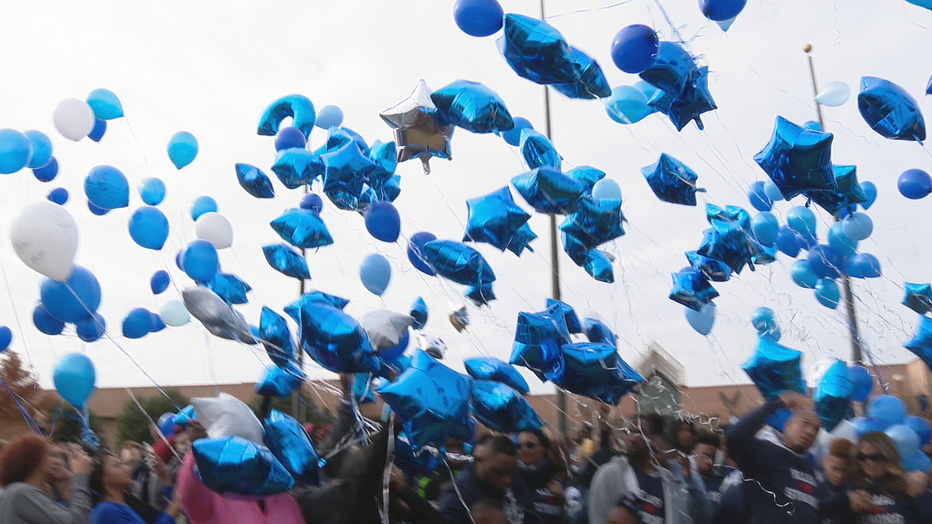 Hundreds of balloons were released to the sky.
Each represented a person touched by Marquel.
"He wasn't one of those people that needed attention, I mean, he just knew how to get attention," Marquel's dad, Marquel Ellis Sr., said.
Marquel was more than an Allen High School football standout.
"The lives he's touched and the people he's changed, that's what it's all about," Liam Thornton said.
Many called him a role model.
"It still don't seem real," Longtime friend, Laroderick Hendrix, said.
"We did everything together," his brother, Michael Elllis, said.
"I looked up to him, even though I was the oldest, I looked up to him," his sister, Jadasia Bailey, said.
"He just kept making touchdowns to make his team win," said Chanel Ellis, who was also Marquel's sister.
"We all loved him," Marquel's cousin, Justice Maduagwu, said. "I love him."
Marquel touched the lives of all ages.
"He's probably what you would want your son to be," his uncle, Lawrence Ellis, said.
Two teenagers are now charged with murdering Ellis after court documents show 18 shot were fired into the house party. Christian Hill, 18, turned himself in to Plano police on Thursday, and 17-year-old Kemond Smith was arrested earlier this week.
"Am I glad he's caught? Sure. Does it make me happy? No. So, I mean, he should get what he deserves and we'll go from there," his uncle added.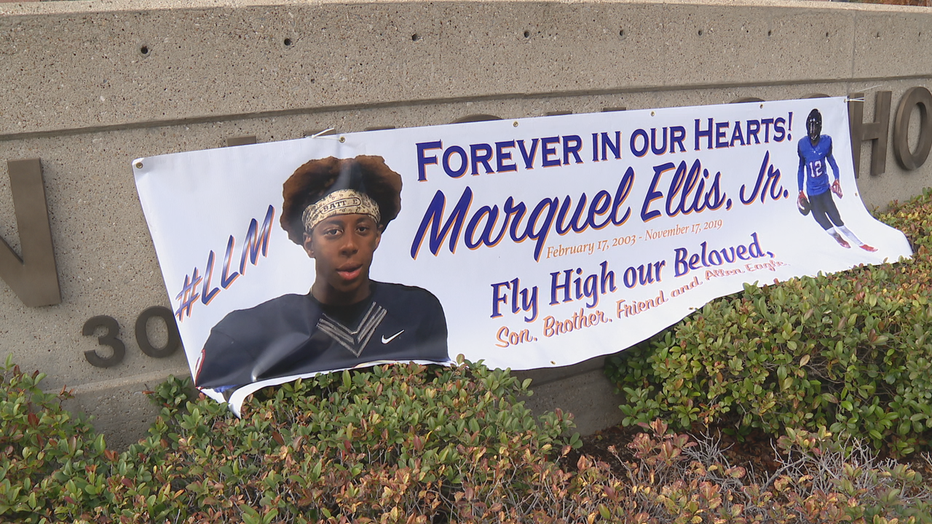 Teammates rushed the field carrying Ellis' number 37 jersey Friday night.
Cheerleaders wore bows abbreviating "Long Live Marquel."
"He was one of those people who didn't stop until he got it," Marquel's father said.
"He was very competitive, too," a group of his teammates added.
But those close to him find comfort believing he's now playing for a team with a higher calling.
"I know that he's saying, 'Heal, I'm on God's team now,'" family friend Barbara Thornton said.
Still, healing won't be easy.
Marquel's sister was with him at the party when he was shot. She'll work to replace that haunting memory with lighthearted ones, like when she would drive him to school.
"He always be late and waking up late, and I be like, 'You need to hurry up, we're going to be late. I'm going to call my daddy,'" his sister, Jadasia, recalled. "I'd just be like telling him we're going to leave and he'd be like, 'I'm coming. I'm coming.' So that's one that's going to stick with me every time I wake up."
For now, they can only hope his story will, in some way, make a difference.
The wake for Marquel will be at One Community Church in Plano Sunday at 5 p.m. That is open to the public.
His funeral will be held Monday, at 11 a.m.