As fliers wait in security lines, gov't asks for patience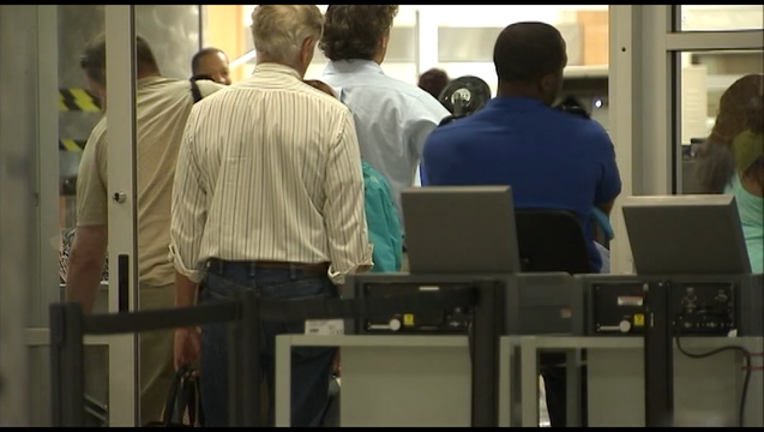 WASHINGTON (AP) — The nation's homeland security chief is asking fliers to "be patient" amid extremely long airport security lines.
Homeland Security Secretary Jeh (jay) Johnson says the government is taking steps to get people onto planes more quickly.
Travelers across the country have endured lengthy lines, some snaking up and down escalators. At some airports, lines during peak hours have topped 90 minutes.
The Transportation Security Administration has fewer screeners and has tightened security procedures. Airlines and the TSA are already telling fliers to arrive at the airport two hours in advance.
Johnson says the government has a plan to deal with the lines, although travelers should expect to wait as they travel this summer. Whatever the plan, he says, TSA won't neglect its duty to stop terrorists. He says, "We're not going to compromise aviation security in the face of this."
Airlines are expecting a record number of fliers this summer, meaning more passengers and bags to screen. Johnson said TSA is working with airlines to enforce limits on carry-on bags and their size. Passengers often over-pack carry-ons to avoid paying the $25 checked bag fee most airlines charge.
%@AP Links
181-a-04-(Representative John Mica, R-Fla., chairman, Subcommittee on Transportation and Public Assets, at news conference)-"of paying overtime"-GOP Congressman John Mica has a suggestion to cut down security lines and save money. (13 May 2016)
<
177-a-13-(Jeh (jay) Johnson, Homeland Security Secretary, at news conference)-"canines, more technology"-Homeland Security Secretary Jeh Johnson says they are working with Congress to get funding to build back the TSA workforce among other moves. (13 May 2016)
<
APPHOTO DCSG124: Passengers wait in a security line at Washington's Ronald Reagan National Airport, Friday, May 13, 2016. Fliers across the country have been facing growing lines, which during peak hours have topped 90 minutes at some airports. The TSA has fewer screeners and has tightened security procedures. Meanwhile, more people are flying. (AP Photo/Sait Serkan Gurbuz) (13 May 2016)
<
APPHOTO DCSG115: Transportation Security Administration (TSA) Administrator Peter Neffenger, right, accompanied by Homeland Security Secretary Jeh Johnson, speaks during a news conference on airport security, Friday, May 13, 2016, at Washington's Ronald Reagan National Airport. Fliers across the country have been facing growing lines, which during peak hours have topped 90 minutes at some airports. The TSA has fewer screeners and has tightened security procedures. Meanwhile, more people are flying. (AP Photo/Sait Serkan Gurbuz) (13 May 2016)
<