American Airlines posts $2.2 billion loss during COVID-19 pandemic
FORT WORTH, Texas - American Airlines reported a staggering loss of $2.24 billion for the first quarter, when the coronavirus pandemic triggered a sharp drop in air travel. The Fort Worth-based carrier is looking at significant downsizing.
The airline said Thursday that revenue fell 19% while costs continued to rise even as the virus spread.
The situation facing the airline industry has grown more dire since the first quarter ended. Air travel within the U.S. has plunged 95% from a year ago, judging by the number of people screened at the nation's airports.
"Never before has our airline, or our industry, faced such a significant challenge," Chairman and CEO Doug Parker said.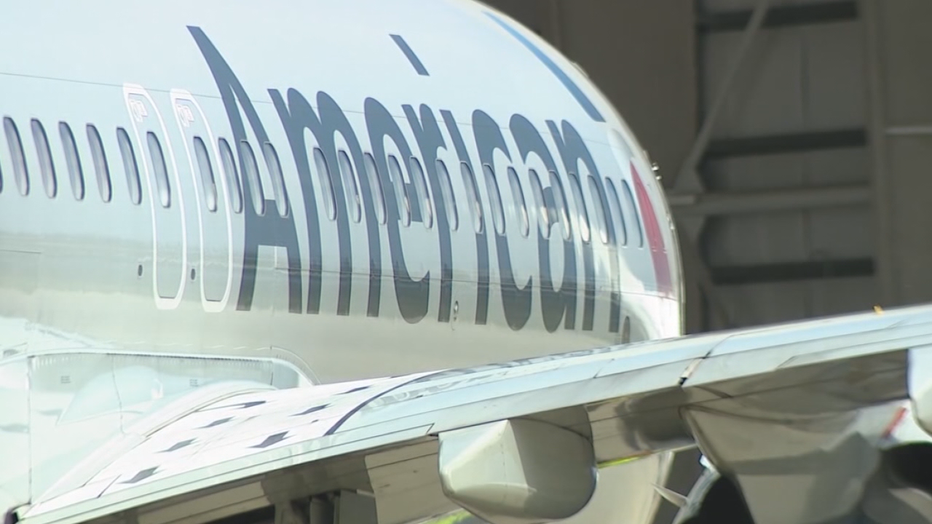 American's massive loss compared with a profit of $185 million in the same quarter last year. It was American's largest quarterly loss since merging with US Airways in 2013.
American said that adjusted for non-recurring items, it lost $2.65 per share. That was worse than the average forecast of a $2.08 per share loss from 15 analysts surveyed by FactSet.
Shares of American Airlines Group Inc. dropped nearly 11% before a partial rebound; they were down about 4% by midmorning.
Parker highlighted American's efforts to bolster its liquidity — building up enough cash, it hopes, to ride out the pandemic — including getting $5.8 billion in federal aid to help cover payroll costs through September.
American estimated that it ended March with $6.8 billion in cash and other liquidity, including $2 billion that it raised during the first quarter, and will have $11 billion at the end of June.
The airline has applied for another $4.75 billion in loans from the Treasury Department at around 4% interest. The loans must be secured, and airline executives did not rule out using American's AAdvantage loyalty program as collateral, although negotiations are continuing.
"CARES provides the breathing room we need to manage the worst parts of the crisis and to pay our team members that we otherwise would have needed to furlough," Parker said. "But it does not fix the core problem at all, which is revenue generation."
The federal aid will help American keep flying and avoid layoffs at least until October. However, it won't help American generate revenue by selling tickets instead of paying refunds to customers who are canceling trips.
Parker says they anticipate low demand for air travel to continue, so cost cutting is crucial. The airline is reworking the flight schedule to match reduced demand, and it will accelerate the retirement of about 100 aircraft.
When it comes to the workforce, companies receiving payroll grants are prohibited from involuntary furloughs or cutting pay through Sept 30.
"The fact that we had 39, 000 of our team members volunteer for leaves and early retirement I think is an indication that we can manage through that without having to do furloughs," Parker said. "That would certainly be our goal."
Industry-wide, revenue has fallen about 95% from last April, Parker said on a call with analysts. "And while no one has a perfect crystal ball, I think we all expect that recovery will be slow and demand for air travel will be suppressed for quite some time," he added.
The Fort Worth-based airline has cut its flying schedule by 80% in April and May and 70% in June.
Cheaper fuel caused by the collapse in energy prices will contribute to a reduction of more than $12 billion in its 2020 spending, the airline said.
In all, the company expects to cut its rate of burning cash from $70 million a day to $50 million a day by the end of June.
The Association of Professional Flight Attendants says it will work with the airline on extending leave packages, if it comes to that, when the CARES Act moratorium on involuntary furloughs expires. In the meantime, it's focused on safety like pushing for mandatory face masks for passengers as well as flight attendants and making sure every plane is cleaned between flights, not just overnight.
"Until people feel comfortable flying again, we are going to do everything we can to preserve every single job," said Paul Hartshorn Jr, with APFA. "We commit to working with the company to create all sorts of leave packages as long as they need it, but I think the real answer is to get people flying again."
Helane Becker, an airlines analyst for financial-services firm Cowen, said American's moves to cut capacity and retire planes are important, "but there needs to be an additional sense of urgency given the state of demand and the expected slow recovery."
American's loss dwarfed the $534 million loss reported last week by.