9-1-1 dispatcher honored after walking couple through delivering baby
NORTH RICHLAND HILLS, Texas - A 9-1-1 dispatcher from North Richland Hills is receiving special recognition after walking a couple through the delivery of their new baby.
On May 5, Chelsea Duncan took a call from a concerned father-to-be.
"Hi, my wife is about to give birth at home. I don't think we can make it to the hospital," the caller said. "The baby is coming out right now!"
Duncan began helping the father through the process while directing paramedics. In the background you can hear the mother and baby.
The baby was born right before paramedics arrived at the house.
"Congratulations, to y'all," Duncan can be heard saying on the 9-1-1 call while the baby cries.
Dispatchers are required to take Emergency Medical Dispatch training.
Duncan was glad it paid off.
"All I knew was, the person I was talking to was panicking, and I needed to not add to it. So, I took a breath and relied on my training. Hearing that baby cry, I could breathe a sigh of relief and wait for my medics to arrive and take over," she said.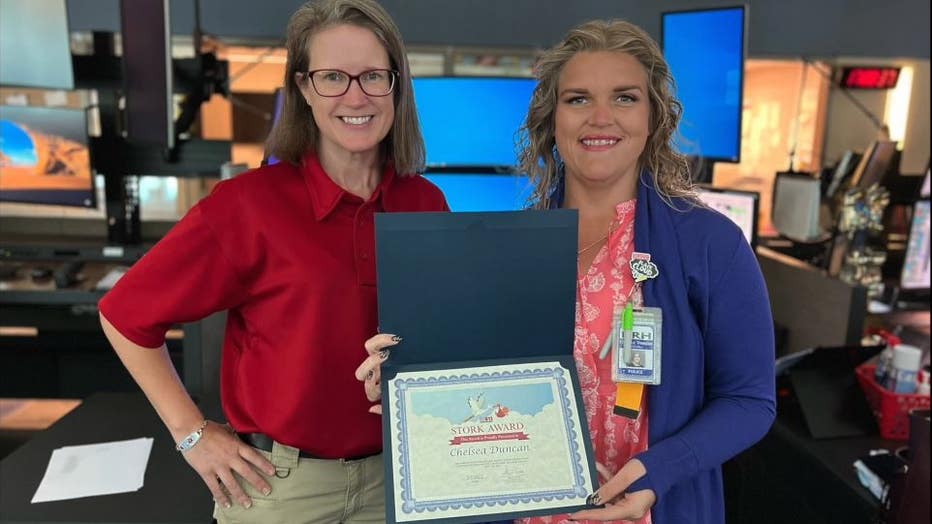 Duncan was given the "Stork Award" by the Tarrant County 9-1-1 District.
"Chelsea is the type of dispatcher and person you want answering your call for help. She is the calm voice that shows compassion and guidance to those she works with and assists over the phone," said Technical Services Captain Melissa Andrews.