2 hurt when gunman opens fire on their van on I-35 service road
DALLAS - Dallas police say a man fired more than a dozen shots near the Dallas Zoo late Sunday, hitting a minivan and causing it to crash.
Dallas police responded to the South RL Thornton Freeway service road near Ewing Avenue around 11 p.m. The driver, a woman in her 40s, was shot and her passenger was also hurt. Their family said they were on the way to a nearby McDonalds and it appears the gunman was firing randomly at the vehicle.
Witnesses told them a man with a rifle was standing on the road and began firing at the passing van. The van then crashed through a concrete barrier and into a construction zone.
The family member who was in the van with her was not shot, but suffered cuts to his face when his head hit the shattered glass.
A relative said the shooter fired at random, then looked at them directly as he continued to fire.
"On one side, I'm shocked, but on the other side, I'm not, because we're having so many incidents of gunfire," said Emily Crossley, a neighbor who lives nearby.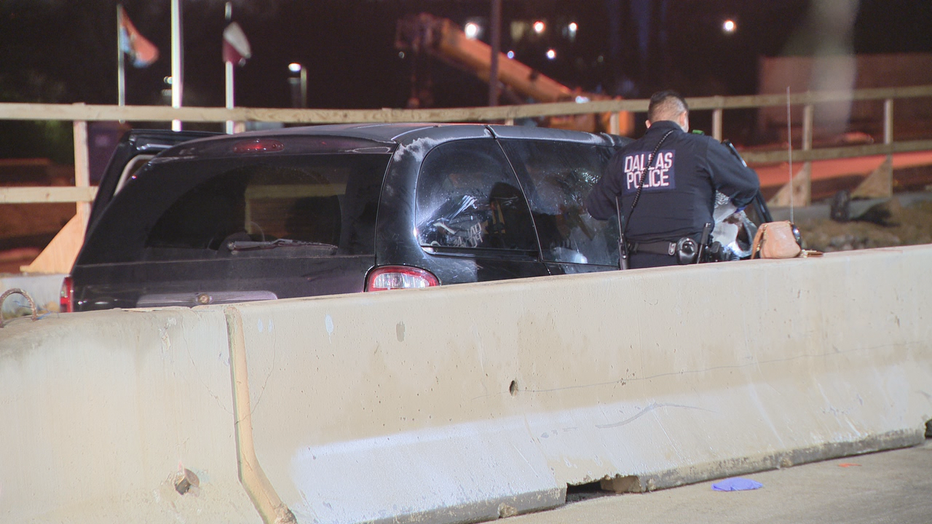 Dallas police have not specifically come out to say that the shooting was random. The department said it's still under investigation.
But police have said that the two were approached by an "unknown suspect" shooting toward them. The shooter took off running down Ewing Avenue and officers did not catch up with him.
"If I saw a man with a rifle, typically, that's already a high alert kind of thing. Obviously people have guns and we have open carry and concealed carry, but what do you need a rifle for? You know? To [do] what?" said Kullen Carter, a neighbor who lives nearby.
The relative said the woman was shot in her leg and had already undergone one surgery as of Monday afternoon and was expecting to undergo at least two more.
Police have not released a description of the shooter.