13 Days in July: The Trump White House's crucible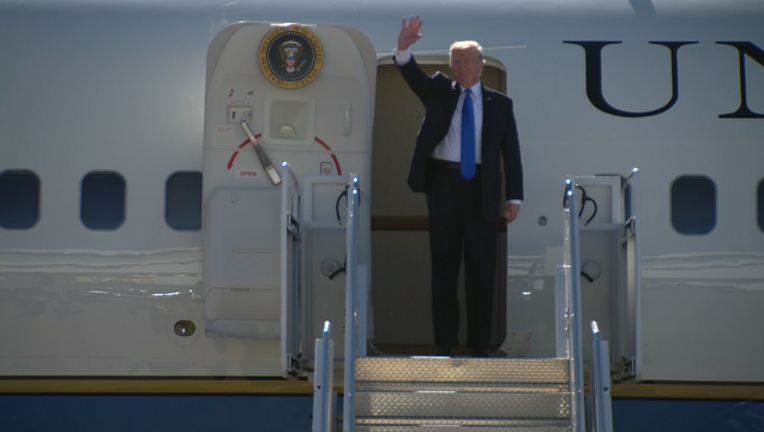 article
WASHINGTON (AP) - They were the 13 days that transformed the White House.
Even for an administration that spent most of 2017 throwing off headlines at a dizzying pace, events in the second half of July unfolded at breakneck speed. They encapsulated both the promise and peril of President Donald Trump's first year in office - and yielded aftershocks that reverberate within the White House even as the calendar turns to 2018.
The two-week span laid bare the splintering of Trump's relationships with two influential Cabinet members, foreshadowed the reach of the Russia probe into the interior of his orbit; saw the dramatic, last-minute defeat of one of the president's signature campaign promises and featured a senior staff shake-up that reset the rhythms of this presidency.
Inside the West Wing, the chaotic days between July 19-31 stand as a panicked memory but also one that paved the way for future successes, according to nearly two dozen administration officials, outside advisers and lawmakers. Most of those interviewed for this account spoke anonymously because they were not authorized to publicly discuss private events.
For the record, though: "That was the extreme," said former press secretary Sean Spicer.
A leading driver of the chaos was Anthony Scaramucci, who was hired to be the White House's communications director on July 21, aiming to usher in a new era at a White House riven by in-fighting, drowning in bad press and struggling to maintain credibility.
But his shockingly brief tenure - some White House aides have taken to calling a short period of time a "Mooch" - underscored the drama that frequently paralyzed the West Wing. Spicer quit in protest. Scaramucci fired one staffer and threatened to push out others as he vowed to cut down on leaks. But many in the White House believed that was a cover for his own agenda. Believing that chief strategist Steve Bannon and Chief of Staff Reince Priebus had initially blocked his entrance to the White House, Scaramucci moved to oust the pair, culminating in an infamous and vulgar New Yorker interview attacking them.
Scaramucci himself was pushed out the door by another change agent: new Chief of Staff John Kelly.
In a July 28 tweet sent with no warning from Air Force One, Trump announced that he was appointing Kelly, the Homeland Security secretary and a retired four-star general, to the post. As the 140-character bursts reached their phones, a pair of senior aides who been sitting in an idling SUV with Priebus stepped out and left the outgoing chief of staff alone. A new phase of the presidency began.
Kelly's hire, several advisers said, cut down on internal fights, restored order to the West Wing and laid the groundwork for wins down the road.
"I don't think you can overestimate the effect of the impact of those (staff) changes and that period," said Marc Lotter, Vice President Mike Pence's former spokesman.
But there were limits to his influence, as Kelly made clear he would mount no effort to manage Trump's no-holds Twitter habit. And Trump, in turn, chafed at Kelly's handling.
A legislative blow just hours earlier on July 28 had highlighted the administration's troubled agenda at a time of unified Republican control in Washington. When Arizona Sen. John McCain's thumbs-down ended the Republican attempt to repeal and replace Obamacare.
From that bungling rose more discipline and the administration's first major legislative triumph: the tax cut legislation passed on Dec. 20. The White House would fully support the plan at the start. Trump's political operation would begin work to sell the tax package in the approaching midterm elections. Trump himself worked behind the scenes, making phone calls to key members and, perhaps more importantly, reined in his public criticism of members of his own party.
But while he stuck to GOP orthodoxy on those domestic matters, Trump has steadfastly declined to adopt conventional approaches on foreign policy, straining decades-long alliances, refusing to condemn authoritarian regimes on human rights abuses and escalating the rhetoric in a nuclear stand-off with North Korea.
That came to a head during a July 20 meeting in the windowless Pentagon room known as "The Tank," which shined a spotlight on the sharp learning curve that the president faced as he grew into his new job. It also revealed the tensions within the administration between those seasoned in international affairs - including Secretary of State Rex Tillerson, who reportedly called the president "a moron" afterward - and those eager to pull back from international entanglements.
Six days later, FBI agents, armed with a search warrant, emerged from Trump's former campaign chairman Paul Manafort's home in Alexandria, Va. with a trove of material. A new, more dangerous, chapter had begun in special counsel Robert Mueller's investigation into possible coordination between the president's campaign and Russian officials.
Scores of top aides and allies, including Jared Kushner and Trump's eldest son, Donald Jr., have been questioned by Mueller and congressional investigators. In October, Manafort was charged with money laundering and other financial crimes related to his political consulting work in Ukraine. And on Dec. 1, former national security adviser Michael Flynn pleaded guilty to lying to FBI agents and is cooperating with the investigation.
Trump had grown furious at the distraction, fuming to advisers that he had done nothing wrong while railing that it was a conspiracy by Democrats and the so-called "deep state" to delegitimize his presidency. Yet he emerged from the crucible of the 13 days in July with a more organized and less drama-filled White House, as well as lessons learned that would yield legislative victories.
But the president himself remains unchanged.
Impulsive and unconventional, Trump has spent his first year in office casting aside norms and mores. With his Twitter account as his weapon, he has shown no willingness to ignore any slight or change the brash ways that he believes got him elected.
"It's so easy to act presidential," Trump told supporters in Ohio on July 25. "But that's not gonna to get it done."
___
Follow Lemire on Twitter at http://twitter.com/@JonLemire and Miller and http://twitter.com/@ZekeJMiller