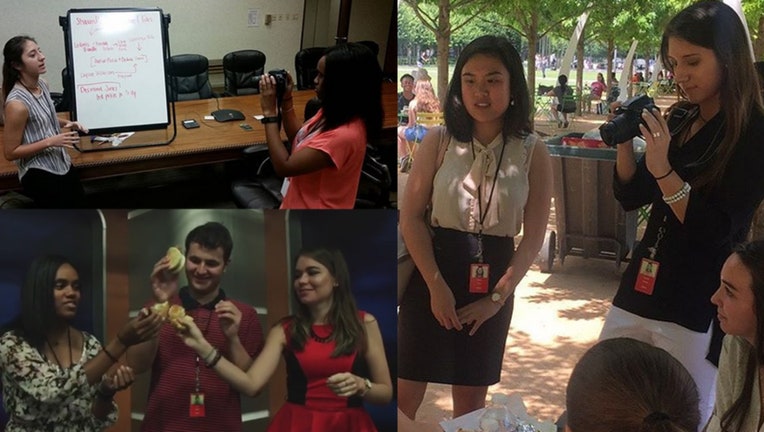 KDFW FOX 4 offers an academic credit internship program for college/university junior, senior and graduate students. We have an Internship available in our News Department. 
To begin the application process, students should download and complete a FOX 4 Internship Application. The deadline for submitting internship materials for Summer 2022 is April 1st. Applications can be sent to kdfwinternships@foxtv.com or by fax to 214-720-3014.
If applicants are interested in receiving additional information or have any questions about our Academic Credit Internship Program, they may contact the Human Resources Department at 214-720-3149, by fax at 214-720-3014, or through written correspondence to:
KDFW FOX 4
Human Resources Department
Fox Television Stations, Inc.
400 North Griffin St.
Dallas, TX 75202
NEWS DEPARTMENT: All News student interns will gain hands-on experience in the day-to-day operations of a fast-paced news environment. Overall, an internship with the News Department will involve assisting the news staff with compiling information, answering phones and other duties that will be useful in the newsgathering process. This internship may include some field experience with News Reporters to cover developing stories. Student interns are expected to assist producers with researching. Also, student interns will assist Assignment Desk Editors and News Producers with phone calls to assist in the development of stories, as well as filing press releases, sorting scripts and writing practice scripts as needed. This internship requires learning the news computer system.
Federal law requires employers to provide reasonable accommodation to qualified individuals with disabilities and disabled veterans.  Please tell us if you require a reasonable accommodation to apply for a job.  Examples of reasonable accommodation include making a change to the application process or work procedures, providing documents in an alternate format, using a sign language interpreter, or using specialized equipment.  Please send an email to resumes@kdfwfox4.com , call (214) 720-3149, or visit our readily accessible station located at 400 N Griffin Street, Dallas, TX 75202, and a member of our recruiting team will assist you.
NO PHONE CALLS PLEASE. 
EOE/M/F/Veteran/Disabled