Williams, Robinson lead TCU over Oklahoma State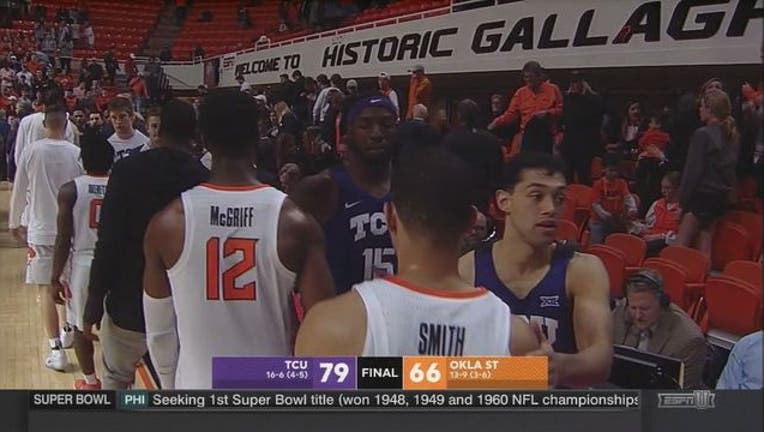 STILLWATER, Okla. (AP) - Kenrich Williams scored 13 points and had nine rebounds and six assists, and Alex Robinson also scored 13 to help lead TCU to a 79-66 victory over Oklahoma State on Tuesday night.
Desmond Bane added 12 points, five assists and four rebounds for TCU (16-6, 4-5 Big 12), which had five players score in double digits.
The Horned Frogs entered the game ranking 13th in the nation with a 50.3 percent shooting percentage and topped that with 56 percent shooting (30 for 54).
Jeffrey Carroll scored 18 points and had five rebounds, while Kendall Smith had 13 points and three assists for Oklahoma State (13-9, 3-6).
It was the third straight loss for the Cowboys following their 83-81 overtime upset over then-No. 4 Oklahoma 10 days earlier.
The loss also snapped Oklahoma State's 15-game home winning streak against unranked opponents.
BIG PICTURE
TCU: After four straight close losses on the road, the Horned Frogs finally emerged with a comfortable victory away from Fort Worth. They had lost overtime contests at Texas and Oklahoma before falling 81-78 at Vanderbilt on Saturday. TCU displayed impressive resilience by blunting a late Oklahoma State comeback attempt. After maintaining a double-digit lead for most of the second half, the Horned Frogs allowed Oklahoma State to get to within six with 6:38 to go. But TCU responded with a 9-2 run over the next three minutes to secure the victory.
Oklahoma State: For the fourth straight home game, the Cowboys fell behind by a wide margin in the second half, but this time, the inspirational comeback attempt fell short. Oklahoma State rallied from an eight-point deficit in the last 3:22 in a 96-87 overtime win over Iowa State on Jan. 6, then climbed out of a 12-point hole in the final 5:55 to take down Texas 65-64 on Jan. 13. The "Cardiac Cowboys" also battled back from five down with 2:11 remaining to shock then-No. 4 Oklahoma 83-81 in OT on Jan. 20. In this one, after falling behind by as much as 16 midway through the second half, Cam McGriff's dunk with 6:38 left capped off a 14-4 run as OSU closed to within 63-57, but the Cowboys could get no closer.
UP NEXT
TCU: The Horned Frogs are at home on Saturday against No. 10 Texas Tech, the only Big 12 team they haven't faced this season.
Oklahoma State: The Cowboys head out on the road to Allen Fieldhouse to take on No. 7 Kansas.