Waters lifts LSU over No. 11 Texas A&M 69-68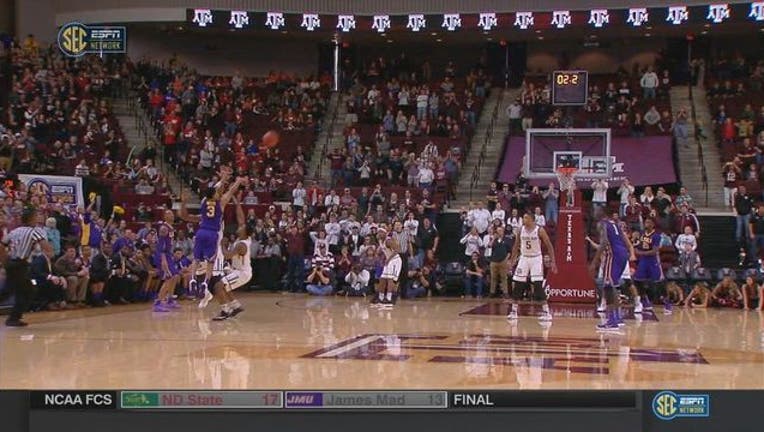 article
COLLEGE STATION, Texas (AP) - Minutes after freshman Tremont Waters gave LSU a win by sinking an off-balance 3-pointer with 1 second left on Saturday, he was asked if he revels in the pressure of such moments.
Before the 19-year-old could answer, his coach Will Wade jumped in.
"Yes, he does," Wade said as both the coach and his star player smiled.
Waters scored 21 points, capped by the game-winner, to lift LSU to a 69-68 win over No. 11 Texas A&M.
The game was tied before the Aggies used an 8-3 run, capped by four points from Tyler Davis, to take a 68-63 lead. But Waters, who finished with five 3s, made a 3-pointer for LSU to get the Tigers (10-4, 1-1 Southeastern Conference) within three with 12 seconds left.
Davis missed two free throws on the other end before Waters launched his winner under heavy defensive pressure to give the Tigers the win.
"He's got it, guys," Wade said. "When the game's on the line you've either have it or you don't. It's genetic makeup and he's got it."
Waters gave himself a little pep talk as he walked onto the court after a timeout before making the shot.
"After he drew it up, I talked to myself ... and I just said to myself I was going to make it," he said.
Leading scorer D.J. Hogg returned for the Aggies (11-4, 0-3) after a suspension, but it wasn't enough to stop them from dropping their third straight after lopsided losses to Alabama and Florida.
"You could tell he hadn't played (in a while)," coach Billy Kennedy said. "Our chemistry is just different because we haven't had guys in the lineup."
Hogg was back after missing three games for an unspecified violation of team rules. But the Aggies still weren't at full strength with starters Admon Gilder and Duane Wilson out with knee injuries and Robert Williams, who is projected to be an NBA lottery pick, out with an illness.
"We can build off of this, off the toughness that we showed ... or we can go the other way and I really expect us to build off of it," Kennedy said.
Davis led the Aggies with 19 points and 12 rebounds, and Hogg added 12 points with six rebounds.
A 7-2 spurt by LSU had the game tied with about four minutes left before Tonny Trocha-Morelos put the Aggies on top 60-57. But the lead was short-lived as Waters hit a 3 for the Tigers a few seconds later to tie it again.
LSU scored seven straight points, with a 3-pointer from Daryl Edwards, to take a 50-48 lead midway through the second half.
Hogg made his first 3-pointer of the game after that as the first of seven points in a row by the Aggies, which put them up 55-50 with about 7 1/2 minutes left.
The Aggies were up by 5 after a 3-point play by Hogg with about 15 minutes left. Texas A&M added two free throws over the next three minutes, but didn't make another field goal until a layup by T.J. Starks made it 48-43 with about 12 minutes remaining.
LSU couldn't take advantage of Texas A&M's scoring struggles as it had trouble in that span, too, missing five shots and committing a turnover.
The Tigers jumped out to a 10-0 lead, but the Aggies soon closed the gap and LSU was only up 29-28 at halftime.
BIG PICTURE
LSU: The Tigers held the powerful Aggies offense in check and if they continue to play defense like they did on Saturday they should fare well in SEC play.
Texas A&M: The Aggies looked a bit better with Hogg's return, but will need to play much better if they hope to get back on track with tough SEC road games coming up.
FREE THROW WOES
Kennedy was certainly disappointed with the two missed free throws by Davis late, but noted that the game wouldn't have been that close late if they'd made free throws throughout the game. Texas A&M made just 19 of 30 free throws on Saturday.
"We missed a lot of free throws before that that would have given us a much bigger lead," Kennedy said.
INJURY UPDATE
Kennedy said that Gilder and Wilson are getting better and that they could return Tuesday, but it's more likely that they'll be ready to play next Saturday. Williams had flu-like symptoms, including a fever, on Saturday and Kennedy isn't sure when he'll be able to return.
UP NEXT
LSU: The Tigers visit No. 22 Arkansas on Wednesday before playing their next two games at home against Alabama and Georgia.
Texas A&M: The Aggies face a tough road stretch with a trip to No. 17 Kentucky on Tuesday before visiting No. 23 Tennessee next Saturday.