Trout has grand slam, solo HR in Angels' win over Rangers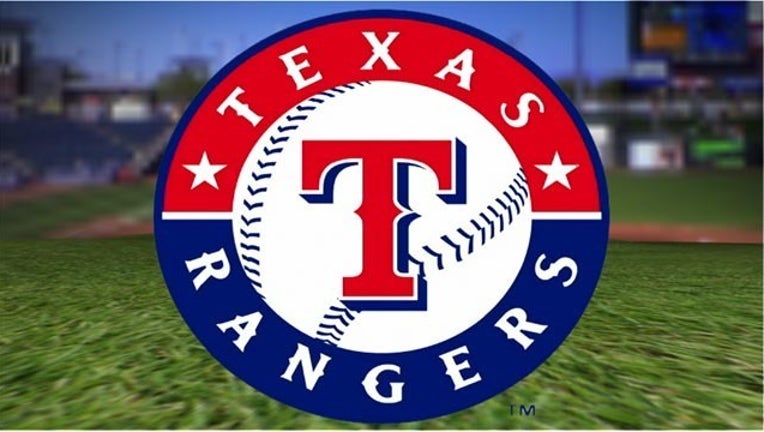 article
ANAHEIM, Calif. (AP) -- Mike Trout had a grand slam and a solo shot among his season-high four hits, leading the Los Angeles Angels to a 13-7 victory over the Texas Rangers on Sunday.
 
C.J. Cron also went deep and rookie Andrew Heaney kept his unblemished record intact, helping the Angels end a three-game skid and regain sole possession of the AL West lead by a game over the Houston Astros -- whom they play in a three-game series beginning Tuesday night at Minute Maid Park.
 
Heaney (5-0) allowed two runs and six hits over six innings in his sixth start for the Angels after making five starts last season with the Miami Marlins and going 0-3 with a 5.83 ERA in seven total appearances.
 
The 24-year-old left-hander has thrown at least six innings and allowed fewer than three runs in all of his outings this season. The only pitcher in club history to do that in each of his first seven starts with the club was Jered Weaver in 2006.
 
Nick Martinez (5-6) was charged with four runs and six hits in five-plus innings. The right-hander is 0-4 with a 7.01 ERA over his last six starts for the Rangers. 
 
Trout, who leads the majors in home runs, drove an 0-2 pitch just above the yellow line atop the 18-foot wall in right field in the first inning, becoming the fastest player in Angels history to reach the 30-homer mark in a season. The reigning AL MVP did it in his 97th game, breaking the previous mark set in 2000 by third baseman Troy Glaus (100 games).
 
Trout then capped a five-run sixth with his third career slam on a full-count pitch from Spencer Patton, increasing the Angels' lead to 8-2 and getting a curtain call from the crowd. It was his 11th homer in July, one more than his previous best for any month (July 2012).
 
The Angels got a scare in the fourth inning when Trout came up holding his left wrist in pain after diving for a Texas Leaguer by Elvis Andrus that popped out of his glove for a single after he hit the ground. Manager Mike Scioscia and trainer Rick Smith went out to check on him and determined that he could stay in the game.
 
Prince Fielder, who was hit by a pitch to open the inning, advanced to second on Andrus' hit before a two-out walk to Ryan Rua loaded the bases. Heaney, who hadn't hit a batter 34 1-3 innings over his five previous starts this season, plunked No.9 hitter Tomas Telis on the foot to force in a run that put the Rangers ahead 2-1.
 
The next batter was Delino DeShields, who lifted a pop fly into short left field. Shortstop Erick Aybar made an over-the-shoulder catch for the third out, a split second before he went head-over-heels in a violent collision with Matt Joyce -- who hit the deck in an effort to avoid him.
 
Both made it back to the dugout on their own power after spending several  minutes on the ground, but Joyce was replaced defensively by Daniel Robertson in the fifth inning.
 
Cron's leadoff homer in the Angels' fourth tied it 2-all. Robertson hit a two-run double in the seventh -- circling the bases after a throwing error to the plate by second baseman Rougned Odor.
 
Trout lined a single to left his next time up following his close call in the field, giving the Angels runners at first and second with one out in the fifth. Albert Pujols' single loaded the bases for Aybar, whose sacrifice fly gave them a 3-2 lead.
 
SOME COMPANY
 
Pujols got his 100th career steal. That made him the fourth player in major league history with at least 100 stolen bases, 500 home runs and a .300 career batting average. The others were Babe Ruth, Willie Mays and Hank Aaron.
 
UP NEXT
 
Rangers: LHP Matt Harrison (1-1) will take the ball in the opener of a three-game home series against the Yankees on Monday night, after scattering seven hits through six innings in a 9-0 win at Colorado last Tuesday. It will be only the third start this season and ninth over the past three years for the injury-plagued eight-year veteran, who had to battle back from a herniated disc, thoracic outlet syndrome, back surgery, and a displaced vertebra.
 
Angels: LHP C.J. Wilson (8-7) will start the series opener against the Astros. He is 7-5 with a 2.99 in 15 starts when he's pitched at least six innings, but has a 7.30 ERA in the five outings in which he hasn't. The Angels trailed Houston by as many as seven games on May 4, and led then by as many as two before their current losing streak.