Texas Tech cruises past UTEP 69-20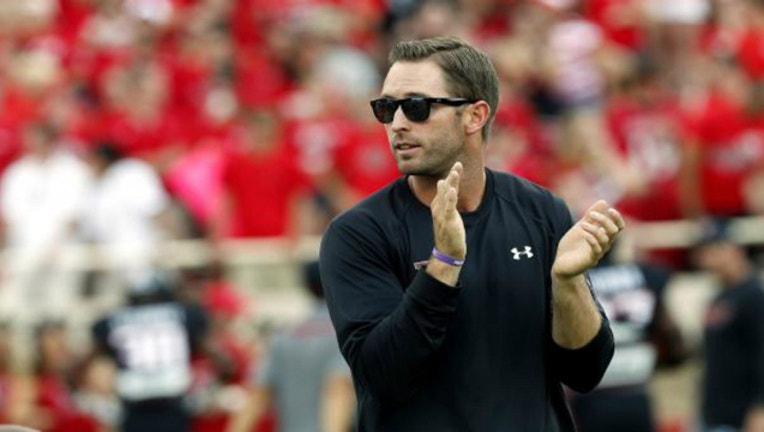 LUBBOCK, Texas (AP) — Patrick Mahomes threw for four touchdowns and ran for two more to lead Texas Tech past UTEP 69-20 on Saturday.
The sophomore completed 18 of 33 passes for 361 yards
Mahomes' scoring passes went to Jakeem Grant (60 yards), Justin Stockman (46 yards), Reginald Davis (35 yards) and Devin Lauderdale (34 yards).
DeAndre Washington scored on a 51-yard run for the Red Raiders (2-0), and Mahomes' rushing TDs were from 7 yards and 1 yard.
Washington got 138 yards rushing on 12 carries.
Miners' running back Aaron Jones scored on a 91-yard rush — the longest running play in UTEP history. He got hurt and left the game just before halftime with a left ankle injury. The Miners (0-2) really needed him in the second half.
Jones also scored on a 24-yard pass from quarterback Mack Leftwich, who completed 14 of 22 passes for 164 yards.
The game was a far cry from last year's when Texas Tech had to come from behind to beat the Miners 30-26 in El Paso.
And it was a much better defensive outing for the Red Raiders, who gave up 637 total yards last week in their 59-45 win over Sam Houston State. On Saturday, Texas Tech gave up 414 total yards.
Mahomes came out early in the fourth quarter and was replaced by Red Raiders backup Davis Webb, who scored twice on rushing TDs, a 1-yarder and a 5-yarder.
Stockman's touchdown pass from Mahomes showcased the sophomore's blistering speed. He caught the ball with at least four blockers near him and he sprinted past them and potential tacklers on his way into the end zone to give the Red Raiders a 17-7 lead in the first quarter.
Grant, who almost matched his career-best game (155 yards on 12 catches) by halftime, got the first Red Raiders score. Mahomes found him wide open at the Miners 28, and Grant juked and darted left to outrun his defenders.
Grant had 141 yards on seven catches at halftime and didn't catch any passes in the second half.
Jones, the Miners leading rusher Saturday with 139 yards on 17 carries, returned to the field shortly after the beginning of the third quarter. He was on crutches and wearing a black boot on his left leg.
_________________
www.collegefootball.ap.org