TCU upsets No. 7 WVU 82-73 after falling out of Top 25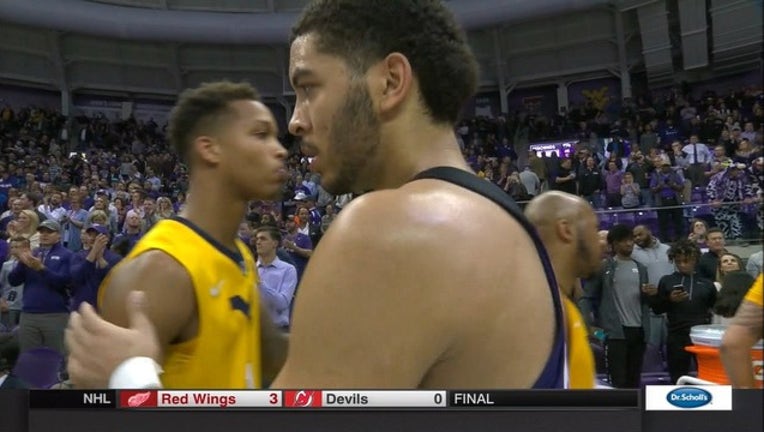 article
FORT WORTH, Texas (AP) - This was the kind of home-court celebration Jamie Dixon envisioned for TCU when he returned to his alma mater less than two years ago.
Students spilled onto the court, some even lifting Dixon into the air, after the Horned Frogs beat No. 7 West Virginia 82-73 on Monday night. Their first home win over a Top 10 team in nearly five years came on the same day they dropped out of the AP Top 25.
"We had lost so many of these, so many opportunities, close games, even the last two years, home games, big crowd, atmosphere," Dixon said. "We've had leads, and we had opportunity, and it just didn't happen for whatever reason."
Alex Robinson scored 17 points for TCU (15-5, 3-5 Big 12), even with a long 3-pointer at the end of the half taken away by video replay. Desmond Bane scored eight of his 15 points in just over a minute early in the second half to cap a game-changing 23-3 run that spanned the end of the first half and first few minutes after the break.
"We just knew this was a big game. We lost the last one, we didn't play very well," said Robinson, who also had nine assists and seven rebounds.
All five West Virginia starters scored in double figures, but the Mountaineers (16-4, 5-3) shot only 33 percent and lost for the third time in four games. Jevon Carter had a team-high 16 points, while Sagaba Konate had 14, Daxter Miles Jr. 12, Lamont West 11 and Wesley Harris 10.
"First half, we stopped them seven consecutive times and we didn't score," coach Bob Huggins said. "It wasn't like we didn't have shots. We had shots. We're just not making any."
Kouat Noi had 13 points with three 3-pointers for TCU before being ejected because of a flagrant foul with just over 10 minutes left. Vladimir Brodziansky had 14 points, and Kenrich Williams had 14 rebounds.
Bane's quick burst, with two 3-pointers and a heady layup between those long-range shots, pushed TCU ahead 47-34 with 15:28 left. That capped a 12-1 run to start the second half after the Frogs finished the first half on an 11-2 spurt in which Bane made the go-ahead shot.
And that is even with Robinson's long 3 going into the break getting taken off the board after officials determined the ball was still on Robinson's fingertips when the clock hit zero, negating the 35-foot shot and leaving the Frogs' lead at two instead of five.
Robinson and his teammates were already in the locker room when the review took place, and found out it didn't count "when coach came in and told us."
BIG PICTURE
West Virginia: The Mountaineers trailed by 20 with 5 1/2 minutes left and made somewhat of a dent in that. But overall, WVU made only 25 of 75 shots - and 7 of 27 on 3-pointers, with Carter going 0 for 6 and Miles 1 for 8 from long range.
"We've got guys that are 2 for their last 15 on 3s, and they're still shooting them," Huggins said.
TCU: The Frogs last home win over a Top 10 team was against No. 5 Kansas on Feb. 6, 2013. Their only win over a Top 10 since had been over the then-No. 1 Jayhawks in the Big 12 Tournament last March.
SLAMMING AHEAD
Bane's two-handed slam dunk with 1:15 left in the first half broke a 31-all tie and put TCU ahead to stay. He then made a putback when JD Miller couldn't convert on an alley-oop pass from Robinson, but the ball went right into Bane's hands.
FALLING OUT
TCU dropped out of the Top 25 after losing five of its first seven Big 12 games, even though those five losses were by a combined 16 points. The Frogs are looking for their first NCAA Tournament berth since 1998. Their last NCAA win was 30 years ago when Dixon was a Frogs guard.
UP NEXT
West Virginia is home to play Kentucky in the Big 12/SEC Challenge.
TCU plays the first of consecutive road games Saturday for its Big 12/SEC Challenge matchup at Vanderbilt, the SEC's only team with a losing record.
___
More AP college basketball: www.collegebasketball.ap.org and https://twitter.com/AP_Top25