TCU QB Robinson will have surgery after shoulder injury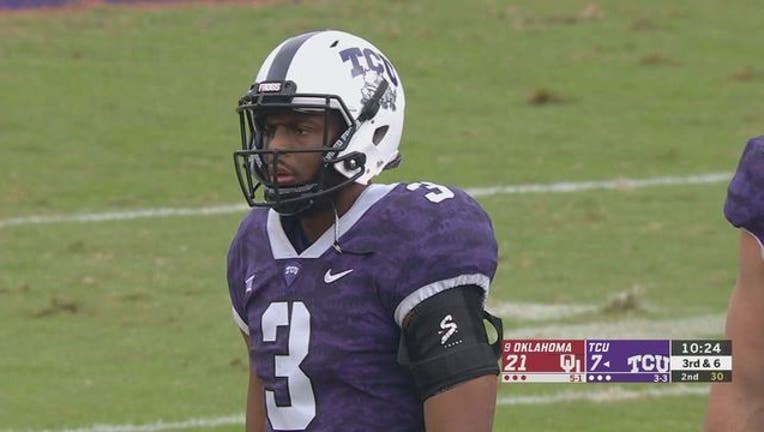 article
FORT WORTH, Texas (AP) - There will be no quarterback controversy for TCU: Starter Shawn Robinson is facing surgery that is expected to end his season.
Two days after a midgame switch, coach Gary Patterson said Monday his sophomore quarterback will have surgery and that former Penn transfer Michael Collins will get his first start Saturday at Kansas.
"We have no choice really, Shawn's been trying to play through (an injury)," Patterson said during the Big 12 coaches weekly conference call.
Patterson did not say what surgery Robinson would have, but the decision comes more than three weeks after the quarterback took a direct shot on his non-throwing left shoulder and had to be helped off the field in the closing seconds of a 17-14 win over Iowa State on Sept. 29.
Robinson played all of the following game Oct. 11 against Texas Tech, but was replaced by Collins after the first three series Saturday in a 52-27 loss to Oklahoma.
"He's tried to play, and I think it's hurt his confidence, and it's also hurt his escape ability and a lot of other things for him to make some plays," Patterson said. "It just came a point in time where we just felt like for the betterment of him, we needed to go ahead and get things taken care of."
TCU (3-4) trailed 28-7 midway through the second quarter when Collins, also a sophomore, replaced Robinson. The Horned Frogs had only 25 total yards before the switch, and their only score was KaVontae Turpin's 99-yard kickoff return.
Collins threw touchdowns on consecutive passes in a span of about three minutes soon after entering the game, his fifth appearance this season. But after starting 4-of-5 passing for 89 yards and the two quick touchdowns, Collins was only 3 of 12 for 53 yards with an interception after halftime.
Robinson started each of the first seven games. He completed 124 of 204 passes for 1,334 yards with nine touchdowns and eight interceptions. He also ran 49 times for 301 yards and three scores.
___
More AP college football: https://apnews.com/tag/Collegefootball and https://twitter.com/AP_Top25