Sweet 16 fresh: Culver at home, Z-Smith a 360 for Texas Tech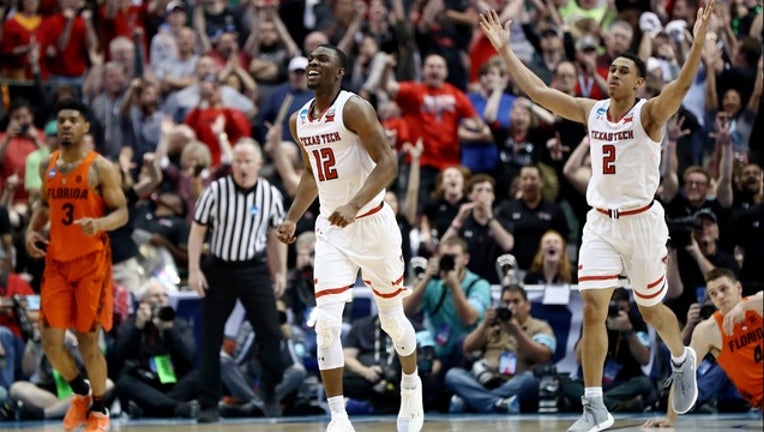 DALLAS (AP) - Jarrett Culver grew up close to the Texas Tech campus with basketball dreams to play somewhere else.
"I had dreams about going other places, and bigger places, stuff like that," Culver said.
Now he is going to the Sweet 16 of the NCAA Tournament as a freshman guard on his hometown team.
Culver and Zhaire Smith, whose 360-degree alley-oop dunk is already one of the highlights of this year's tourney, are the highest-scoring freshman duo in Texas Tech history.
"On the first day or the second day he got the job, he offered me, so I felt like that spoke volumes to me," Culver said of second-year coach Chris Beard. "Even though I'm a homegrown Lubbock person, he just recruited me hard and stayed on me, and wanted me bad. The things that he was saying about the culture he's building and stuff, I felt like that would be good, and I felt like this was the best fit."
Texas Tech (26-9) is in the Sweet 16 for the first time since 2005, when Culver was only 6 years old and Beard was an assistant coach there for Bobby Knight. The Red Raiders play Purdue (30-6) in an East Region semifinal game Friday night in Boston.
Martin Zeno holds the school's freshman scoring record with 413 points in 2004-05 as part of Tech's last Sweet 16 team. Culver (402 points) and Smith (397) are now 2-3 on that list for the Big 12 runner-up that reached a program-best No. 6 ranking in the AP poll in February.
"Them just being able to play on big stages like this is great," Tech's All-Big 12 senior guard Keenan Evans said. "I didn't go to the tournament my freshman year, I wasn't on a ranked team my freshman year, and I don't know how I would have handled that. So it's definitely good for them to learn that this early on."
Smith had 10 points and eight rebounds in Tech's NCAA opener, a win over Stephen F. Austin during which he made a 360-degree spin in the air on an alley-oop from Evans. They connected on another alley-oop when Smith added 18 points, nine rebounds and seven assists in their second-round win over Florida .
"Their freshmen, where do they come from? My goodness, the years that they've had. Their freshman class is big-time," Florida coach Mike White said. "They've got a good mix of those guys, along with Keenan and some older guys, some good seniors."
Evans is one of five seniors on what is a unique roster for Beard and the Red Raiders. Culver and Smith are among six freshmen that includes Davide Moretti, a play-making guard from Italy who has also played in every game this season.
Smith is from Garland, Texas, just outside of Dallas, and already knew Culver from basketball camps through the years. While Culver's decision to stay in Lubbock helped sway him to go to Tech, Smith really felt good about what Beard wanted to do.
"I just trusted him and I believe in his process," Smith said. "He's real trustworthy. He said they've got five seniors and us freshmen can come up and play a lot of minutes."
Culver, who had gone to only a few Texas Tech games growing up, said Beard "just put everything on the table" and was honest when they first met.
Former coach Tubby Smith had already been recruiting Culver to stay in Lubbock before Beard took the job two years ago. Beard almost immediately made the 6-foot-5 guard from Coronado High, less than a 10-minute drive from the Tech campus, his top priority in recruiting.
"Whenever you have some success and you look back at the story, you've had some breaks along the way," Beard said. "We've had two or three really good breaks since we got here. At the top of that list is Jarrett Culver being here in Lubbock. ... We would recruit Jarrett if he was in San Diego, or New York City, or Italy. We have that high opinion of him."
___
More AP college basketball: https://collegebasketball.ap.org , https://twitter.com/AP_Top25 and https://www.podcastone.com/ap-sports-special-events