Stars' win streak ends with 6-0 loss to Canucks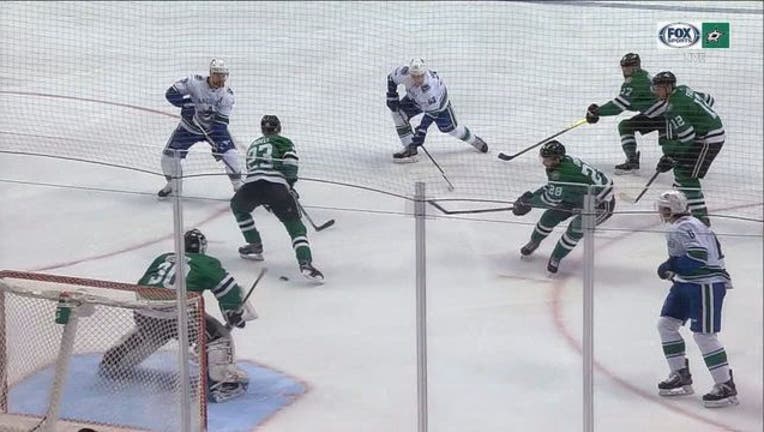 article
DALLAS (AP) - Reid Boucher scored his first two goals of the season, Jacob Markstrom made 30 saves for his second career shutout and the Vancouver Canucks beat the Dallas Stars 6-0 on Sunday.
Vancouver took a 3-0 lead in the first 13:27. Boucher and Jake Virtanen scored unassisted, and Thomas Vanek added the third goal. Bo Horvat scored on the power play, and Boucher connected on a tip-in in the second period. Erik Gudbranson had a third-period goal.
Dallas won its previous five games, with the loss preventing the Stars from passing St. Louis for third place in the Central Division.
The Canucks had lost four in a row and had not beaten Dallas in regulation time since Feb. 21, 2013. The Stars were 13-0-1 in the previous 14 games against Vancouver.
Dallas' Kari Lehtonen had 19 saves after replacing Ben Bishop following Horvat's goal. Bishop allowed four goals in 20 shots.
The Canucks came out firing with 10 of the first 11 shots on goal and a 16-6 advantage for the first period.
Vancouver took the lead 2:11 into the game. As the Stars tried to clear the puck from behind the goal, Boucher poked with his stick and the puck went into the right corner of the net.
Boucher had another scoring chance five minutes later, but Bishop made a pad save on Boucher's short backhand.
Video review confirmed Boucher's goal, and denied that an attempt by Dallas' Jason Spezza to tuck the puck into the left corner crossed the goal line midway through the first period.
Virtanen stole a pass by Mattias Janmark for a breakaway from the Canucks' end. He put a backhand between Bishop's legs for the second goal at 11:38.
Daniel Sedin led Vanek with a pass across the blue line for his slap shot from the slot into the upper left corner.
Horvat scored on a wrist shot from the slot at 4:41 of the second period. At 14:35, Boucher deflected Derrick Pouliot's shot from the blue line past Lehtonen.
NOTES: The Canucks equaled their season high for goals and had their largest margin of victory. Only three teams have fewer points than Vancouver's 50. ... The Stars had their most lopsided loss while tying for the most goals allowed in 2017-18. ... Boucher's goals came in his sixth NHL game this season and tied his career high for a game. ... Each team was playing its third game in four days. ... Vanek has 23 points in 23 career games against the Stars. ... In Markstrom's first 150 games, his only shutout was this season on Dec. 5 at Carolina, when he had 30 saves.
UP NEXT
Canucks: Return home for one game against Florida on Wednesday.
Stars: Finish a three-game homestand on Friday vs. St. Louis.