Sanchez joins Cowboys, can relate to rookie starter Prescott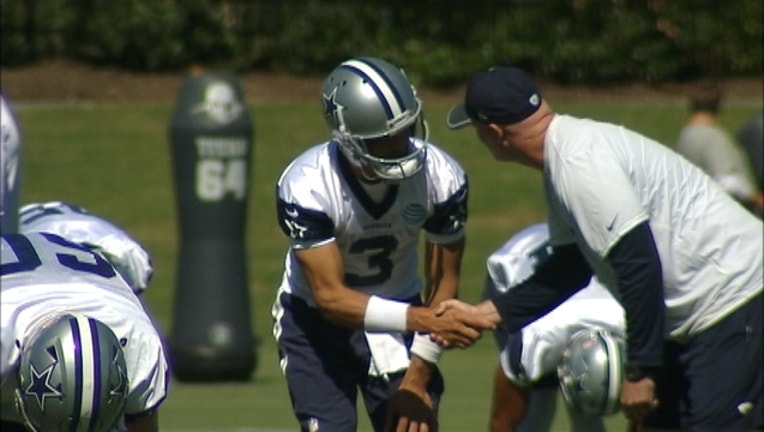 article
FRISCO, Texas (AP) — While Mark Sanchez has a new offense to learn in Dallas, the veteran quarterback sees another important element of his role in the first week as the backup with Dak Prescott preparing for the opener against the New York Giants.
After all, Sanchez was a rookie starter once, too.
"You don't want to bombard the guy, especially as a rookie," Sanchez said after his first practice with the Cowboys on Monday. "And I know from experience that's really important. You don't need a million people telling you how to throw a slant route. You just need to go with what you know, be as comfortable as you can, and I'm here to help."
Sanchez signed with Dallas on Sunday, a day after he was released in Denver when he lost a battle for the starting job to second-year player Trevor Siemian. He could end up as the No. 3 quarterback when Tony Romo returns from a broken bone in his back.
It's still not known when Romo will be ready. The Cowboys have yet to put him on injured reserve, which would force him to miss the first seven games before he could be eligible for a return. Coach Jason Garrett said the team was taking at least a couple of more days to decide.
If Romo stays on the active roster, that probably means the Cowboys think he can be back by mid-October. Otherwise, he would have to wait until Nov. 6 if Dallas uses its option to return one player from IR on Romo.
As for how it all relates to Sanchez, most of the possibilities are premature for a guy who has barely opened the playbook in Dallas.
"He's worked very hard in the last 24-36 hours trying to get comfortable with what we're doing," coach Jason Garrett said. "He'll pick it up. He's seen a lot of different offenses in his life. He's got to learn quickly, and that's where his focus is."
Sanchez, the fifth overall pick in 2009 by the New York Jets, played in AFC championship games his first two years in the NFL. He wasn't as good the next two years, though, and was cut after missing the 2013 season with a shoulder injury.
Following two seasons in Philadelphia, the Broncos acquired Sanchez after Peyton Manning retired and Brock Osweiler went to Houston in free agency. That didn't work out, so now he's backing up a fourth-rounder in Prescott, who took over at No. 2 when Kellen Moore broke an ankle in training camp. and became the starter when Romo got hurt.
"Maybe things didn't go perfectly as planned, but I'm here for a reason," said Sanchez, who has 72 starts and 37 wins in 75 career games. "You owe it to the guys around you to keep working hard whether that's scout team or whatever it means. If I get to see the field, great. If not, great."
The Cowboys made room for Sanchez by waiving second-year player Jameill Showers, who spent most of last season on the practice squad and is likely headed there again if he goes unclaimed.
Even if Showers returns, Sanchez will have by far the most experience among the healthy quarterbacks.
"He's started a lot of games," Garrett said. "He was a very successful college quarterback. We played against him in our division, so we've seen him up close. He's an experienced guy who has a lot of ability. We thought it was a good opportunity to add to the depth of our quarterback position."
And with a guy who can relate to the rookie getting ready for his first start.
NOTES: DE Charles Tapper said doctors discovered a broken bone when he had trouble with his back in training camp. He's been out since early in camp. The fourth-round pick said he expects to miss the opener but could be ready by the second or third game. ... Garrett said LB Sean Lee was expected to practice after missing time recently with knee soreness.
___
Online:
AP NFL website: www.pro32.ap.org and www.twitter.com/AP_NFL
___
Follow Schuyler Dixon on Twitter at https://twitter.com/apschuyler