Red Sox score 2 in 11th for 5th straight win, 7-5 at Texas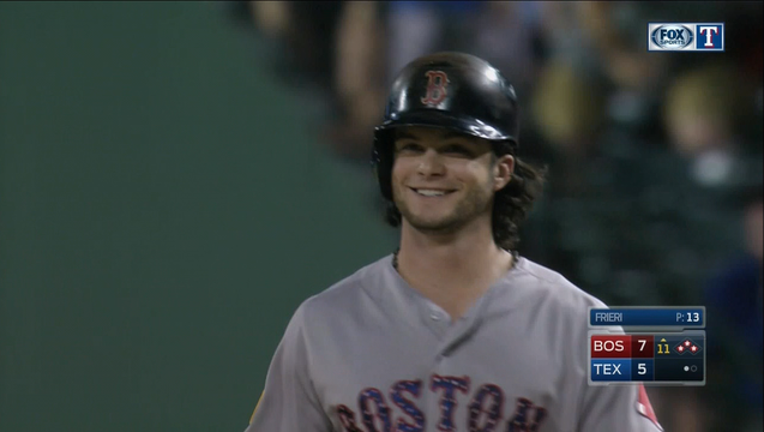 article
ARLINGTON, Texas (AP) - Dustin Pedroia wasn't given the opportunity to drive in another run for the Boston Red Sox in the 11th inning. Andrew Benintendi took care of that.
Benintendi blooped a two-run single over a drawn-in infield after Pedroia was intentionally walked to load the bases, and the Red Sox beat Texas 7-5 on Monday night for their AL-best fifth straight victory.
"Trying to get something to the outfield. Basically anything but a ground ball," said Benintendi, who had entered the game as a pinch hitter in the ninth. "Once Mookie (Betts) hit that double, I figured that's what they'd do."
Boston needed extra innings after Mike Napoli led off the Rangers ninth with a homer against All-Star closer Craig Kimbrel, who had blown only one of his previous 24 save opportunities.
After Ernesto Frieri (0-1) gave up a one-out walk in the 11th to No. 9 hitter Tzu-Wei Lin and the double by Betts - who will now be an outfield starter in the All-Star Game - the Rangers took the bat out of the hands of Pedroia, who already had three hits and four RBIs, and played their infielders in.
Benintendi's ball landed just beyond the infield dirt in short left.
"The likelihood of turning a double play there is very slim," Rangers manager Jeff Banister said. "Obviously you're in a tough situation. I don't know that there's anything in the book that you say play for a bloop."
Heath Hembree (1-2), the sixth Boston pitcher, retired all six batters he faced over the last two innings.
Pedroia's second two-run single capped a tiebreaking sixth , when the AL East-leading Red Sox scored three unearned runs. The bases were loaded when Pedroia got to the plate, but just-entered reliever Tony Barnette threw a wild pitch before Pedroia lined a two-out shot to center for a 5-2 lead.
Texas then scored in three consecutive at-bats, the last when Napoli homered for the third time in four games. His .193 batting average is the lowest among AL qualifiers, but 17 of his 46 hits are homers.
Carlos Gomez hit his 11th homer in the Texas seventh, and Shin-Soo Choo led off the eighth with a double before scoring on Nomar Mazara's single.
The Red Sox had also loaded the bases with two outs in the second, part of 36 pitches by Texas starter Martin Perez that inning, to set up Pedroia's first two-run single that put them ahead 2-1.
Rougned Odor's 15th homer for Texas was a solo shot in the fourth tied the game.
BEST PITCHING STREAKS
Red Sox right-hander Rick Porcello had his 15th consecutive start going at least six innings, the longest active streak in the majors. Hard-throwing reliever Joe Kelly made his 23rd consecutive appearance without allowing a run, another MLB-best streak. Kelly gave up Mazara's RBI single in the eighth, but Choo had reached against Robby Scott, who got charged with that run.
DUSTIN'S D
Along with the big offensive night, Pedroia had a couple of standout defensive plays late. Gomez made a wide turn at first on a wild throw in the ninth, but Pedroia made a barehanded grab of the ricochet and threw while falling down to get Gomez out trying to get back to the base. In the 10th, Pedroia made a diving stop on Andrus' grounder before making an over-the-shoulder grab of Delino DeShields' popup to short right.
ALL-STARS: A STARTER, 2 HOPEFULS
Betts will take over as an AL All-Star starter in place of Mike Trout, the AL MVP from the Los Angeles Angels who is rehabilitating his left thumb. ... Rangers SS Elvis Andrus and Red Sox SS Xander Bogaerts are among five candidates in online voting to take the last spot on the AL All-Star roster.
WELL DONE
Jason Grilli struck out two while pitching a perfect eighth the day the 40-year-old right-hander joined the Rangers after a trade from Toronto.
TRAINER'S ROOM
Red Sox: Bogaerts missed his second consecutive game because of tightness in his groin, though he did take some BP in the cage and did some agility work. Manager John Farrell believes he will play Tuesday.
Rangers: RHP Keone Kela went on the 10-day DL because of right shoulder soreness. Banister said Kela is a "tough kid" who wanted to grind through it. The Rangers want the reliever to have extended time off through the All-Star break to heal.
UP NEXT
Former AL Cy Young winner David Price (3-2, 4.61 ERA) pitches for the Red Sox, while four-time AL All-Star Yu Darvish (6-6, 3.11) goes for the Rangers. In two home starts against the Red Sox, Darvish is 1-0 with a 1.72 ERA and 26 strikeouts in 15 2-3 innings.
___
More AP baseball: https://apnews.com/tag/MLBbaseball