Rangers leaning left in rotation after rare losing season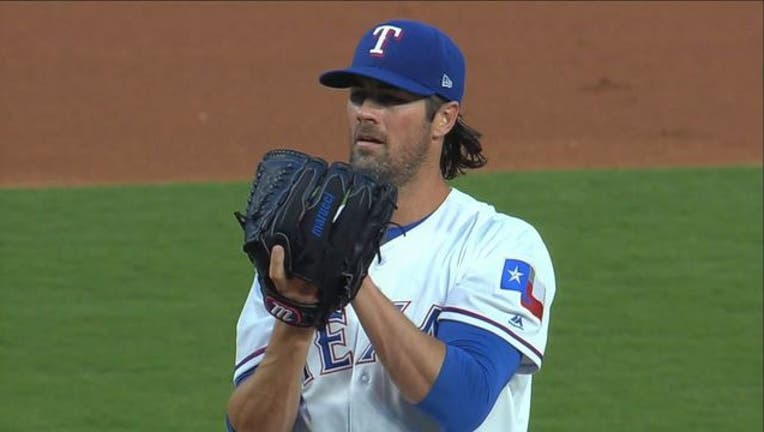 article
ARLINGTON, Texas (AP) - The Texas Rangers rotation is leaning quite a bit to the left.
There was no reunion with Yu Darvish or any other high-prized pitching additions during the offseason. The Rangers instead added two more lefty starters to go with Cole Hamels and Martin Perez, along with a free agent right-hander.
"We don't see a lot of lefties in the game, so we're just hoarding them," Hamels said. "I think it'll work out. ... We're going to be able to pick up things and correct each other just because we have some similarities."
With 3,000-hit third baseman Adrian Beltre, 10th-season shortstop Elvis Andrus and young slugger Joey Gallo part of an everyday lineup that hasn't changed too much, the Rangers should be able to hit and score runs. They did last year, despite a losing record for only the second time in nine years after winning the AL West title in each of manager Jeff Banister's first two seasons.
But to contend again in the AL West with defending World Series champion Houston and other improving teams, the Rangers will have to depend on their revamped rotation and a bullpen that blew 21 saves last year and doesn't have a set closer.
Matt Moore lost 15 games (tied for most in the NL) for the San Francisco Giants last season. Mike Minor, another lefty, was a full-time reliever with 65 appearances for Kansas City last year after missing two full seasons because of injury, and hasn't started since 2014 for Atlanta. Doug Fister, a late addition to the Boston Red Sox last season, will likely be the only right-hander in the initial rotation.
"That's great for me," Fister said. "I stand out."
Hamels missed two months last season with a strained oblique and was limited to 148 innings, the fewest since his rookie season in 2006. It was the first time in eight seasons the four-time All-Star and 2008 World Series MVP for Philadelphia had fewer than 200 innings. He was 11-6 in 24 starts.
"Just the way that everything played out, the numbers and how I pitched, I don't really think justified who I am, and how I can play," said Hamels, 34 and potentially going into the final season with Texas since 2019 is a team option year. "Everybody I think kind of tries to 'beat the odds' as you age through the game of baseball, and I feel like I've never really even been at my peak yet."
Here are few more things to know about the Rangers, who open the season at home March 29 against the Astros:
BEST CASE
The starters prove themselves and a reliable closer emerges, allowing Texas to contend for a wildcard spot and maybe give Beltre, about to be 39 and in the last season of his contract, one more World Series chance in his 21st MLB season.
WORST CASE
Beltre, the third baseman whose primary focus is trying to win a World Series, getting that chance with another team. If the pitching and/or hitting falters and they are out of contention at the July 31 trade deadline, or even into August, the Rangers could provide him the opportunity to go to a contender if a deal can be made. And maybe Hamels, too.
BELTRE WATCH
After becoming the 31st player in MLB history with 3,000 career hits last July 30, Beltre now has 3,048 hits, five behind Rod Carew for 25th on the career list. With 100 more hits, Beltre would move to 18th. His 462 homers are tied with Detroit's Miguel Cabrera for 35th on the career list.
FREAK CLOSING?
Two-time NL Cy Young winner Tim Lincecum hasn't pitched in the majors since August 2016, when he was designated for assignment by the Los Angeles Angels and later had hip surgery. He has started 270 of his 278 career games. He will be a reliever for the Rangers, and maybe even their closer. But he won't be ready for opening day. The right-hander didn't join the team until early March.
___
More MLB baseball: https://apnews.com/tag/MLBbaseball