Rangers clinch AL West with 3-0 win over Oakland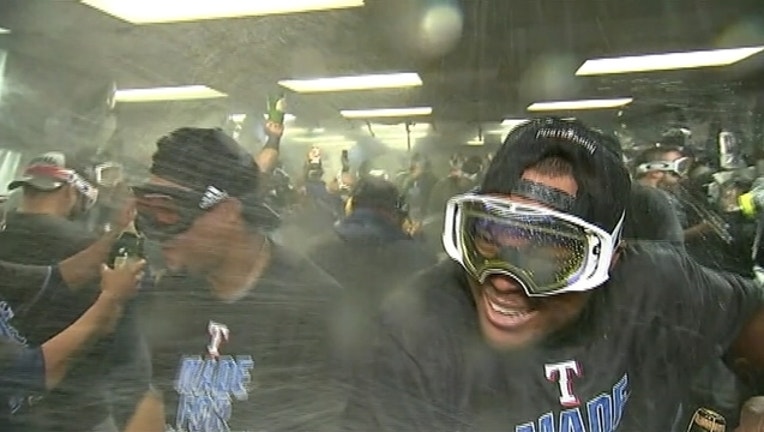 article
OAKLAND, Calif. (AP) — Adrian Beltre and the Texas Rangers were subdued as they began the celebration, exchanging hugs near the pitcher's mound at Oakland Coliseum.
Things got more raucous in the clubhouse, with cigar smoke and champagne everywhere.
The Rangers are getting pretty good at this division title thing. Now it's time to chase some more important hardware.
Beltre hit a two-run homer in the seventh inning and the Texas Rangers secured their second straight AL West title, becoming the first American League team to clinch a playoff spot with a 3-0 victory over the Oakland Athletics on Friday night.
"It's just the first step, it's just the first step," Beltre said.
"It's not easy to get where we are right now. We took the first step to win the division and get into the playoffs. We have a good enough team to win the World Series. That's our goal. We're going to celebrate today, but we know this is not just what we accomplished. We want to accomplish a lot more things."
This is Texas' seventh AL West title — not including the strike-shortened 1994 season — and fourth since 2010. The Rangers have won division titles in both seasons since manager Jeff Banister took over after losing an AL-high 95 games in 2014.
"It's a lot of fun to be part of, honestly," Banister said. "Hard to describe unless you're there every day, but everyone would rather to go to work where you love the people that you're working with, you enjoy the culture, the camaraderie, and we're fortunate that what's we got right now."
That camaraderie is a big part of how they got there.
"I feel like we've always had a lot of emotion," Rangers pitcher Colby Lewis said. "We play with a lot of passion, and that's what it's all about; that's what makes us good."
Beltre's homer came during a three-run seventh after Oakland starter Kendall Graveman (10-11) began with six perfect innings. Texas got its first baserunner when Carlos Gomez beat out an infield hit to lead off the seventh against Graveman.
"He was throwing the ball really well." Beltre said. "His fastball was moving really well. He got us off-balanced for about six innings. We got lucky. We got a couple of balls that found some holes. We scored just when we needed to win the ball game."
Beltre unloaded on what he believes was Graveman's first slider of the game.
"I was not suspecting that pitch, but he left it right over the plate," Beltre said. "I was lucky enough to put a good swing on it."
All-Star left-hander Cole Hamels (15-5), acquired prior to last year's non-waiver trade deadline, pitched the division-clinching game for the second year in a row. Last year, he threw a three-hitter in the last game of the regular season to beat the Los Angeles Angels.
Hamels struck out seven and allowed no walks in seven innings of six-hit ball in what for him was an important bounce-back after allowing 21 earned run in 18 innings over his previous four starts.
Graveman allowed three runs and four hits over seven innings. He threw 77 pitches and went to just one three-ball count, to Nomar Mazara leading off the third.
The A's brought the tying run to the plate with two outs in the ninth but closer Sam Dyson got pinch-hitter Yonder Alonso to hit into a fielder's choice for the last out to record his 36th save.
"It feels really good." Rangers shortstop Elvis Andrus said. "Last year was a little hard the way everything ended up, especially for myself, but I tried to use it to motivate me, and that's what I did all offseason. Really happy everything we did as a team, and we've got to keep going."
BEST IN THE WEST
This is the third time the Rangers have won back-to-back titles, having also done so in 1998 and 1999 and then in 2010 and 2011. Current A's third-base coach Ron Washington was their manager for the most recent back-to-back, when they made their first two World Series appearances.
After being the AL West's first-place team since May 29, the Rangers finally clinched in their 154th game. That matched their earliest clinch ever — they also won the division in the 154th game in 2011, also at Oakland.
JEFFRESS REINSTATED
Rangers reliever Jeremy Jeffress has been reinstated by Major League Baseball and joined the team after being placed on the restricted list following an arrest on a drunken driving charge last month. Jeffress was arrested Aug. 26., less than a month after being acquired in a trade with the Milwaukee Brewers before the Aug. 1 deadline.
The right-handed reliever was at an inpatient rehab clinic for a little more than three weeks, Rangers general manager Jon Daniels said. It isn't clear whether Jeffress will be on the team's postseason roster.
ROSTER MOVE
The Rangers recalled LHP Andrew Faulkner from Triple-A Round Rock. Faulkner has been working out at the team's Surprise, Arizona, training complex since Sept. 12.
TRAINER'S ROOM
Rangers: OF Shin-Soo Choo took batting practice for the first time since going on the disabled list Aug. 16 with a left forearm fracture. Choo hopes to play in next weekend's regular season-ending series against Tampa Bay, which could be his last chance to show the Rangers he's ready to be on their playoff roster.
Athletics: Utilityman Arismendy Alcantara will miss the rest of the season with a thumb sprain. Alcantara suffered the injury sliding into second base in the ninth inning of Wednesday's game against the Houston Astros.
UP NEXT
Rangers starter Yu Darvish (5-5, 3.81) tries to get back on track against Raul Alcantara (1-1, 5.65) on Saturday. Darvish has a 7.47 ERA in his past three starts, including when he allowed seven runs over five innings last time out against the A's.