Randle leads Lakers past Mavericks in OT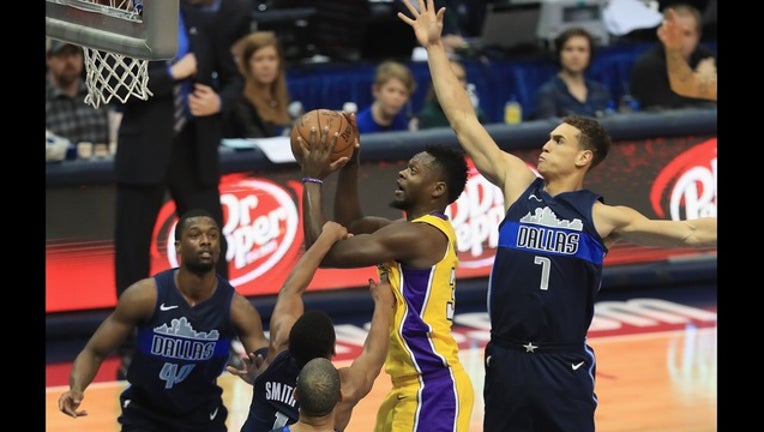 article
DALLAS (AP) - Julius Randle's rebound and late putback sealed a 107-101 overtime victory for the Los Angeles Lakers against the Dallas Mavericks on Saturday.
With his team leading 104-101, Randle grabbed a rebound on Lonzo Ball's missed jump shot and scored on the rebound with 18.3 seconds remaining, giving the Lakers a five-point lead they needed to extend a season-best four-game win streak.
The Lakers (15-27) trailed by double digits in the fourth quarter, but battled back for their first win against the Mavericks in 15 tries and their first win in Dallas since Feb. 24, 2013.
Randle, a Dallas native, had 23 points and 15 rebounds. Jordan Clarkson added 19 points, Kyle Kuzma had 18, and Kentavious Caldwell-Pope scored 17.
Mavericks rookie Dennis Smith Jr. had 23 points as the Mavericks (15-29) had a two-game win streak snapped. Harrison Barnes and Wesley Matthews each had 17 points for Dallas.
Randle scored six points in overtime, including a fadeaway shot with 2:35 remaining that had given the Lakers a 102-99 lead at the time.
Each team had a chance to win the game in final seconds of regulation.
Caldwell-Pope split a pair of free throws with 11.6 seconds remaining to give the Lakers a 95-93 lead. On the ensuing possession Barnes made a pull-up jumper in the paint to tie the game at 95 with 5.9 seconds remaining.
The Lakers called a timeout after Barnes' basket and ran an inbounds play, but couldn't get off a clean shot before the buzzer.
There were six ties and 12 lead changes in the game, and the Lakers turned it into a close game when they orchestrated a 15-3 run in the fourth quarter, cancelling out a 10-point lead, 80-70, that Dallas had taken early in the fourth quarter on a 3-pointer by Dirk Nowitzki.
Los Angeles played most of the game without Brandon Ingram, who had four points in the first half before a sprained left ankle pulled him from the game.
TIP-INS
Lakers: The Lakers four-game win streak comes after a season-worst 13-game losing streak.
Mavericks: G Kyle Collingsworth was signed to a 10-day contract on Saturday. Collingsworth was originally signed to a two-way contract by Dallas on Dec. 19 but had been waived on Jan. 10 after playing in four games.
UP NEXT
Lakers: visit the Memphis Grizzlies on Monday.
Mavericks: visit the Denver Nuggets on Tuesday.
___
More AP NBA: https://apnews.com/tag/NBAbasketball